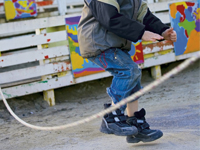 The Heart Foundation's iconic Jump Rope for Heart programme is this year celebrating its 25th year of encouraging physical activity and fundraising in schools.
Mangawhau Primary School in Mt Eden is just one of the hundreds of schools taking part in the programme's 25th anniversary year.
Sports co-ordinator, Martin Rodwell will lead the programme for his students and says he has his own fond memories of participating in Jump Rope for Heart when he was at school.
"I remember doing Jump Rope for Heart every year when I was a kid at Leabank Primary. Now I'm the sports coordinator at Mangawhau Primary and I think it's fantastic that Jump Rope for Heart is still around for the next generation of Kiwi kids – including my son Jaylen who is in Year 3 at Mangawhau," says Rodwell.
"It is a fun, economical and easy way to get children enthusiastic about fitness. It noticeably improves their hand-eye coordination, and I've noticed that these skills transfer to other sports and activities such as rugby and tennis.
"I know many others in my generation have similar fond memories of Jump Rope for Heart – it's just such a classic programme. As well as the fitness benefits, the programme raises money for your school and the very worthwhile Heart Foundation charity," he says.
Jump Rope for Heart is provided to schools free of charge and children are encouraged to participate in a personal skipping challenge, which includes a sponsor-driven fundraising component called the Skip-a-thon challenge.
To help celebrate the 25 year milestone, the Heart Foundation is offering schools a 25 per cent rebate of the total funds raised.
Jump Rope for Heart manager Ali Northridge says many schools have already chosen to use their rebate to grow existing heart healthy initiatives within their school.
"More and more schools are choosing to make healthy lifestyle education a priority and the rebate can go a long way towards ensuring a school's own physical activity resources are maintained for their pupils," she says.
Since the programme began in 1985, more than 2.2 million Kiwi kids have learnt how to skip, keep active, and most importantly, love their hearts through skipping.
Northridge says that this year the Jump Rope team predicts that in Jump Rope for Heart's 25th anniversary year, more than 90,000 Kiwi kids will be counting the beat in the name of heart health.
"The programme is proving more popular than ever but it has still been wonderful to uncover this amazing sense of history behind Jump Rope for Heart," says Northridge.
"We've worked out that since it began, New Zealand children have skipped for 110,976,318 minutes – that's the equivalent of 212 years worth of skipping. And in terms of distance, together they've travelled 1,997,574 kms, or nearly 50 times around the world," she says.
The popular curriculum linked Jump Rope for Heart programme is available to all primary and intermediate schools throughout New Zealand.