Education
Innovative e-learning programme helps international students settle in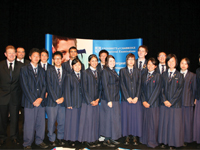 Macleans College, one of New Zealand's largest secondary schools,
is leading the way with its innovative use of a New Zealand e-learning programme.
The school will be among the first to utilise a Pre-Arrival Learning (PAL) product from Vital English, created by New Zealand software company Intuto, for a group of close to 100 Chinese students who arrived in the country in September.
Adrian Sallis, business development director of Vital English, says the school's use of PAL highlights how it is a leader in the uptake of new technology.
"Macleans has a reputation for producing academic excellence, which has attracted interest from a wide array of international students. By bringing PAL on board, Macleans continues to foster its forward-thinking approach and ability to cater to a broader student market."
Providing inbound students with the skills and confidence they need helps with the transition to a new country and school, which for many is a daunting prospect," Mr Sallis said.
Vital English's PAL product works to both inform and prepare students for life and study in New Zealand, while also providing the host school with information on the students' level of English.
PAL tests students' English through an interactive English course designed to match their level of understanding, while also providing them with a customised orientation of their host school and life in New Zealand with a home-stay family.
Byron Bentley, principal of Macleans College, said they were pleased to be working with a New Zealand-based company on the design and customised PAL programme for the school.
"Intuto has been fantastic to work with in creating PAL," Mr Bentley said. "New Zealand companies produce some superb IT programmes, rivalling many of the international products and we have been especially impressed at the speed of turnaround and cost- effectiveness. We are really looking forward to the benefits of this training solution."
PAL is currently used by over 50 high schools, language schools and tertiary institutions worldwide.
Since partnering with Cambridge University to develop further online educational courses, Intuto has further expanded its international network of distributors to include Australia, Canada, Taiwan, Thailand, Poland, Switzerland and the UK.