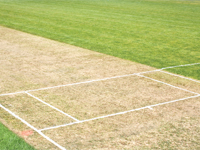 It's that time of year again when budding young Jacob Orams and Jesse Ryders, or even aspiring Richard Hadlees
don their whites to take to the cricket pitch again, supervised by teachers prepared to spend a big chunk of their weekends in charge of a school team.
Few sports are as demanding as cricket where long hours have to be spent preparing the pitch after a winter, when many games of rugby or football may well have been played over it, and a smooth surface has to emerge from the pockmarked drying surface. While many schools have synthetic pitches these days, there is nothing quite like the real thing for the actual match. And given the idiosyncracies of the early New Zealand summer, that can be a challenge.
Fortunately these days New Zealand Cricket makes sure that all the information one could wish for is available on the internet in a booklet by Karl Johnson, former turf manager for New Zealand Cricket, and now turf manager at Westpac Park, Hamilton.
The hallowed turf
With help from Stuart Cameron-Lee and Ces Renwick, Mr Johnson does an admirable job of attempting to make the complexities of pitch preparation relatively simple, pointing out at the start that the biggest problem with any discussion on the subject is that each playing surface is different.
"The type of pitch soil used is the key variable to consider, although the type of grass grown, the climate, the irrigation and the rollers available are also important considerations.
"It is generally acknowledged that the overriding consideration in pitch preparation is that the pitch should play evenly and consistently. If this is achieved, then cricketers of all grades and standards can play an enjoyable and fair game. The quality of the pitch determines the quality of the match. Unlike many sports, cricket cannot be played satisfactorily on a substandard surface," Johnson said.
So, pretty straightforward really. But if it's all fairly new to you and the success or failure of the school teams' season is largely on your shoulders, there is no need to panic. The very same booklet gives a detailed summary of what you need to do to come up with pitches that allow young batsmen and women to play forward with confidence while giving the prospect of some bounce, seam and spin for the hardworking bowlers.
Unfortunately, if your pitch isn't up to scratch by now, there is only so much you can do. Karl Johnson's advice for October to March for match preparation is: "regular checks for grass grub and disease, fertilise to keep grass healthy, watering to ensure grass does not get under stress."
And then there's the rolling. Lots and lots of rolling, so much that the hows, whens, types and what weights to use are allotted several pages on their own.
And if all that hasn't worked, the booklet gives a number of emergency advisers you can call on.
Artificial can be best
However, New Zealand Cricket does recognise that the cost of installing, preparing and maintaining high-quality turf facilities is often beyond the financial resources or expertise of many schools. As a consequence, it says artificial wickets and practice facilities provide excellent practical and affordable options. And, as with its detailed advice on turf pitches, NZC provides similar support for those installing all-weather surfaces.
Its School Support and Club Assist resource booklet was compiled to provide schools and clubs with advice and guidance on the installation of artificial cricket wickets and practise nets, along with the details of a number of providers of synthetic turf and run-up options. Current product prices are included.
The booklet also contains information on how funding assistance can be sought for such facilities from general community [eg. gaming societies] and specifically cricket funding sources. Those interested in taking their knowledge of coaching methods to a higher level will find plenty of advice on that as well.
A reason for living?
Few sounds are more redolent of summer than the sweet click of willow on leather and the ever-hopeful cries of: "Howzatt!" But even so, not all teachers standing umpiring for hours on end in the heat will see the game quite as Edmund Blunden saw it: "Cricket to us was more than play, it was a worship in the summer sun." Or in the words of Harold Larwood: "Cricket was my reason for living."
But their dedication will bring huge pleasure to a great many pupils and their parents this summer. And, of course, that successor to Richard Hadlee could appear at any time.