Education
21st-century learning at Scots College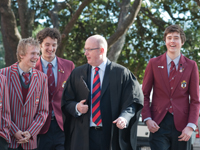 Schools today in New Zealand face a real challenge in preparing 21st-century learners.
We are now educating students who will live their lives in the greatest time of change humankind has ever known. If we look back 20 years there were few if any computers, no internet, and no social media, which now are part of daily life. Indeed, when we started our scan there were no tablets/ipads, which have again revolutionised education in the last 12 months.
How then do we prepare our students for this future when we are uncertain as to what it may look like? What we do know is that ever-increasing change will be a certainty, and this coupled with the increasing access to knowledge via the internet means our traditional didactic approach where teachers were "the sage on the stage" and students simply regurgitated this knowledge is no longer effective.
Teachers are increasingly becoming "the guide on the side". Students have virtually unlimited data available to them – what they now need are the skills to synthesise and critically analyse this data to make meaningful decisions. Increasingly, this is being done in an online and co-creative environment.
After careful consideration of the strategic direction, and consultation with college stakeholders ,the board resolved in 2007 to implement all three International Baccalaureate (IB) programmes in the college. The IB programmes are also delivered in an interdisciplinary manner with an emphasis on global, cultural and environmental issues. It was felt that these approaches would best prepare our students for the ever-changing world they will live in.
The college curriculum has been modified to add compulsory language from Year 1 to 10 – and robotics and film with an increasing importance being placed on the arts. Implementation of these programmes also led to heavy investment in the professional development of college staff, which was another key aspect in this decision. Senior students in Years 11 to 13 now have a choice of qualification pathways, either NCEA or IB Diploma; rather than a one-size-fits-all model they can choose the style of learning and assessment that best suits them.
A number of initiatives were also developed around this pedagogical decision.
The decision to moveto a three-school structure
A key challenge faced by the college was how to cope with a strong demand for places and subsequent growth, and yet maintain its culture and personalised education. The creation of new secondary houses and associated pastoral programmes has assisted in the aim of creating a school where each boy is known.
Another key desire was to enhance accessibility to the college. The three-school model is based around the curriculum the college wishes to deliver, as well as the developmental ages and stages of our students. As a unique boys' college in New Zealand we are able to provide an education for students from Years 1 to 13. Research and trends from overseas in similar schools also showed a three-school approach delivered the following benefits:
1. The curriculum dictates the college structure, with Years 1 to 6 delivering the primary years programme (PYP), Years 7 to 10 the middle years programme (MYP) and Years 11 to 13 having a dual pathway on IB Diploma and NCEA. This creates a cohesive and seamless educational pathway from Years 1 to 13.
2. Structures and programmes have been put in place to match the age and developmental needs of students.
3. A structure where each boy is known
4. The model allows the college to grow in a controlled manner and plan for a sustainable future. The planned incremental growth allows for some economies and aids our goal of increasing accessibility for families.
Facilities development
As we looked at how we could deliver our programmes it became clear that we needed to broaden our curriculum from the traditional subjects which, while still important, did not provide all skills necessary for the 21st-century learner. Creativity, we felt, was an important aspect needed by our students, and increasingly there is a real synergy between arts, science and technology. In partnership with WETA and Park Road Post Production we have built a new creative and performing arts centre, which opens in January 2012 bringing together art, graphics, music and drama and adding such courses as digital animation, robotics, 3D printing, film and sound recording. The ability to learn from world leaders is another key feature, with schools being able to leverage off their knowledge and expertise. In addition we have also partnered with Cricket Wellington in the development of a new indoor cricket centre, which also doubles as a second gymnasium for college students.
Technology
Heavy investment has occurred in the area of ICT with the upgrade of our internal network and switches, connection to KAREN (the educational research network), provision of datashows and interactive whiteboards in all classrooms and importantly the development of our college intranet "Scot-e". The new structure is not designed to limit students to any single device or learning style but rather to faciliate access to whatever device students need for their learning, anywhere, any time.
We have also planned for real-time parental access to student information from next year in areas such as reporting, and goal setting, thus creating a co-creative environment.
As with many schools we are seeking to provide the best possible curriculum, staffing resources and programmes to allow the students of our colleges to excel and become the future leaders of our nation and world.