Tips when planning new COLA spaces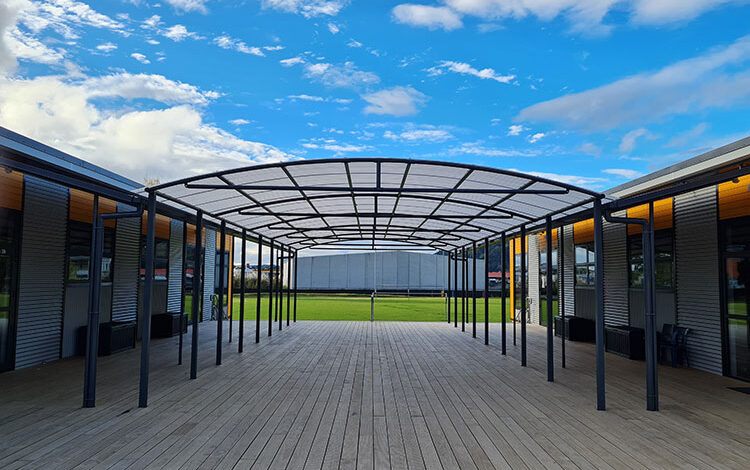 Covered Outdoor Learning Areas (COLAs) are a hot topic are the moment and many schools are looking for outdoor and extended learning solutions. They provide a permanent solution improving student flow, enhancing health and wellbeing, and increase the usability of spaces and are fast becoming a must have for school environments.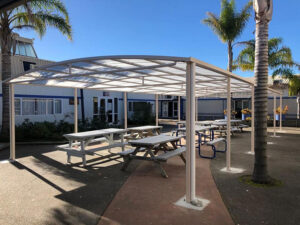 When planning a permanent shade solution, it is important to select an experienced, certified company who offers a comprehensive design process and uses high quality materials. These elements are essential to ensure that the finished structure meets your needs, withstands the wide range of weather conditions we are now more regularly experiencing in New Zealand and provide high level of UV protection.
Archogla's have been popular shelter solution for New Zealand schools for many years. With a significant amount of experience in school installations, the team is confident they meet the specific requirements of the Ministry of Education design standards for shade structures.
The right design will ensure you get great use out of the space, so some things to consider are the location (is it warm, sheltered, low light or windy), opportunities for indoor/outdoor flow, and the option of outdoor blinds or side walls. During your consultation with Archgola you can discuss options for the design to ensure you get best benefit from the investment.
Frame materials are usually either steel or aluminium. Archgola uses galvanised steel. This is the strongest option, allowing the benefit of wider spans between posts, creating less obstacles for fast moving bodies, provides confidence in the longevity of the structure and is made of 80% recycled materials.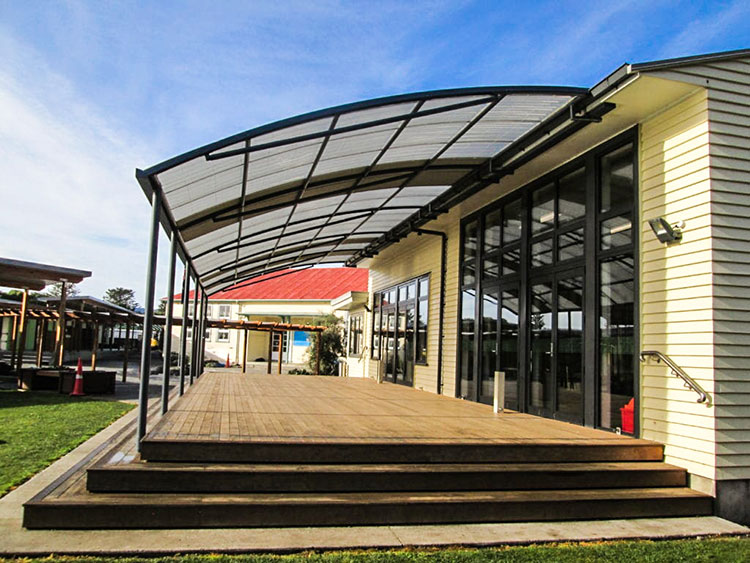 Roofing materials need to offer both UV protection along with meeting MOE requirements to be trafficable. Webglas GC roofing, used by Archgola, can be either 100% opaque or translucent to transmit natural light. It's strong, highly resistant to chemicals and has low surface erosion. The top (weather side) is gel coated with a specially formulated highly UV resistant resin and provides virtually undiminished performance for 20 years.
Archgola™ has an unbeatable reputation for offering a quality all-inclusive package. Full-service offer includes arranging council consents, certified engineered designs to installing a cost effective, long lasting and high quality solution for shade and shelter.
How to get started
Talk with other schools and sports clubs about the shelter options they have chosen and how the area is working for them.
The Archgola website has several examples of completed projects. https://www.archgola.co.nz/schools/
Arrange for an on-site consultation to discuss your ideas and from there measurements can be taken to begin the design and quotation process.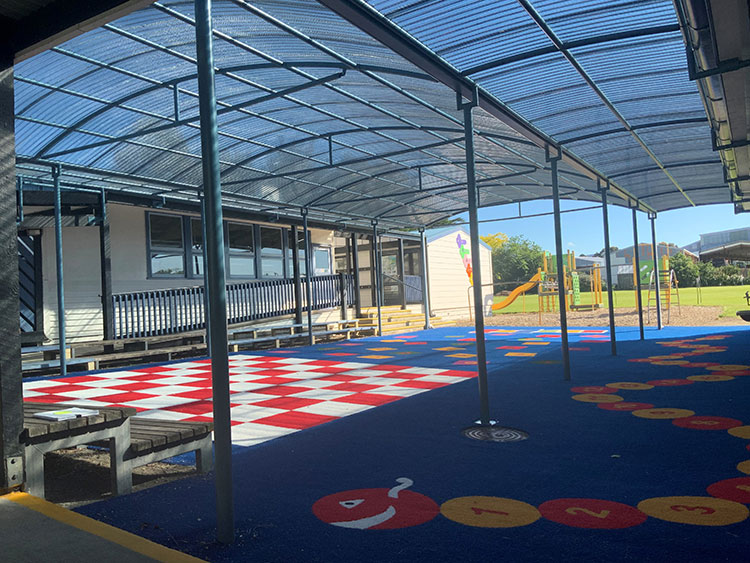 What decisions will need to be made?
Once you have established the total area to cover, you then consider roof shape options. This may be Arched (giving you the widest span between support poles) Gullwing (a double Arch for very wide areas) or a Flat profile. Once the roof shape of the shelter is designed, you then select your preferred powercoat colour for the frame from the approx. 50 Dulux colours available. Some schools choose to match roofing or joinery colours, others a bright contrasting colour. Finally, the roof tint. For school projects Archgola uses Webglass. Tint options are Ice Clear and Opal. Ice Clear lets the most heat and light into the area, Opal provides a cooler shade. Both provide some warmth from the sun. Often schools prefer to have canopies installed in the school holidays. Make sure you allow plenty of time to complete planning and approval process to achieve this.
Examples of Archgola™ use in Schools:
Indoor outdoor learning areas
Covering verandas
Outdoor play areas (sandpits, playgrounds, lunch areas)
School entranceway
Bike stand cover
Extended car park and bus shelters
More information
To contact your local Archgola Licensee, please get in touch via our website https://www.archgola.co.nz/contact/ or phone 0508 272 446