News
Administration
The many functions of modern staffrooms
We explore the essential items and latest design trends to make your school staffroom a functional, well used space.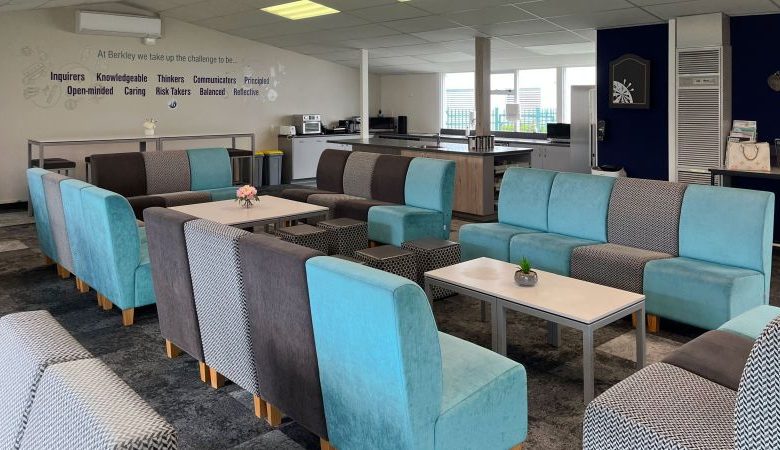 Can you think of one area of your school that is used by all staff almost daily? Apart from the bathroom, the school staffroom is the busiest, most high-traffic facility in your school.
From relaxing between classes, grabbing a snack to eat on the go, making a coffee to help get you through to the end of the day, to collaborating with other staff in team meetings, the modern staffroom has many functions. Designing a space that can accommodate a multitude of uses is paramount to the area being a well-loved and well used hub.
Read the Term 4 edition of School News HERE
A place to eat
The primary, and most important function of the staffroom is to provide a space for all school staff to enjoy a meal, snack or drink. This makes tables and chairs, and bench space for food prep a must. A sink, large fridge and freezer, microwave and dishwasher are also essential.
Adequate storage is necessary to house cutlery and crockery. These items should be easily accessible, allowing staff to take out and put items away safely. Consideration should be given to safe access for people with additional mobility requirements.
Other components of the staffroom eating facilities may include a sandwich press or toaster oven, and coffee machine. Adequate bench space must be available so that several staff can be preparing or cleaning up from lunch at the same time. Solutions are available for quick access to hot and cold water, which can prove invaluable when many people require this at once. Some systems integrate directly into sinks, while other systems can be wall mounted.
Storage space for some staff personal items is also useful. Coffee cups, for example, may be best stored in the staff room rather than individual workspaces. Some people may wish to store specialist tea or snacks in the staffroom, which may alleviate the risk of rodents or bugs infiltrating work areas in search of a meal.
A place to meet
Beyond gathering for meals, staffrooms can also serve as important places for meetings and team collaboration. To facilitate this, furniture needs to be easy to reconfigure. Tables and chairs that are on castors make moving furniture easier. Similarly, whiteboards on wheels can be brought out when necessary, and stacked out of the way when not in use. Modular furniture that can be quickly rearranged to suit requirements may also be useful.
Portable furniture could be incorporated into the staffroom to increase functionality. Items like trestle tables and folding chairs can be stored in cupboards and brought out as necessary. This is useful for social events like large group lunches or morning teas, as well as planning sessions and meetings. Additional tables and chairs could make the staffroom a suitable venue for hosting guest speakers and professional development sessions.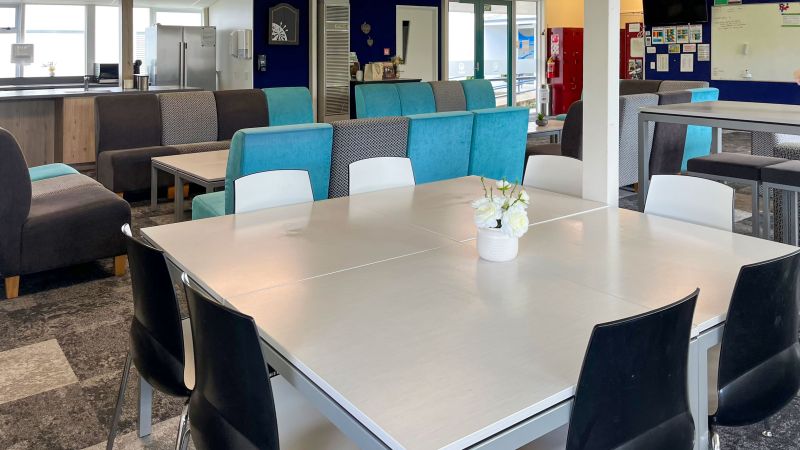 A variety of seating can help the staffroom cater for multiple uses. Couches and armchairs can be added, providing staff a place to rest and relax in their downtime. High tables with stools can allow staff working from the space to sit or stand depending on their preference.
In any large space, noise can be a challenge. This is particularly true when many different groups are working in the one area. Acoustics, then, need to be considered. Soft furnishings can help to absorb noise and decrease reverberation. Acoustic panels can also be implemented, to section of different areas. This can also help to create distinct zones, segmenting groups or teams. Portable panels which can be easily set up and then stored out of the way would work well.
As it is a common meeting area, staffrooms often house staff pigeonholes. Again, these should be easily accessible to all staff, and a suitable size to neatly fit papers.
Like all areas of a school, access to technology is important in the staffroom. Enough power points should be available so that staff can plug in computers, phones and other devices to charge. Interactive panels can make a great addition to the space. These can be used to display staff-wide messages and photos, improve communication with presentations during meetings, or even for staff to watch the news or other TV programs during breaks.
The latest trends
Michael Hellyer from Sebel said there has been a shift to a more corporate style of furnishings for staff rooms. "Mixed seating types at different height levels are being used, which generally include a combination of cafe-style tables and chairs, couches, lounges, and high leaner tables with stools. We're also seeing a lot of outdoor courtyards or spaces where staff can get some fresh air.
"Staffrooms are now much more considered when it comes to creating a space for staff to take a break and where they can feel welcomed and refreshed. Schools are opting for flexible furniture in staff spaces, just like they do with classrooms."
In new buildings or major refurbishments, Mr Hellyer said staffrooms are being designed as more generous open plan spaces with furniture used to create zones within these, and often opening out onto outdoor courtyards or balconies where feasible.
"Soft furnishings with castors in the staffroom allow for modularity in the space and give staff the option to create different zones depending on the types of activities they are carrying out. Having different areas or setting options is important to staff based on whether they are having smaller or larger group discussions or even working individually.
"Soft surfaces can absorb noise so incorporating soft furnishings into staffrooms not only provides comfort but also provides improved acoustics."