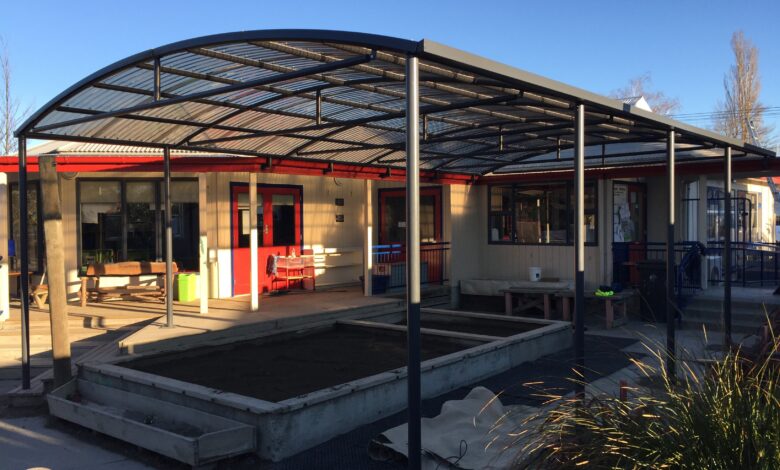 New Zealand has one of the highest and most dangerous UV levels in the world. In summer, our UV Index tops out at around 12, though some areas in the far North reach 13.
A UV index above 10 is generally considered "extreme". According to NIWA, New Zealand's geographical position, as well as differences in ozone and pollution levels means that our peak UVI is up to 40 percent greater than Northern Hemisphere countries at similar latitudes.
Read the Term 4 edition of School News HERE
When UVI is high, as it tends to be in summer, sunburn for fair-skinned individuals can occur in less than 15 minutes. New Zealand also has the highest incidence rate of melanoma in the world.
Because New Zealanders tend to be at higher risk of sunburns and skin conditions due to our strong sun, it's mandatory for all schools to provide shade for students and staff year-round. There have also been extensive sun safety campaigns in New Zealand, including SunSmart Schools.
According to SunSmart's website, a well-designed shade structure can reduce UV exposure by up to 75 percent. Shade is one of the best ways to reduce risk of skin cancers and sunburn.
Dense tree cover can provide effective shade and sun protection. Other alternatives are built shade such as buildings, high Ultraviolet Protection Factor (UPF) shade sails and awnings. Portable shade – useful for sports carnivals, beach days, PE and all other manner of school excursions, events and fairs – include tents, umbrellas and marquees.
One increasingly popular option for schools are shade sails. Many schools are choosing to go with shade sails for their shade needs as they are endlessly customisable and offer an attractive solution to design needs. Shade sails can also offer "warm shade", which is important in New Zealand winters when some shaded spaces can be too cold to be functional. However, not all shade sails are created equal, and it's important to check the UV protection of shade sails, as well as consult with an expert on optimal positioning.
Another popular and cost-effective solution is using shade structures and canopies to cover spaces between buildings. Such a design could seamlessly extend usable classroom spaces to include outdoor areas, as well as making use of existing built shade.
For schools looking for more portable solutions, marquees, umbrellas and gazebos now offer design options for any occasion. How many people will the shelter hold? How effective against UV is it, and how many people are required to help set up the structure and pack it down? Is the structure durable and able to withstand multiple transports? Schools looking for a portable shade solution should consider these factors, among others. More fun considerations include colour and logo design and placement.
For more on shade solutions for all scenarios, School News spoke to some industry experts.
Katrina Evans from Archgola said when planning for long lasting shade solutions, it is important to select a company who can offer certification by a structural engineer for both its design and materials. "This is essential to ensure that the canopy can withstand the wide range of weather conditions we are now more regularly experiencing in New Zealand. UV Protection is usually inbuilt in the roofing solution, and eliminates 99 percent of harmful rays.
"Second, consider the design of the structure carefully. Is the location warm, sheltered or low light and windy? Is there an opportunity for good indoor-outdoor flow? This will ensure you get lots of use and benefit from the investment. Adding outdoor blinds means you can gain further protection from wind and rain.
"Third, use a company that is both experienced in providing a quote and design in the format that is required for funding approval.
"Often schools prefer to have canopies installed in the school holidays. Make sure you allow plenty of time to complete planning and approval process to achieve this. Typically, once a quote is accepted, and council permits received, it will take eight to 12 weeks to manufacture the canopy. The installation time at the school takes two to four days depending on the size of the structure."
Nick Suckling from Shade Systems said the primary considerations for most schools looking at shade and shelter are how much shelter will it provide, how long will it last, and what is the investment cost.
"The effectiveness of your shade structure all comes down to the design. The best materials and the best workmanship will only be any good if it has been designed properly," Mr Suckling said.
"Important factors in the design phase include the sun angle, north orientation, wind direction, shade or waterproof requirements, pole and column placement, heights and space beneath underground services, maximum spans, and strength of structure, to name a few.
"Post-covid we have seen a distinct trend toward covering larger sports courts with permanent all-weather canopies. With the rising construction costs, building a gymnasium or hall is out of the question for many schools. Building a large canopy on existing courts that can shelter your entire school is an excellent solution, as it can be used year-round for multiple events such as assemblies, sports, outdoor classes, or after-hours events.
"It is highly recommended to get an expert supplier who you can trust for advice as this is an investment that will enhance your school and provide shelter for generations."