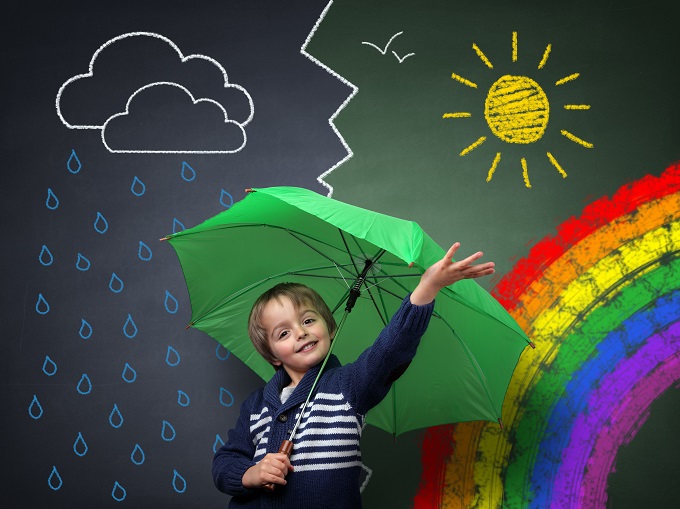 Installing coverings for outdoor areas is a practical choice for many schools. It enables ākonga to be active outside even during those winter months and reduces UV exposure from the harsh sunshine in Aotearoa. In some cases, shade can protect and extend the lifetime of other investments, such as astroturf. Covered outdoor learning spaces can also increase student engagement and be a beneficial addition for many areas of the curriculum. Not only does it provide a space for physical education or outdoor activities, covered outdoor areas also create an assembly point with natural ventilation; a useful feature in today's pandemic landscape.
Read the Term 2 edition of School News HERE
But with a variety of shade solutions available, which one is the best for your school or kura, and what are some key considerations for such a project?
Firstly, the Ministry of Education specifies that New Zealand schools need warm shade, not cool. That means orientation, shade material, height and depth need to be considered when planning a shaded area. This is to ensure UV is blocked without making the space too cold. The material of the covering, and the tint will affect how warm or cool the shade is. With shade sails, the polyethylene mesh can offer up to 98 percent UV block, as well as waterproofing.
When designing and installing shade structures, it's important to evaluate and design around any potential climbing risk. Climbing the structure inappropriately can create a fall hazard, as well as damage the equipment.
Verandas, popularly used as covered outdoor learning spaces, should be attached to a main building structure, and covered with a permanent material or translucent plastic sheeting, according to the Ministry of Education. Covered outdoor learning spaces can be used to reduce glare on surrounding classrooms and create an indoor-outdoor flow.
For more information on the considerations required when designing an outdoor covered area, School News sought the advice of some industry experts.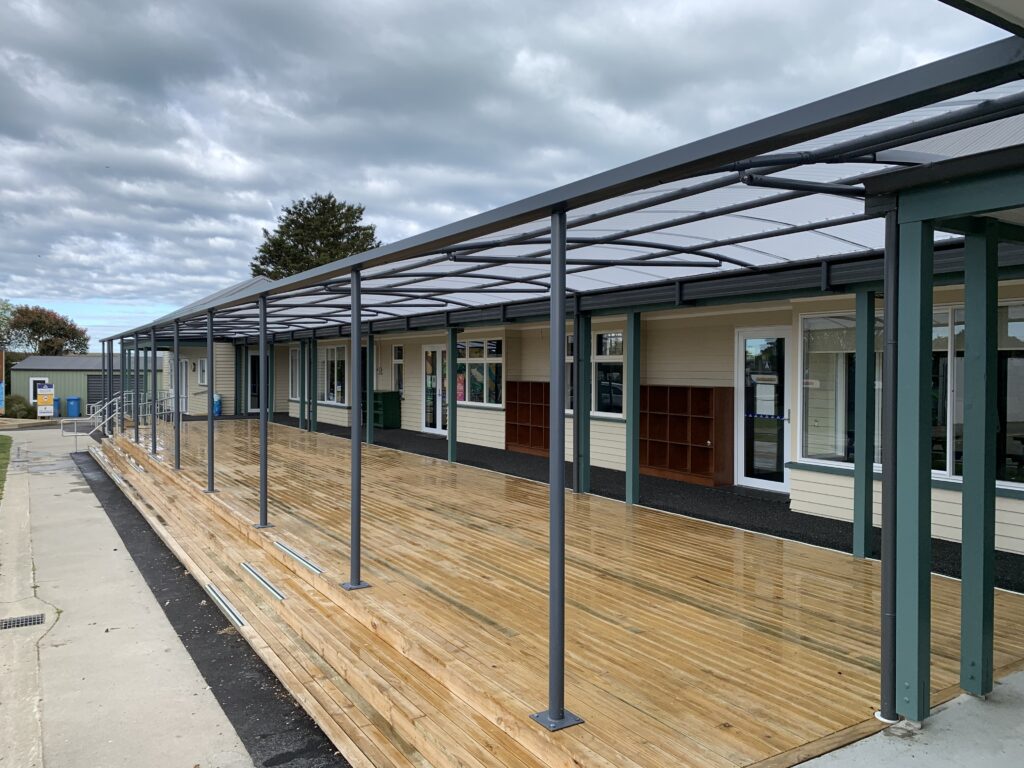 Katrina Evans from Archgola said when planning for long lasting shade solutions, it is important to select a company who can offer certification by a structural engineer for both its design and materials. "This is essential to ensure that the canopy can withstand the wide range of weather conditions we are now more regularly experiencing in New Zealand. UV Protection is usually inbuilt in the roofing solution, and eliminates 99 percent of harmful rays.
"Second, consider the design of the structure carefully. Is the location warm, sheltered or low light and windy? Is there an opportunity for good indoor-outdoor flow? This will ensure you get lots of use and benefit from the investment. Adding outdoor blinds means you can gain further protection from wind and rain.
"Third, use a company that is both experienced in providing a quote and design in the format that is required for funding approval.
"Often schools prefer to have canopies installed in the school holidays. Make sure you allow plenty of time to complete planning and approval process to achieve this. Typically, once a quote is accepted, and council permits received, it will take 8 to 12 weeks to manufacture the canopy. The installation time at the school takes 2 to 4 days depending on the size of the structure."
Derek Suckling, founder of Shade Systems NZ ltd recommends customising a shade solution. "Every school has different needs, so opt for a purpose-built, customised product that will maximise the benefits and justify your investment.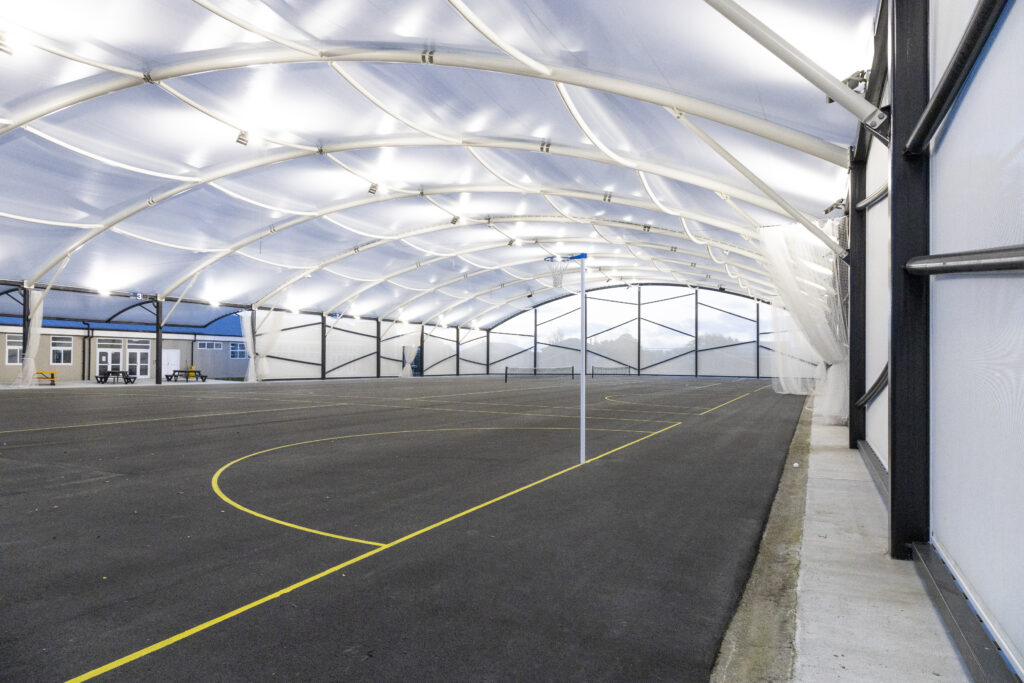 "With a large waterproof canopy structure, there are many considerations to weigh up so ensure your provider has the experience to advise and deliver. Consider if you need sides to keep balls in, ability to use the area at night, or even a PA system.
"Smaller projects such as shading a playground also require careful planning — how high will the sails need to be to avoid unwanted access or vandalism and still provide shade? Do you want the sails easy to remove in the winter months? Will the sails be designed so they will not sag or flap and be able to withstand up to cyclone rated winds?" Mr Suckling said.
"Think long-term when designing your shade solution. Consider what you need now, and the needs you anticipate in five, 10- and 20-years' time. Check the credibility of the supplier, ensure they have a track record and good experience in this specialist industry.
"My biggest recommendation would be to get in touch with other schools who have already installed these structures. Ask the Principal or board members how the project ran, was it on time, how did they get on with the supplier, and what was the overall experience. Observe the structures in use and consider what things you like about them and what things you might want to do differently."