News
Administration
All-round learning hubs: the many functions of school libraries
Books will always be important, but the function of modern school libraries extends far beyond this. Are you making the most of your library?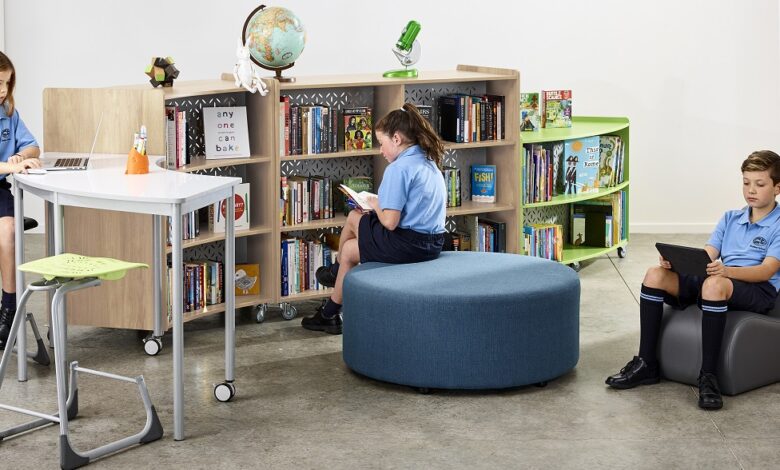 As education changes and evolves, the library remains one of the most important spaces in a school.
Of course, access to books remains integral to education for children of all ages. Books help children develop early literacy skills, understand history and culture, help to develop traditional research methods, and of course, foster a love of reading.
Read the Term 2 edition of School News HERE
The modern school library, though, is home to more than just books. Technology, and the way students are taught and learn is changing. Access to digital resources and technologies is integral for all ākonga. Increasingly, school libraries are becoming dynamic learning hubs, giving students access to technology and providing space for different activities and learning styles.
The National Library of New Zealand cites school libraries, digital literacy and reading engagement as interdependent. The school library and staff play a critical role in helping to create a school culture that supports and encourages reading for pleasure, and digitally literate students. Digital literacy, in turn, needs proficient and engaged readers. School libraries are most effective, then, when they combine specialised staff, resources, and space.
For students who might otherwise be disadvantaged, the library can provide the resources, technology, and stories they need. Books for reading or reference, as well as computers with internet access and digital learning tools can help ensure all students have the tools to learn. Libraries are a place where all are welcome, providing a safe place to share stories and ideas.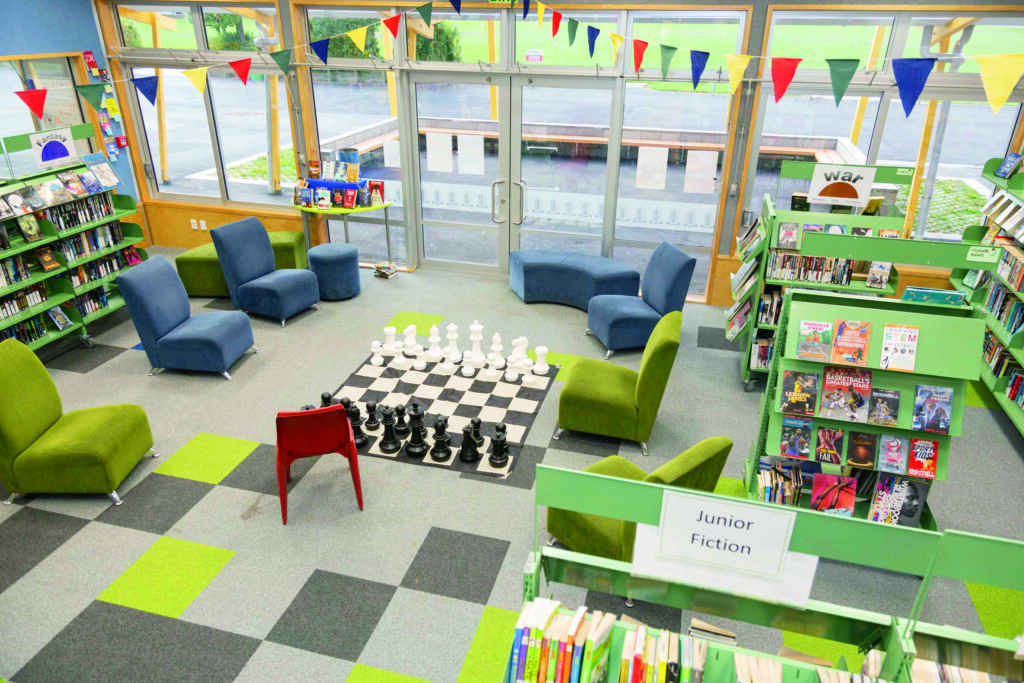 With the variety of activities taking place in the library, there is a need for different zones. Quiet areas for independent reading or study, as well as space for collaborative group work, meetings, and community gatherings are just some of the zones libraries need. Specialist meeting rooms with access to interactive smart screens can replicate real-world spaces school leavers may find themselves in. Helping students become proficient in using this type of technology is essential to ensure they are ready for work or further study when they leave school.
Modern school libraries act as a meeting place for students, teachers, and in some instances, the community. The space needs to remain flexible to accommodate different groups, whether they be engaging in learning activities or meetings. The ability to easily transform a space is invaluable in a busy school environment. As with other flexible spaces in a school, furniture on wheels or that can be easily moved is key.
Building or thinking of redesigning your library? School News asked some industry experts for their tips on creating the perfect space.
"The school library provides resources and services that support students, their parents and whānau," Miriam Tuohy from National Library of New Zealand Te Puna Matauranga o Aotearoa said. "Equitable access to stories, information, technology, and services supporting reading and learning can make a tremendous difference to students' achievement and their social and emotional well-being. School libraries can help students develop new knowledge, skills, interests, and dispositions for learning and personal growth that they will use throughout their lives.
"Books and resources to support reading, teaching and learning, are essential for all school libraries. A space where everyone feels they belong is also important – it's got to be welcoming and comfortable.
"Libraries also need staff with the passion and expertise to provide the library services the school needs. It's crucial that those services align with the school's over-arching plans and goals for learners.
"Books are still the mainstay of school library collections, with stories and information students and staff want and need. Libraries enable equitable access for students who would otherwise be disadvantaged. This includes access to a wide range of books, but also to technology such as the internet, and devices. The library space is a safe haven without the stresses and pressures of the classroom, playground, or perhaps students' home life. Library staff have an important function in supporting their teaching colleagues – curating resources, sharing knowledge and strategies about reading, research, and inquiry learning, and as instructional partners in the classroom."
Michael Hellyer from Sebel said that modular furniture is important when designing the layout for a library as it allows educators to create settings for all ages. "Always ensure that the products selected are fun, flexible and comfortable," he said.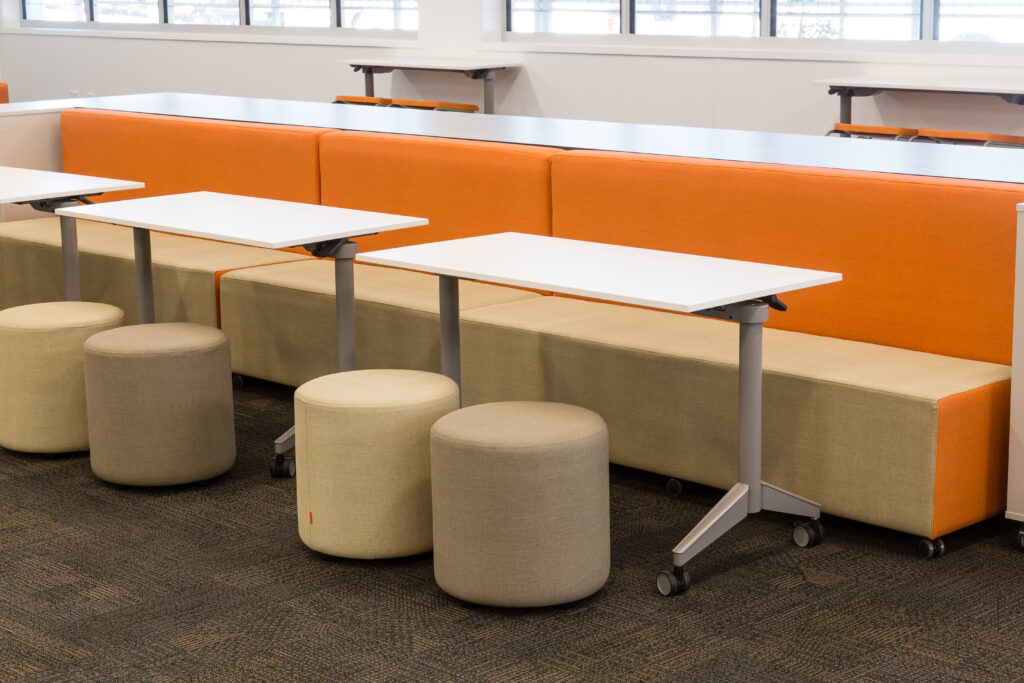 "Furniture choices can help to create zones in libraries for different modes of learning. Low level seating like floor cushions and mats can be used as a fun and comfortable way to create breakout areas without compromising on space. Pulling apart modular seating settings can also create single seating that helps with individual learning.
"Modular furniture paired with tables that have castors can be easily moved around the room to create an environment for either collaboration or individual learning.
"Schools are choosing bright coloured furniture or patterned fabrics to bring fun and engagement into the learning environment. They are also going for vinyl finishes in vibrant colours as they are easy to clean. Seating that is light and easily moved is also often selected by schools to allow for multiple classroom and library layouts whilst still using the same furniture.
"Tables that are different shapes and fit together for group learning, or can breakout on their own are popular among both junior and senior levels. We always recommend planning what happens in the space before selecting the furniture products that are right for you."
Director of Lundia, Robert Stone, said different furniture is required for the library to fulfil its varying functions. "IT Centres require access to software and learning for all age groups, through individual clustered study areas or continuous bench or table surfaces. Private study and a quiet place to read can be created using curved shelving. This acts as pathway guidance and separates areas, providing solitude with a place to sit. Reception or Help Desk spaces require support desk designs that complement the library composition, and storage to keep things organised with a security and privacy screen if necessary.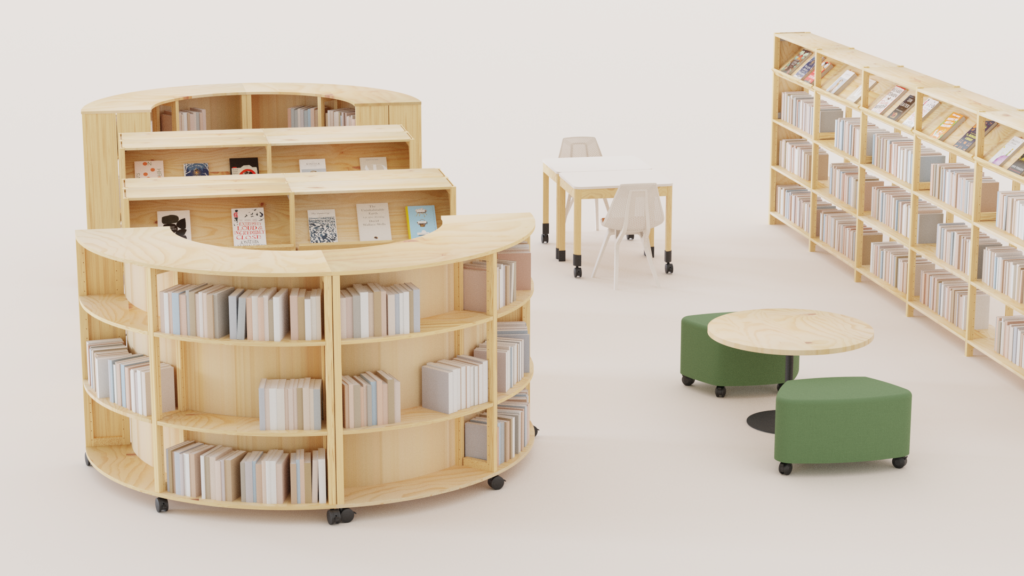 "Introduce furniture made from natural materials like pine and use sustainable fabrics. Modular wooden furniture stays in the circular economy and can be easily reconfigured, relocated, or repurposed. It is less likely to end up in landfill unlike fast furniture items.
"Fixed tiered seating should be considered for assembly style classes complete with comfy cushion pads. Stackable cube seating with cushions can be easily reconfigured to achieve the same result as tiered seating. It can then be deconstructed and used as bag storage or individual seating."
Mr Stone said the latest colours are inspired by nature with a more restrained pallet. "Schools are choosing less of the jumping castle and jelly bean and more of the sea, earth, air, and colours occurring in nature.
"Comfortable and durable fabrics that don't rub, stain or tear are suitable for the education environment. Bare legs need fabric that does not itch legs for a comfortable reading experience."
Furnware Product Manager Christine Shing said libraries are transforming as education evolves. "Modern libraries are places of experience and discovery with centrally located resources and easy technological access. The careful combination of various design elements brings a modern library vision to life.
"Some key aspects are colour, light, furniture, noise levels and connectivity. Soft furnishing, for instance, brings colour and comfort to the library and helps to soften noise. In a lively library, acoustics become very important – ceilings, walls, floors, and furniture all have a role to play in dampening sound.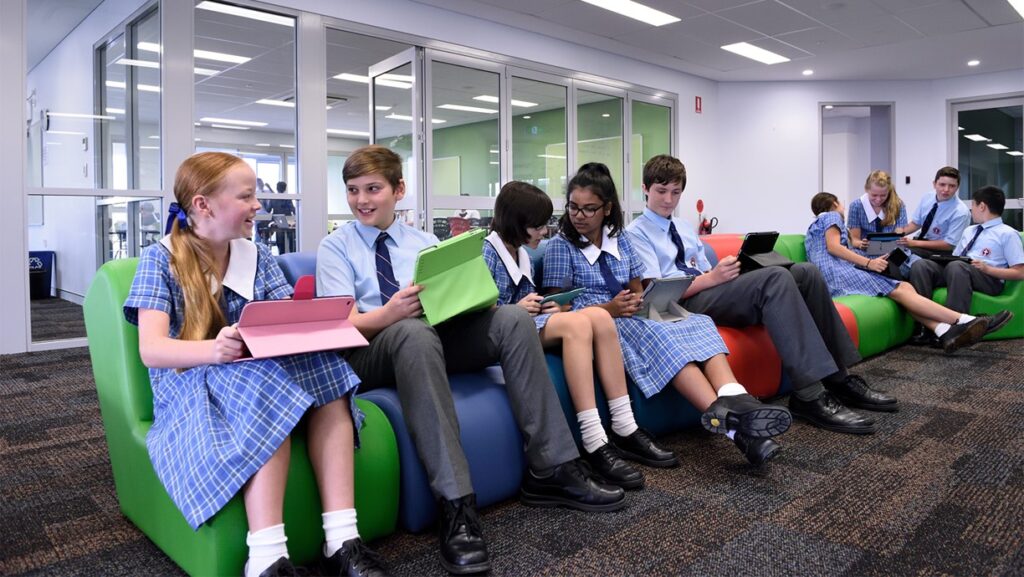 "Choosing furniture of differing heights, innovative shelving solutions and combining hard surfaces with soft materials will help create zones that naturally attract students to engage in specific activities. For digital discovery, ensure easy online access throughout the library.
"Great libraries make everyone feel welcome. Mobile furniture that is flexible and agile accommodates multiple activities and supports students wherever they like to learn.
"Soft furniture, floor cushion pads and study nooks are perfect for creating focus or social zones. Tables with whiteboard surfaces encourage collaborative learning, and Lego tables with built-in storage keep everything tidy.
"For flexible seating, there is a trend towards offering various seating options and heights, from cushion-type floor seating to sitting-height student chairs, to modular couches and ottomans, through to high stools. This creates a dynamic environment providing options for all learning activities and giving students a greater choice of where and how they best like learning."
Asona technician Job Keen has observed changes in library design. "Since the introduction of the DQLS 3.0 standard back in 2020, good acoustic design in learning spaces including libraries has gone through a fundamental shift.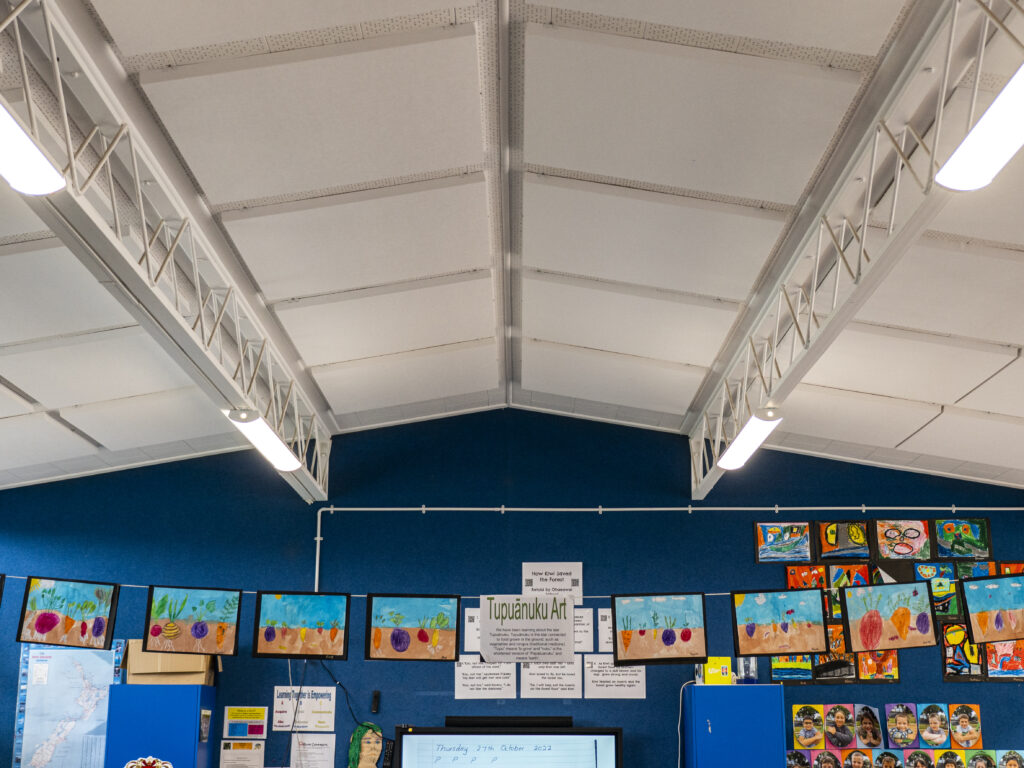 "With mandatory acoustic performance criteria now in place for new and refurbished spaces we have seen acoustic engineers be more engaged in new builds and a greater use of 50 mm thick broad band sound absorbing ceiling and wall panels. The thicker panels are ideal to balance the room acoustics. In the past, thinner 10 to 15 mm direct fix acoustic panels were used. In most cases these do not meet the new room reverberation time limits.
"Schools can now easily upgrade library spaces to meet the DQLS standard. Simply direct fix 50 mm thick acoustic panels to 40 to 70 percent of the existing between lights and services."