News
Sports & Recreation
Elite scoreboards keep schools in the game
Scoreboards keep matches fair and increase sports engagement in schools, making sporting events into exciting spectacles for viewers.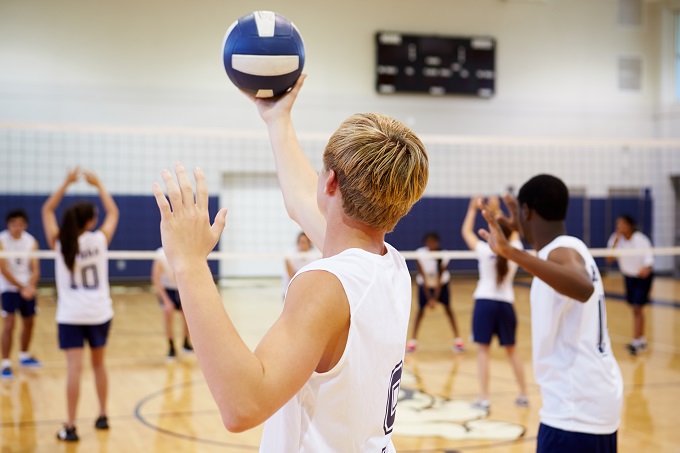 Schools are keen to boost sports engagement and scoreboards work tremendously, building excitement and spectatorship by ensuring a fair match.
The latest print issue of School News magazine is available for free here.
Certainly, a scoreboard elevates school sportsmanship, but what makes an impressive scoreboard? As the technological capabilities of scoreboards have increased, so have the number of designs. Multisport scoreboards are rising in popularity among schools, particularly for indoor facilities, and video playback and streaming functions are also sought-after.
Before considering these exciting features though, size should be a key consideration when looking to purchase or upgrade a scoreboard and generally, it seems the larger the venue, the larger the screen recommendation. Beyond screen size, consider that rugby fields will require larger character-size display than a smaller netball court for optimum visibility.
Different scoreboards have different interfaces and controls for things like brightness, so consider ease-of-use. Durability for weather protection is a must for outdoor displays, and it is always a good idea to check out scoreboards in neighbouring schools to get a sense of what might work best for your school.
The essentials: every scoreboard should offer the following features:
The score. Before getting excited about customisation and specs, you want to make sure you choose a scoreboard that's easy to read, works well, and that you can maintain effectively.
The time. Digits should be sharp, clear, and placed in a prominent position on the scoreboard.
Who, what, when, and where? Additional elements like branding, advertising banners, and other features should not get in the way of accurate, real-time game stats.
Compliance with NZ safety standards such as Electro Magnetic Compliance and Electrical Standards for New Zealand should be checked off as necessary.
Beyond these essentials, schools should prioritise features based on intended use, according to recommendations from suppliers to the sector we approached this issue…
Scoreboard suppliers reveal top trends for schools
While investigating the essential purchasing considerations for schools buying new scoreboards, School News consulted with two industry scoreboard suppliers to identify emerging scoreboard trends so that our readers can stay ahead of the game.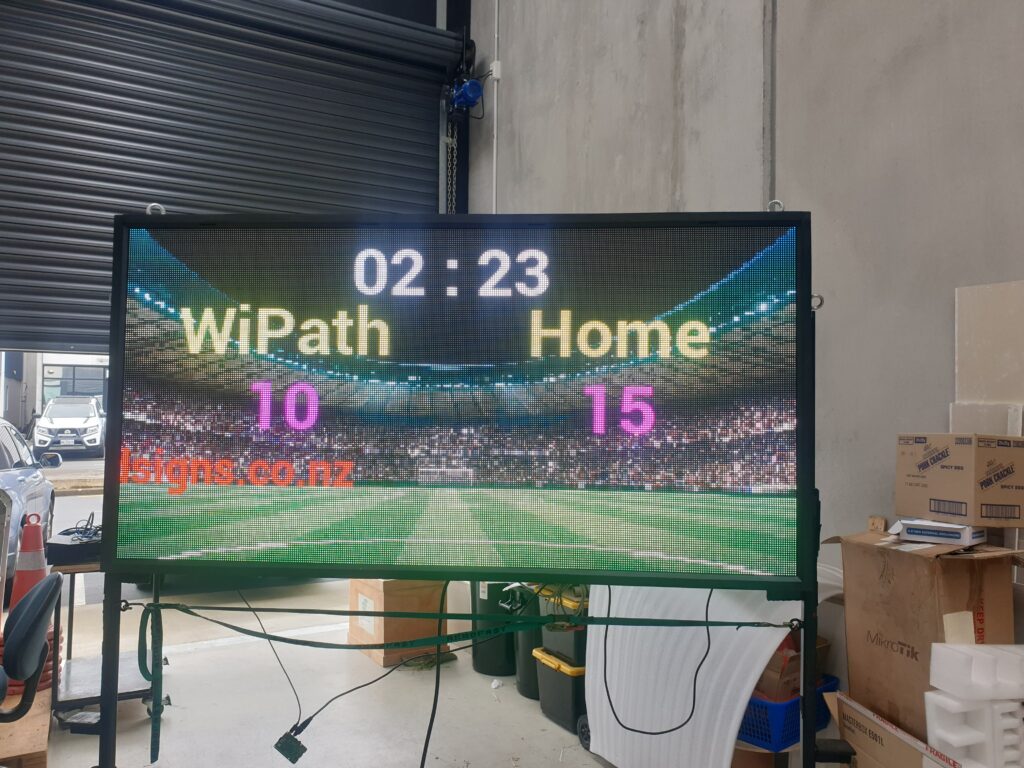 The trend in scoreboards has moved toward full matrix scoreboards "like stadium displays or school gate signs", reveals Craig Meldrum, Managing Director of WiPath Communications.
Specially designed software enables some scoreboards to be customised and according to Meldrum, schools are increasingly interested in this option, whereby "each scoreboard can be customised to any sport and include general messaging, sponsorship graphics and even full video playback with appropriate equipment".
"With scoreboards, bigger is always better. The minimum size we would ever recommend for an outdoor scoreboard is about 1.8m2 although indoor can be smaller. You need to consider the distance from which the scoreboard is to be viewed, with a recommended rough guide for minimum digit height of 200mm for every 50m of reading distance.
"With fixed installations a data cable is always preferred for control and communications however various wifi options are also available, though less reliable due to wifi signal variability. With mobile units point to point wifi is usually the best option."
Additionally: "Power is always required at the scoreboard although in some situations solar may be possible, but it is a limiting factor in terms of operating time. Often, we look at battery-controlled scoreboards with the scoreboard on a trailer and regular access to recharging facilities.
His advice for schools looking into scoreboard technology is to "make sure you get a minimum 10-year guarantee on parts availability for your specific scoreboard. This means parts must be stored specifically for your scoreboard rather than general stock. LED signage is very factory dependent with no two factories offering major parts that can be used from another. The technology is also changing rapidly with a scoreboard bought three years ago using quite different parts from a scoreboard built today."
Electronic scoreboards are rising in popularity post-lockdown, says Colin Robson, Director at HTS Group: "As we see the relaxing of COVID restrictions and encourage our youth back into team sports, we are seeing the level of interest in scoreboards increase."
He explains that deciding which scoreboard to purchase is determined by key factors, including the "disciplines being scored/timed", "placement legibility", and "budget".
For schools: "A multisport scoreboard is likely the best option for indoor facilities as it features the ability to score multiple disciplines such as basketball, netball, futsal, volleyball, badminton, table tennis and more. These are available in a number of sizes and options with controllers able to be driven by anyone.
"When deciding on placement, the key is the ability to view the score quickly, especially in high activity sports such as basketball. All good multisport scoreboards will be ok for visibility within a school sports hall with viewing distances starting at 15cm and viewable at 60m for our economy models up to 30cm which are viewable at 160m for the super pro. If adding shot clocks, these are available in wireless and cabled. The latter is the preferred option given the increasing radio frequency noise generated from more and more connected devices.
"When deciding on an outdoor scoreboard, location is a key consideration. The ideal location will be one where the sun is not directly onto or behind the scoreboard during the typical times of the sport being played. Brightness and size of digits are considerations which, in conjunction with placement will determine the model required. Outdoor scoreboards typically have legibility ranges of 120m, 160m and 200m. If the full videoboard solution is outside budget, the next best solution is a scoreboard with the best total cost of ownership benefits."