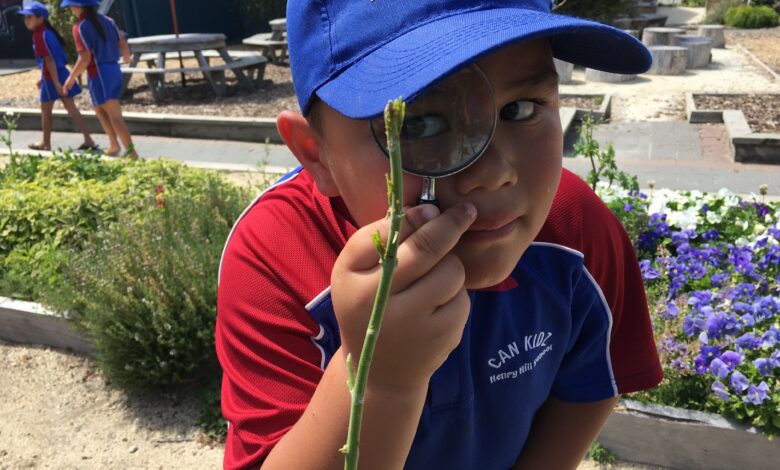 Henry Hill School is this year's winner of the Prime Minister's Excellence in Education Wellbeing Award. Principal Jase Williams spoke to Heather Barker Vermeer about the Hawkes Bay school's journey and what success looks like to its people…
For nine years, Jase Williams has been at the helm of Henry Hill School in Napier. A teacher since 2002, Williams taught at nearby Flaxmere School, Hastings Intermediate, Napier Intermediate and Camberley Schools, before being drawn to Henry Hill School, with buckets full of positive intent.
Williams says he was attracted to the position at Henry Hill School due to it being a low decile school with a large proportion of Māori and Pasifika students. He said: "I look like the kids and community here and I also live in this community. I know that being who I am makes a huge difference to the kids and community. Here, I am able to be myself and I 'get it' and they 'get me'."
His approach to leadership is intrinsically linked with wellbeing, and this has been his driving force.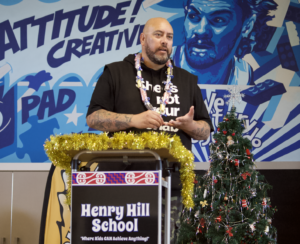 "Being connected both physically and socially and emotionally with our school's students, and community, has meant we are well aware that there is a whole lot of intergenerational trauma and hurt out there and also lots of overwhelmed parents."
The ways in which Williams and his team have worked to help their community heal goes way beyond what would traditionally be expected from a school setting.
"When we lifted up the data for our kids who weren't achieving academically and also for those transient kids who come to us, the picture was really depressing—poor attendance, poor punctuality, poor health, poor behaviour, and disengaged whānau, and the underlying factor was trauma. So, we made the conscious decision to learn more about trauma and the effects and impacts it has on child and brain development, but we learned so much more.
"Such as, we largely parent how we were parented. Taking the good memories from our own childhood, we pass similar experiences on through our parenting. Consciously there are some things we choose not to pass on because they weren't pleasurable experiences for us, but we also subconsciously transmit other negative experiences and practices that we may not even know are negative.
"A quote I love from Matt and Sarah Brown's book, She Is Not Your Rehab is, 'You can't be what you can't see', and I think that sums the aforementioned up really well."
Through the enormous challenges of the past 18 months the school, and its community, has suffered and it has also strengthened. Williams says, "We've definitely seen a real feeling of uneasiness and anxiety as the year's gone on. After last year's Covid lockdown and alert level changes, and also after severe flooding at school and in our community, our kids seemingly coped really well. We had very little issue in regard to dysregulated kids and community coming through our school's gates.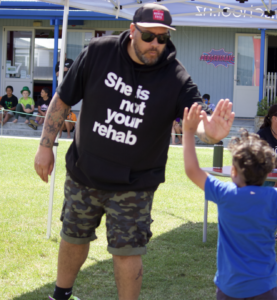 "However, the second half of 2021 has been pretty tough. I'm talking dysregulated staff, kids and community. The effects of vaccinations, mandates, constant changes in keeping up with legislated rules or recommendations has really impacted everyone here.
"We also know that the effects of Covid will be long lasting and long reaching and have the potential to impact several future generations of our community, and that's why the trauma informed kaupapa we have introduced here is even more important than ever."
This kaupapa involves three essential elements:
Focused professional development and creating richer relationships with whānau
Adding regulatory elements to classroom practice
Making physical changes to the school's environment and establishing areas where students could regulate themselves in conjunction with nature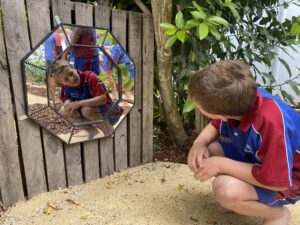 Williams says, "We've been immersed in Trauma Informed Practice through the world's number one childhood trauma expert, Dr Bruce Perry and his Neurosequential Model in Education. I'm one of only three certified trainers in this approach in New Zealand, and the only Māori certified in this approach in the world!"
Changing from the traditional student/parent conference approach to immersing whānau in learning experiences through a Community Day each term led to a 100% attendance rate. A monthly 'Dad's and Mum's Hui' at school also gives staff a chance to share this kaupapa.
"We're all about creating generational change," says Williams. "We have this 'privileged' knowledge and understanding that we know would help everyone, so we have a responsibility to share this with our whānau/community. They then have a sense of responsibility towards continuing to share this kaupapa with everyone they know. We truly believe we can be instrumental in helping not only create generational change, but also in healing a community."
Daily practices include starting each day with yoga in order to set a calm tone for the school day. It is student-led and facilitated in Te Reo Māori schoolwide. It is always followed by karakia. Williams says the school has also added 'strategic and planned regulatory breaks'.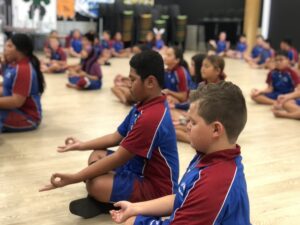 "This is to reset our brains to intake more cognitive content and to aid in transitioning between activities. We share with our kids what's happening and going on inside their brains when they're upset, angry, frustrated, and anxious, and they know ways how to self-regulate."
Williams and his team have also created a large quiet place in the school, where students can go during learning time or breaks 'to regulate themselves'. This is as well as their award-winning Sensory Garden: Te Āhuru Mōwai. "It is a sensory experience that includes a large and winding sensation pathway filled with all kinds of textures and elements designed to stimulate the brain."
The school worked alongside the Ministry of Education, namely Claire Taylor in Napier. "Claire is also one of only a small handful of people in New Zealand trained in the Neurosequential Model in Education," Williams explains. "We were fortunate to engage with our school's PHN Nic Laver and also the local DHB's John Adams, who have both been incredibly supportive of our physical health and mental health focus over the years.
"Carys Lloyd – local MOE – is the best in the business at crunching the numbers and she was able to find some crucial comparative data for us that we would have otherwise not been able to source. We were fortunate also to connect with NZ's leading neuroscience educator, Nathan Wallis, who helped to share our story with an even larger audience via his social media networks."
Prime Minister Jacinda Ardern has heaped praise on the school, sending a glowing message of support. This was pleasing to receive, on being named this year's Excellence in Education Wellbeing winner for Aotearoa. But, even more pleasing still, are the tangible outcomes of the school's work.
"Personally, it's changed my life," says Williams. "And I know, for the majority of our staff, it's really changed the way we talk to kids and talk about our kids because we have this whole new perspective and the science to back it up.
"There are elements that are quite confronting and potentially triggering for both students and staff but we have an increased awareness now, so it means we won't be one of those schools that continues to re-traumatise traumatised kids."
The name of the school derives from educationalist and former Mayor of Napier, Henry Hill (1849-1933). Williams isn't aware of any remaining links to the Hill family. His next 'really big focus' is on indigenising the school's spaces and practices.
"This is something I've been wanting to do for a while now. 2022 is the year that we really look to create even further generational change in our community and perhaps the name of the school is something we will look at.
"Our goal is to give mana to and normalise what it means to live, breathe and celebrate as Māori."
He adds, "People and relationships are the answer to basically everything within a school context. I've always found that being authentic and being your true self is what matters most in a school, rather than trying to be a teacher.
"Kids connect with real people, not labels. As Dr Bruce Perry says '…the best therapy is human love.'"