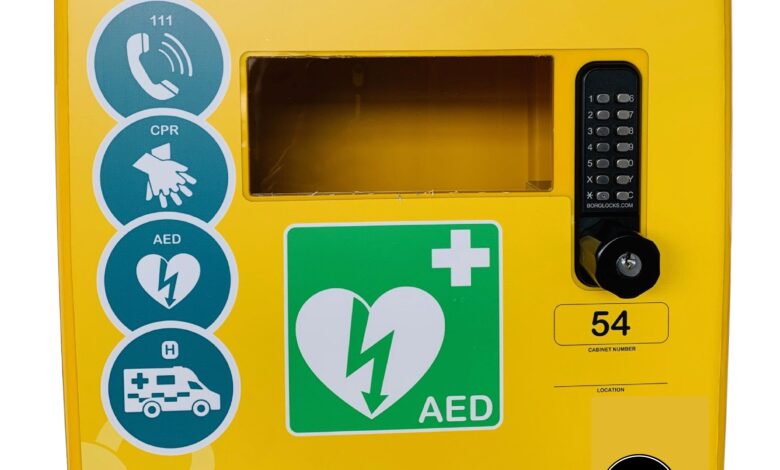 When someone experiences cardiac arrest, their heart suddenly stops beating and unless a heartbeat is restored, they will die.
The chance of survival reduces 10 percent for every minute someone goes without cardiopulmonary resuscitation (CPR) and a defibrillating shock. Whangārei Primary School increased that chance of survival for anyone experiencing cardiac arrest in, or near, its school by installing a donated automated external defibrillator (AED) last year.
AEDs, also known as defibrillators, deliver a safe electric shock to restart the heart. CPR can temporarily maintain blood and oxygen circulation until a defibrillating shock is administered. They are designed so that anyone can use them, even without much training. The device itself will talk you through the life-saving process. According to the OHCA Aotearoa New Zealand, National Report 2019/20, New Zealand reported 2212 out-of-hospital cardiac arrests: three percent occurred in children (aged under 15), 97 percent in adults (aged 15 and up), and community members were fundamental in the early defibrillation of 112 adult patients in cardiac arrest. Forty percent survived compared with just 10 percent of those who did not receive community defibrillation prior to help arriving.
Ministry of Health (MoH) guidelines state that under the Health and Safety at Work Act 2015, "all schools must have staff trained in first aid, which generally includes how to perform CPR and use an AED". The government body notes: "Possessing AEDs and having CPR-trained staff is highly recommended."
An AED is not compulsory, but perhaps it would be wise to consider installing one of these life-saving devices as a staple first aid measure on school grounds. They should be activated in step three of a cardiac arrest response procedure:
Call 111 for an ambulance
Start CPR
Use an AED as soon as possible
There are significantly fewer AEDs available in rural areas and coupled with the fact that rural residents have a disproportionately higher incidence of cardiac arrest, AEDs outside of urban areas are crucial if lives are to be saved. Schools are often the heartbeat of rural communities and are therefore an ideal location for an AED to be situated. Providing services to the community such as hall hire, sports events, and meetings, increases the potential need for life-saving emergency equipment further.
A clear and simple plan should be in place for all staff to be able to administer a defibrillating shock, from an AED situated in a central, accessible location. It is essential to ensure all first aid officers having up-to-date adequate training in all first aid matters, including CPR. Local ambulance crews are often able to provide school-wide talks or staff sessions. Including AED-use and CPR training to students too, can provide a lesson of immeasurable value.
The MoH advises schools have discussions with its board and health and safety committee if it does not already have access to this equipment. Schools may choose to prioritise fundraising efforts to install one. Maintenance of your AED should also be considered in any cost-scoping exercise.
AED expertise from specialist suppliers:
"When buying an AED consider your initial cost of purchase, but also ongoing costs," warns AED specialist and representative from FACT, Donevon Viljoen: "Batteries and/or pads need replacing every few years and usually after each use, depending on the brand and manufacturer.
"Some AEDs are cheaper to purchase but more expensive to maintain. There is also an option to lease an AED instead of purchasing one, which may be more feasible for some schools."
AEDs are often kept in the office—unfortunately cardiac arrest doesn't always happen during office/school hours. Publicly accessible AEDs are listed on www.aedlocations.co.nz. If a company/organisation/school buys an AED they do not have to list it the site but as soon as they do, they are making it publicly accessible.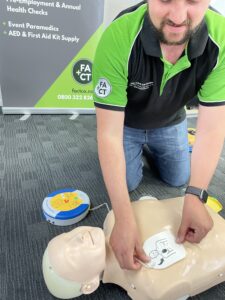 Donevon adds: "It is a good idea to keep your AED on the outside of a school building in a lockable box. The code to unlock the box can be made available to emergency services – when someone rings 111 they can give you the code to unlock the box over the phone while also sending help.
"Every workplace obviously has a responsibility to make first aiders and first aid equipment available to their staff. Schools also have a 'duty of care'–a legal obligation to take reasonable steps to reduce the risk of reasonably foreseeable harm. It is important to get training relevant to your industry – most schools provide different levels of training to their teachers and staff.
"If teachers and staff are taking the students off school grounds (on a camp or tours) or teaching outdoor education it is recommended to hold an advanced first aid certificate, which is normally a 12-hour course. For most teachers and staff, a four-hour School Environment First Aid course is recommended. Students as young as 14 can learn how to do CPR effectively. Normally, when students are younger, they aren't physically strong enough to do effective CPR. It is always a good idea for a handful of the team, staff and teachers, to hold a workplace first aid certificate, which is usually an eight-hour course.
"In all of the above courses, CPR & AED training should come standard but it's worth checking first."