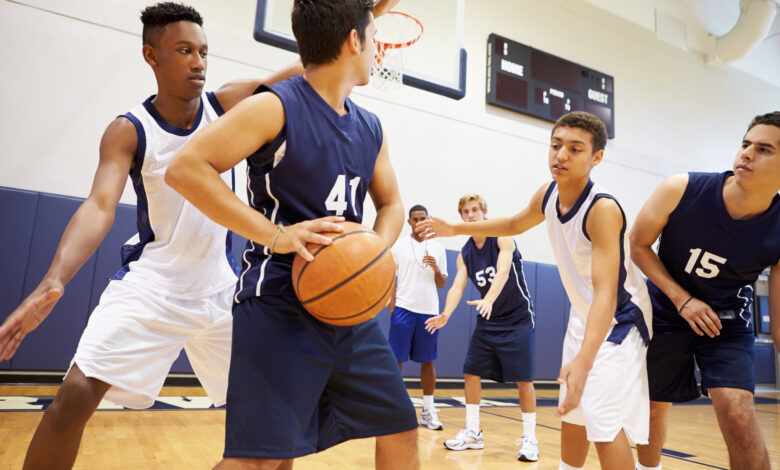 School gymnasiums need to be resilient to ensure a long life as students make good use of all the sporting options now in front of them. What makes a more-than-solid gym floor installation or refurbishment?
There are a variety of gymnasium floor surface options available to schools, which means it can be overwhelming to know where to start! Not to mention that as students return from lockdown ready to get stuck into competitive sports once more, safety and aesthetics are vital considerations!
Material benefits and key purchasing factors
When it comes to shock absorption, grip, durability, and even visual aesthetic, the stuff your gym floors are made of matters. Traditional timber flooring can vary hugely in its quality, cost, and purpose. Wooden sports flooring typically consists of a solid timber surface with shock absorbing pads underneath. As hardwood surfaces are more rigid than many other materials, impact is dispersed over a wide area.
With area-elastic flooring fitted, the wooden surface returns energy back up to the user who is walking or running on the surface, cushioning the impact over a large area. A quality area elastic flooring system will provide enhanced performance and greater shock absorption for high intensity sports such as basketball and netball.
Sports flooring materials such as vinyl, rubber, polyurethane, and linoleum represent what are known as point elastic flooring systems. These gym floor options have uniform performance across the whole playing surface. This means that every point on the floor will have almost identical shock absorption and rebound.
A point-elastic floor interacts with each user on an individual basis and activity can be localised and will not impact on the surface elsewhere in the hall. These materials can come in a range of thicknesses to suit different requirements, such as a thicker weight vinyl cushioning for older, heavier students, thinner for younger, lighter children.
Benefits of cushioned vinyl are that is it a resilient surface that helps reduce injury from falls. It also provides comfort for running and is effective at noise reduction. It is generally one of the lower cost surfaces to purchase install.
There are also options for a combination of both point elastic flooring and an area elastic system, which can create the best of both worlds for multi-use facilities.
Gymnasium design
Suppliers will often consult and work with schools on the design of a new or soon-to-be refurbished gymnasium to fend off mistakes and choose elements that best fit the school's needs, within budget.
Something you should bring to the discussion from your school's perspective, is what sports your gym will be used for — consider which lines you need permanently marked on the surface, how often it will need to be cleaned, whether you will reconfigure the space using seating for classes or whole-school events, etc.
Consider maintenance and cleaning practice for the future as well. Will your chosen surface scratch or mark easily? What kind of aesthetic are you looking for? Wooden materials have a more classic feel, while coloured vinyl or rubber flooring might look more modern but might also be too stimulating if you also use the space to facilitate assemblies and/or formal events.
Weighing up expenses
In the cost versus quality debate, remember, community groups and sports clubs that hire the facilities after school hours can provide income that can be used to offset the cost of installing a high-quality floor. Do some groundwork first to reduce costs by requesting an audit or inviting a provider to visit—you may be able to overlay new flooring over your existing floor rather than starting from scratch