Education
Onepoto Primary School's $19.5m rebuild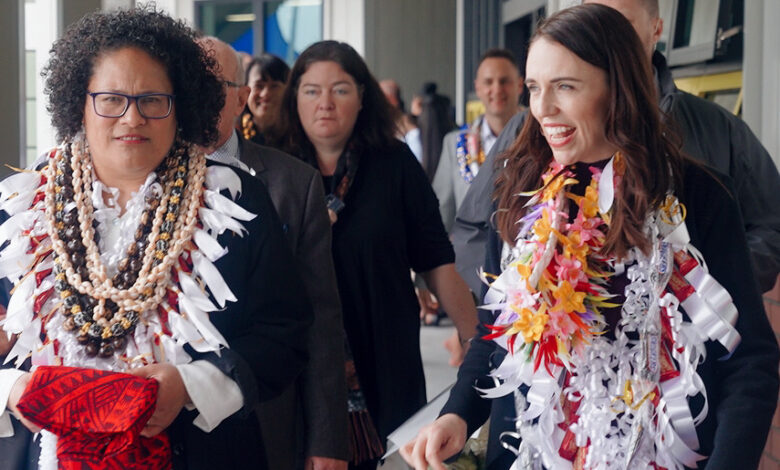 When Daniella Latoa-Levi took on her first principalship, she accepted the challenge to rebuild a school, with her eyes wide open.
Rather than focusing on all that was less than satisfactory at Onepoto Primary School, she set a vision for all it could be and hasn't taken her eyes of that since. In August, the school celebrated its $19.5 million upgrade, with Prime Minister Jacinda Ardern cutting the ribbon at the opening ceremony.
How this happened is a lesson in leading inclusively.
A previous teacher at the school in the early 2000s, Latoa-Levi returned to the school with a passion to improve student learning. "I arrived when the school was in a 1-2 year ERO review. It's true to say it was a crisis school," says Latoa-Levi. "I really felt I could return to Onepoto and really help the school to get back on track." After five years as Deputy Principal, then Acting Principal, at nearby Birkdale North School, she left to take on the challenge.
Onepoto Primary has been the only decile one school on Auckland's North Shore for many years. It has struggled to stay afloat over the past few decades, with a roll of 127 in 2000 having dwindled to 78 in 2018, when Latoa-Levi took over.
Significant development in the Northcote area, with the construction of hundreds of Kiwibuild, private and state homes across several new housing complexes, is set to see student numbers grow rapidly over the coming years. For the last 18 months of construction, the number of pupils sat at 50. That number increased to 77 in Term 3 this year and looks set to exceed 80 in Term 4, with the multi-million-dollar overhaul capable of accommodating the projected largescale future growth.
Working alongside the design and build team; the Ministry of Education/MOE Auckland Capital Works Team and construction partners Watts & Hughes, and architect Alastair Kay from Ministry of Architecture + Interiors, Latoa-Levi and the school's board, led by Presiding Member, Alan Curtis, have engineered an enormous project to fine fruition. What was a 1961 traditional brick school has been transformed into a world-class, modern learning environment comprising four open plan studios and allowing culture to be beautifully honoured throughout.
"Many areas of the old building needed addressing, especially the drainage as we had experienced major leaks. Although maintenance had been kept up over the years, it was very old. Because of the huge building development going on in Northcote, it was decided we needed something bigger and something more modern.
"We now have a very big, modern open plan learning environment. It's more than we could have ever asked for!"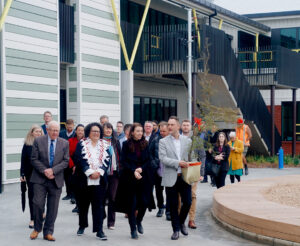 Students have been involved every step of the way. "The highlight for me has been knowing that the whole process was for the kids," says the principal. "I came into a very broken school, and I thought, 'these kids deserve the best'. They had to be involved. It's all about them. We have done our schooling, and now we are just here as their teachers, to guide them."
Children wanted 'big spaces, outside and inside', according to their principal. "They wanted bigger classrooms, computers and digital tech, a swimming pool, a new playground and playing courts that were big enough for the school. Previously we only had half courts. We were able to integrate it all into the design."
As well as being involved in designing how the upgraded school would look, a new school logo also gave students a chance to get creative on paper too. Staff and students oversaw the creation, and also included the school community's voice. From this, they determined the final design. The logo has been incorporated into the new building, being used within the kitchen backsplash fittings, for example, and bought to life the history of the school's cultural narrative.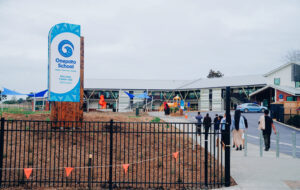 Students enjoyed seeing the building work progress and were included during the construction phase too, with contractors Watts & Hughes facilitating appropriate access for the students to view the works.
"This whole project has been a huge team effort," smiles Latoa-Levi, who is quick to praise the efforts of Project Managers, Mike Barber and Reuben Strange and their team from Watts & Hughes, for whom she credits for making the construction process a safe, enjoyable and memorable experience for our school community. "They've been amazing and will be missed!"
Transitioning from the old school building into the new one provided the project's biggest challenge, says Latoa-Levi, with all students learning together in the school hall, before being relocated into the new studios in a staggered transition, with juniors moving in first then the seniors. "We had a crazy three months," she says.
The majority of the school's staff hadn't worked in an open plan learning environment before. "So the biggest concern for them was the noise," says Latoa-Levi. "The transition time gave us an opportunity to see what open plan learning looked like. Now, they're sold on it!"
A kawanga whare took place before any students entered the new buildings, a part of the school upgrade process that was imperative for Latoa-Levi. "Before anyone could work in the building, there was a blessing to make sure the wairua was positive for our students and staff working here."
And it is. Latoa-Levi explains how moving into the four new modern studios has had a dramatic impact on students already. "The students are very calm," she says. As well as the vastly improved physical environment the children are now learning in, Latoa-Levi is quick to pay tribute to how her teaching staff have nurtured students through the changes. "I put this down to the teachers having amazing routines for their classes and planning forward so that they could have happy students coming into this new space."
Latoa-Levi herself grew up on the North Shore, in Browns Bay, and continues to live on the Shore with her own family. Contemplating studying law before plumping for a four-year degree in education, Latoa-Levi had a particular focus on, and passion for, social anthropology. In 2017, she completed a postgraduate study on MLEs and digital pedagogy and is thrilled to now be able to put her study into practice when planning the school's future.
Securing a visit from Prime Minster Jacinda Ardern for the school's official reopening was unexpected, says Latoa-Levi. "I assumed we would keep it nice and simple. I wondered if Education Minister Chris Hipkins might come along, as he had announced the funding back in 2018. Some of the staff and students said, 'Wouldn't it be great if Jacinda came?' I had been speaking to Shanan Halbert (Northcote MP), who has been very supportive, so I think he must have had a word!"
Labour MP Halbert, who attended the August 13 opening with the PM, said, "As our community grows, I'm proud that we are investing in local schools like this at the centre and ensuring that our have the best facilities to learn in. The students and staff were amazing with the best question of the day for the Prime Minister being, 'Do you look after Santa?'"
Prime Minister Ardern's presence at the opening was another of the many positives, says Latoa-Levi.
"We took her through the new buildings, and she commented on how well we'd done in pulling off what became a large opening event, on top of everything! She was very approachable and relaxed. She was absolutely there for the kids."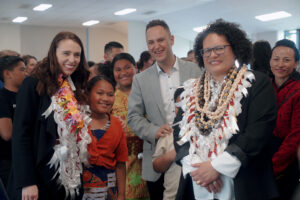 Despite over-achieving in the goal of helping build a new school, in the practical, bricks and mortar sense, Latoa-Levi's focus has always been on its people. "I have set goals for building our students' achievement and I have given myself five years to solidly build on that. And I'm building leadership capabilities in our teaching staff, introducing a distributed leadership model earlier this year. We only have three full time teachers and I wanted to give them a leadership role as well as teaching, to create a strong foundation as we grow."
With the goals Latoa-Levi had in mind for the building development having been far exceeded, it stands to reason that student achievement and staff leadership capabilities will head the same way.