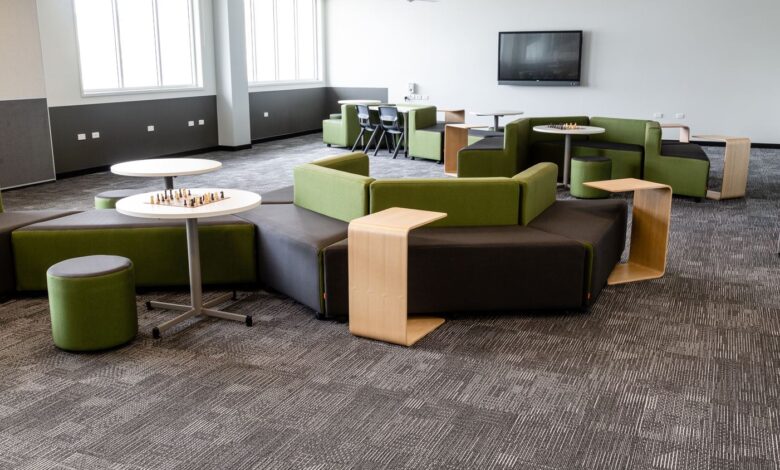 Flexible seating: it seems the only way to go these days. But how flexible do you want to get?
Wobble stools, balance balls, butterfly stools, scoop rockers, wobble cushions, ball chairs… There's flexible, then there's flexible! Across the USA, the trend for unconventional seating in schools has exploded, with every imaginable configuration, colour, material, and mode making its way into classrooms and onto campus.
Stacked foam stools are kind of like circular foam Lego-type discs that lock into one another to form a seat at a height dependent on how many of the bright, block colour discs are used. They add colour and a sense of ownership and individuality to the classroom. Another novel invention is the Scooper Rocker. These concaved 'scoop' seats look like so much fun, allowing children to experience a comforting rocking motion whilst, for example, reading.
In her Edutopia article, middle school teacher Brooke Markle advocates for taking a student-centric approach to flexible seating. "Changes to a learning environment are often driven by the teacher's philosophy regarding how students learn best. When I decided to remove the student desks from my Grade 7 English classroom for the last school year, I was motivated to do so after observing the way my students learned and analysing how I could best support them in that learning."
Markle was careful not to prioritise aesthetics. "Once I started researching options to shift the classroom environment, I was careful not to attempt a "Pinterest perfect" classroom and instead maintained focus on the purpose of flexible seating: allowing students a voice and a choice within their classroom. I incorporated various types of seating at different levels throughout the room, and students were able to find workspaces where comfort met capability."
And sometimes, standing up, is the new sitting down…stand up desks and accompanying stools are now rife across the corporate world and have started making their way into classrooms too.
Flexible seating know-how from supplier experts
Sebel Furniture representative Stephanie Cox has noticed that "secondary schools tend to prefer a combination of high benches and standard height tables, enabling the older students to have more options".
"Moreover, we found that stools with backrests are very popular, as they allow students to sit for longer periods without back fatigue.
"With regards to old versus newer built schools, an interesting insight we have seen is the development and catering to flexible learning, with the bigger floor area allowing more furniture options.
"In contrast, the older classroom haven't been designed for this same flexibility, dominated predominately by single square tables facing the front. In these situations, we find castors are popular on the tables as they provide the option to move together for collaboration when required.
"This year has seen the continued growth of classrooms with mixed seating, with the following chairs being a popular part within classrooms.
Ottomans; a soft upholstered, often round or square chair.
Tik Tok stools; a small stool with an uneven base, enabling children a slight wobble movement.
Stackable, lightweight classroom chairs, which are a durable and have a sturdy backrest.
– Booth seating; a soft seating option with a table.
– Standing tables or high benches with stools
"Outside of the classroom, we have found that within gymnasiums tiered stadium-style seating is popular, while in auditoriums stadium-style upholstered chairs are often required. However, due to today's use of gymnasiums for multiple uses, options that provide greater flexibility with seating are preferable.
"Ultimately, my top tip would be to not over crowd the room! Design the space with how you want to use the space rather than what looks visually the best."
Maxwood representative James Hooper took us through some key trends schools should watch.
"I think the main trend we are seeing is the increased popularity of retractable seating across schools. A school's facilities play a big part in how they deliver their learning outcomes and having flexible, creative, multipurpose learning spaces opens up all sorts of teaching opportunities, be it a lecture theatre that morphs into a small performance space or a sports gymnasium that transforms into a full school assembly hall. So, in terms of trends, I would say a requirement for flexible spaces within schools is a big one driving the popularity of retractable seating.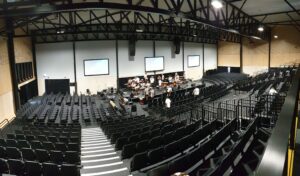 "Whether it's colour schemes, fabric choices or even incorporating initials of the school through to aisle lighting solutions in performing arts spaces and how they complement the overall room lighting. The most successful and utilised retractable seating systems are the ones that are integrated into the building design at the early stage.
"For retractable seating in particular, something that people often overlook is the design and build quality of the under-structure itself.
"While the seats themselves are the most obvious consideration, in a lot of ways they are the easy part of the decision. Ensuring you choose a well-engineered under-structure is the thing that will guarantee a good experience when opening and closing the unit. A well-designed unit should still operate just as well 10-20 years after it has been installed. The whole point of a retractable seating system is to make your life easier and you should just be able to push a button and have the unit open and close and not have to have extra people on site to push and pull it in and out when it locks up."