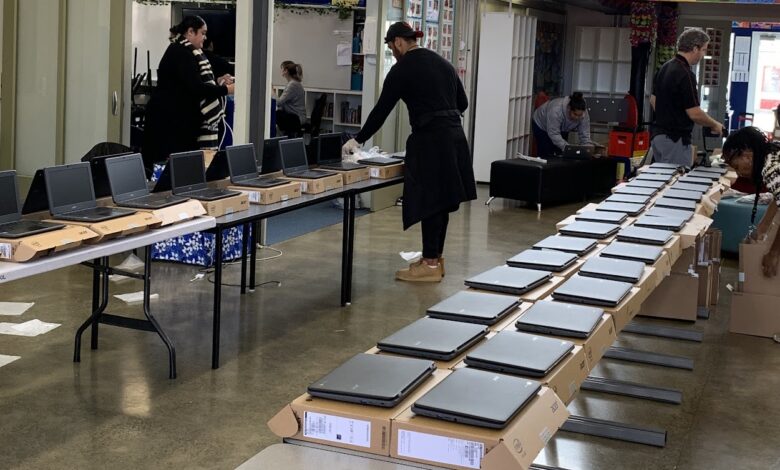 Schools / kura have until mid-October to register to participate in a fully funded well-reviewed digital technology programme for socioeconomically disadvantaged school communities over the next three years.
Manaiakalani, meaning the hook from heaven, is a collective with a large pool of resources, some available in Te Reo Māori, device support, and can connect kura with a large network of support from all schools engaged in the programme with ongoing online support. 
Back in 2007, a community of learners, whānau and educators in the Auckland suburbs of Glen Innes, Pt England and Panmure (collectively known as Tāmaki) embarked on a project to raise student outcomes and build capacity and engagement through the combination of media and digital technologies and effective teaching practice.
Their collective success in developing digital citizens of learners and their whānau has been well documented and is now a model for socioeconomically disadvantaged school communities all over New Zealand.
By offering students full digital citizenship, the Manaiakalani Programme, supported by the Manaiakalani Education Trust since 2011, helps them realise their potential.
Pou Whakaako Skye Stirling is happy to facilitate a zoom hui with the team at Manaiakalani so kaiako can dive into more detail about the programme and the needs of thier kura.
Email [email protected] to arrange an online hui.
View a short video from principals and students who have participated in the programme here: 
Zoom recorded interview with Skye NKAI, Makaore – Reo Facilitator and Dorothy Burt, programme manager:
Interview with Skye and Manaikalani team
Visit Manaiakalani website for more in-depth information and the other branches of Manaiakalani:
https://outreach.manaiakalani.org/
Real time classes available online – create, learn, share:
https://classonair.manaiakalani.org/