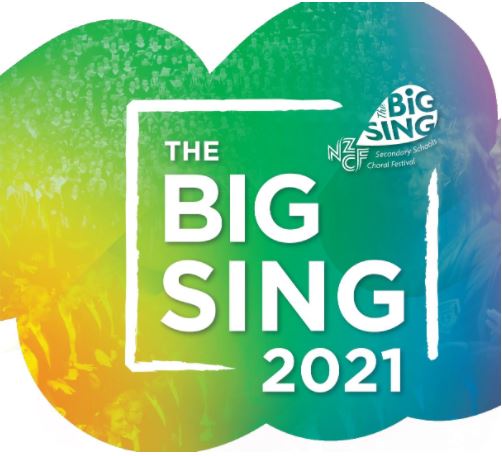 After a 2020 hiatus, students are back in full song once again for New Zealand's national choral competition for secondary schools.
The Big Sing 2021 is underway this month, with regional heats in Waikato – Bay of Plenty, Manawatu – Whanganui, and Nelson – Marlborough, all happening this Thursday.
Canterbury, Wellington, and East Coast, all competed last week, with Taranaki, Otago and Southland stretching their vocal chords early this week. Auckland regionals will take place on the 22nd, before the cadenza regional finals in mid-August ahead of The Big Sing Finale, to be held at Christchurch Town Hall on August 26-28. 
Organisers from New Zealand Choral Federation are delighted to be welcoming back the competition to the calendar. "We can't wait to see our TBS whānau again and look forward to hearing some wonderful live music."
Each choir present three pieces in a 10-minute bracket during daytime sessions, including an art song and one with New Zealand or Pasifika origins. From those sets, they will select one item to perform as part of the evening's blockbuster Gala concert. Orgainsers said, "These categories are purposefully left broad enough for each school to bring their own style to what they present. This proved to be the case in 2019 with amazingly diverse repertoire presented from choral interpretations of modern musicals, through to motets that have been sung for centuries."
At the end of each day's proceedings during the heats, renowned adjudicators have the task of awarding category prizes. This include awards for overall winners of each category, and special categories recognising the best overall student accompaniment, student-directed choir, and performance of a student composition.
The events are used to find the 24 finalists for the national The Big Sing Finale in August.
To stay up to speed with performances and results, visit the The Big Sing Facebook page.  Performances from the 2018 and 2019 TBS Finale are avilable to view on the NZCF YouTube channel.
The upcoming event dates are as follows:
WAIKATO – BAY OF PLENTY
Thursday 17 June
Holy Trinity Church, Tauranga
Day Sessions: 10:00am and 2:00pm. 
Gala Concert: 7:00pm
Tickets available on the door (cash only). Day sessions $5 / Gala concert $10
MANAWATU – WHANGANUI
Thursday 17 June
The Regent on Broadway, Palmerston North
Day sessions: 10:00am and 2:00pm ($5) 
Gala concert: 7:00pm ($25)
Tickets available from Ticketek:
https://premier.ticketek.co.nz/shows/show.aspx?sh=BBIGSING21
NELSON – MARLBOUOUGH
Thursday 17 June
ASB Theatre Marlborough, Blenheim
Day sessions: 1:00pm. $5 door sales only
Gala concert: 6:00pm ($30 adults / $18 school students)
Gala concert tickets can be purchased at the venue prior to the event.
AUCKLAND
Tuesday 22 – Thursday 24 June
Auckland Town Hall
Day sessions: Start times vary. Click here for the session schedule. $2 at the door.
Gala Concerts: 7:00pm. Tickets via Ticketmaster ($25 waged, $21 unwaged, $19 students + booking fee)
https://www.ticketmaster.co.nz/search?q=big+sing
TBS Cadenza and Finale dates 2021:
Lower North Island Cadenza
Whanganui
Friday 13 and Saturday 14 August
Whanganui Opera House
Upper North Island Cadenza
Rotorua
Monday 16 and Tuesday 17 August
Rotorua Energy Events Centre
South Island Cadenza
Timaru
Sunday 22 and Monday 23 August
Craighead Diocesan School (competitive sessions) / Sacred Heart Basilica (gala concert)
The Big Sing Finale
Christchurch
Thursday 26 – Saturday 28 August
Christchurch Town Hall