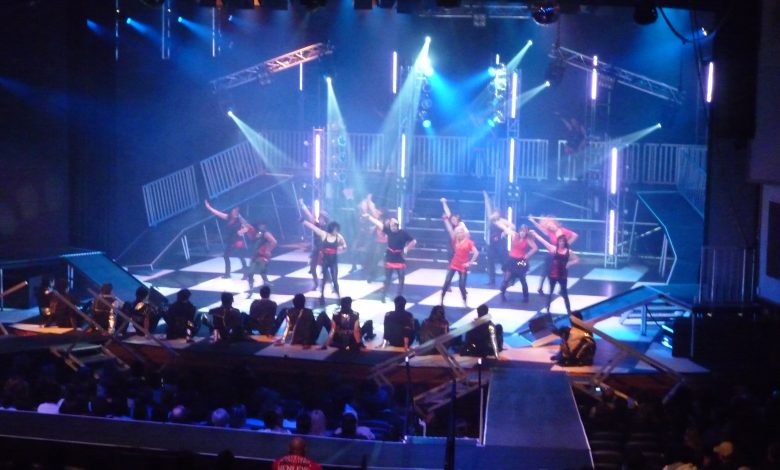 There's no business like showbusiness…
The art of putting on a show is as old as time. For schools, it can represent a highlight of the calendar year. Production time for students is often a love or a hate affair, but even for the most reluctant performers or stagehands, school shows represent a huge learning opportunity.
Whether a school is hosting their own performance or inviting another company to perform, plenty of preparation is required. Having engaged, enthusiastic staff provides the fuel for the process and the performance itself, and benefits to these staff members can be huge. For some, drama and musical theatre will be their passion and driving a school production can provide an opportunity to share this passion with the next generation. As well as being a creative outlet, production time offers staff many leadership opportunities, requires excellent organisation, communication, and an ability to motivate and inspire.
Confidence is king, or queen, for performers and the courage it takes to grace the stage for some can be a huge barrier to overcome. The self-belief, sense of pride and joy that can come from this can impact students for life. Teamwork is promoted, memories and friendships made.
Backstage, too, there are many opportunities for students of varied talents and interests to get involved. Tech-minded pupils may enjoy working on sound and lighting, hard tech students might get on board with set construction and design students may wish to work on set and costume design.
The school show represents a chance for the whole school – and wider – community to come together. Parents may get involved in costume creation, prop sourcing and ticket promotion, while the wider local community is invited to along to support the school and enjoy some local theatre. Guests may include local dignitaries and school alumni, representing an opportunity for renewed engagement and support.
Music scores and scripts must be obtained by licence to avoid copyright infringement. Australasian Performing Rights Association (APRA) issues licences to copy and perform musical works. This licence covers public performances of music and copying of printed music scores, with the exemption of what are known as 'Grand Right Musicals' – shows such as Les Misérables, Annie, and Jesus Christ Superstar – for production in secondary schools where the show is run for profit and advertised in the media. However, APRA should be able to advise schools on how to contact the appropriate copyright owner to obtain permission to put on some of these 'big ticket' shows.
For some schools, performance art and theatre departments are well resourced treasure troves of treasures and technology. For others, equipment, costumes, and sets have to be sourced externally.
Industry voices
We spoke to stage lighting and audio expert Brodie Noon, managing director of MDR Sound and Lighting, about the latest technology available to help make school productions shine…
"The most popular lighting options these days are the LED-powered par lights. Instead of a white bulb with a coloured gel in front of it, which is super-hot and uses massive amounts of power, you now have a multi-coloured light that can do any colour and any type of white effortlessly, does not need a dimmer unit (just a control desk). It uses basically no power, emits minimal heat and therefore means you need much fewer lighting fixtures as one can do so much more than before, especially now there are 'zoomable' and other forms of these fixtures.
"The latest style of lighting control desks – when paired with LED technology (light fixtures) really excite us as they are so intuitive for the students to use. The old-fashioned lighting controllers (which there are still many of in schools) are based on using dimmers, with one light per channel, and are very cumbersome and confusing to use and programme.
"The newer style desks use modern technology that students are used to using already, such as the touchscreens they use on phones and iPads. They make lighting programming and operation exciting and fun, plus take into account colour and movement in addition to intensity of the lights."
How might students, schools and communities benefit from staging quality stage productions?
"Students benefit immensely from being involved in productions," explained Noon. "Many young people would not even know that they are 'born performers', great singers or have an interest in the technical aspect of these sorts of things unless they had an opportunity while at school. Plus, school productions have helped create many of the stars we see in professional shows and on television/in the movies."
Having a stage is an essential part of a quality production. Expert in all things stage-related, is Lloyd who, with wife Moira founded Stronglite Staging 25 years ago, following a career in television set design.
The Hamilton couple have supplied staging as far afield as Samoa and operate with a high integrity 'built to last' approach to providing staging for each school's specific needs.
Lloyd says: "Schools can go from a one-metre square box stage up to whatever size stage they want. If they want a two-storey structure, so that Juliet can shout down from her balcony to Romeo, they should be able to do that!"
Versatility, durability and innovation are key, he says. "Staging must provide solutions that are light and easy to handle, to make it portable for various purposes. It should also be innovative in the way that it allows schools to make their ideas happen. Schools don't want to spend money on something that they're not going to get much use out of, so they should look at something that can be used outdoors as spectator seating on the school fields, for example, but that can also be moved into the school hall for a production."
Grandstands are an area of growth, according to Lloyd, with schools particularly interested in staging suited to the rigours of Kapa Haka performance. Staging can be hired for a one-off occasion or purchased for multiple, long-term use. No strangers to theatre, the Suttons recently enjoyed their daughter's lead role performance in her high school production of Cats, and Lloyd sings in a barbershop choir.
"It is absolutely a 'must' for schools to put on a production," he enthuses: "The kids benefit so much in so many ways. They all see how a production is put together, they have to build the sets and work on the costumes and, most importantly, work together to make it all happen."
Giving students the chance to experience quality theatrical productions, on stage or off, is a gift that keeps on giving. Whatever their role in the process or the production, chances are they will remember it forever. Giving students the chance to experience quality theatrical productions, on stage or off, is a gift that keeps on giving. Whatever their role in the process or the production, chances are they will remember it forever.