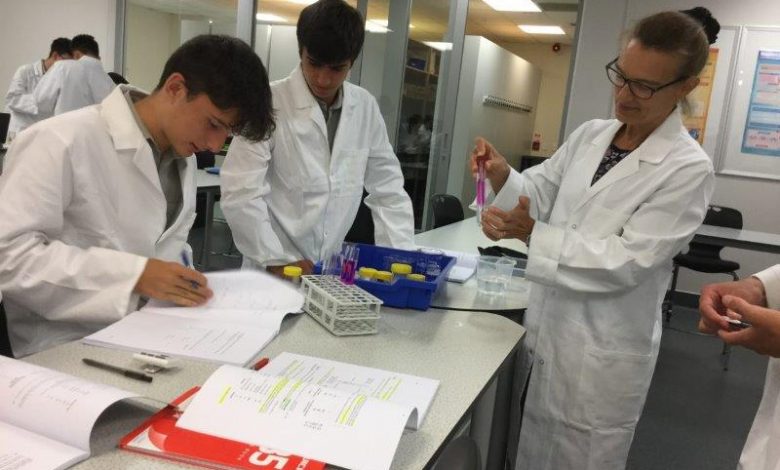 With recent news that school science standards have declined – in the ERO report released in April – it is more important than ever that science is given the time and energy is deserves.
Making science fun and demonstrating science in the classrooms is key to creating memorable reactions – not only in the experiments, but from the students themselves. Schools have a lot to think about when it comes to their science labs. What design and safety considerations do state-of-the-art science rooms need?
We spoke to key industry professionals this issue to uncover trending insights…
Providing school science labs with equipment, furniture and safe storage solutions is what the industry experts at Novalab do: Richard Sutcliffe reveals that "in terms of laboratory design, flexibility of the lab space is certainly catching on here in New Zealand".
"It seems to be a trend that has worked its way from Europe and the UK. The designs coming through at the moment are definitely detailing differing workspace areas, open learning areas and changes of shape of the laboratory space.
"Another key change is area visibility, with glass and sliding walls and doors that help to create a feeling of open space throughout the lab block."
Furniture design has evolved in much the same way, says Sutcliffe, with flexibility of design being a focus. "This can be achieved in various ways but minimising the amount of "fixed" benchtop area certainly gives the school the ability to "change" the layout of the room as and when they need to."
When it comes to fume cupboards, he says, discussions can become 'slightly contentious'… "I think we would all like to assume that our children are being taught and shown practical demonstrations in the lab environment that would mirror the experience they would have in a future career in science. This would predominantly mean using fully fitted and extracted fume cupboards that can cope with a large range of chemical experimentation being carried out within them. However, we rarely see this being the case in education here in New Zealand."
That's where the mobile, self-filtration carbon filter models of fume cupboards come into their own. When paired with docking stations located into the lab areas they provide really good flexibility and are affordable. He adds: "Chemical storage also needs careful consideration. The standards set around this subject are strict and we strongly suggest you seek input from a professional before embarking on just ordering chemicals and dangerous goods cabinets to stock them in.
"School prep areas are awash with heaps of chemicals and we can see just by the age of some of the storage containers and the amount of dust on them that they have been there for years and never used. "If this is the case then there needs to be a rationale of 'do we really need this?' if not, then seek help in the safe disposal of any 'spare' chemicals."
Thermoplastic managing director Simon Jones explains that: "The fume cupboard is the gold standard for demonstrating real life chemistry safely in schools." He describes four solution types: "The four-sided glass fume cupboard option allows a class to stand around the fume cupboard and see what is happening inside from any angle. The services connections can be routed from above (apart from drain), and the top enclosed with infill panels to tidy up the installation. Where a fume cupboard must go against a wall, added side windows boost visibility. It is helpful to have the wall clear of joinery either side to allow students to be standing next to the wall.
A third solution is the double-sided fume cupboard, which has sliding opening sashes on two opposite sides, allowing one fume cupboard to be used from both the prep/storage room and classroom sides. A sash interlock allows only one sash to be opened at a time. This is more economical than having two separate fume cupboards, providing the storage room is adjacent to the classroom, and can aid security as chemicals can be made to never leave the prep room, depending on the workflow. Slim side windows can be added (they are restricted due
to the size of the front sash).
Finally, ductless fume cabinets can be purchased with a trolley frame, wheeled between rooms and set up for temporary demonstration of chemistry experiments. These are a good solution for schools due to lower chemical concentrations and low duty. A downside is needing to replace the carbon filter approximately every two years. Filter monitors allow the user to see the filter life and the fan status live on a screen."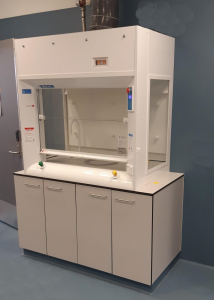 Talking to us about dangerous goods storage cabinets, Jones explains that schools typically stock a mix of Class 3 (flammable liquids) and Class 8 (corrosives – e.g., acids) chemicals for demonstrations.
"Dangerous goods cabinets are a good solution for storage of these, as they deal with the main compliance issues from the relevant standards (e.g., bunding, shelf air movement, labelling, materials, and a degree of fire safety) all within a cabinet. These can be connected to an exhaust fan system to reduce or eliminate any smells or fumes in the room (but this cannot be a fume cupboard fan, which is kept separate)."
Standards for schools
According to suppliers, all built-in fume cupboards must comply with AS/NZS 2243.8:2014 under the building code and need to be tested annually for compliance on the building's BWOF as a Specified System (SS11). Mobile or recirculating fume cabinets have their own Standard AS/NZS 2243.9 (2009). These do not require annual inspection by a qualified person – however the standard does provide a template for annual testing/inspection.
Regular filter replacements are crucial. Flammables cabinets (Class 3) must comply with (part) AS 1940:2017 or EN 14470-1:2004 according to the Health & Safety at Work Regulations (2017) 11.29. The European (EN) standard provides for fire safety ratings in the cabinet and allows for different labelling. Containers must store less than 20 litres each in these cabinets, and the total stored cannot exceed 250 litres.
Finally, corrosives cabinets (Class 8) must comply with (part) AS 3780:2008 "or a standard in a relevant safe work instrument" according to the Health & Safety at Work Regulations (2017) 13.37. Storage volumes are limited to 1000 L or kg total (less for some subclasses), but schools typically store much less.