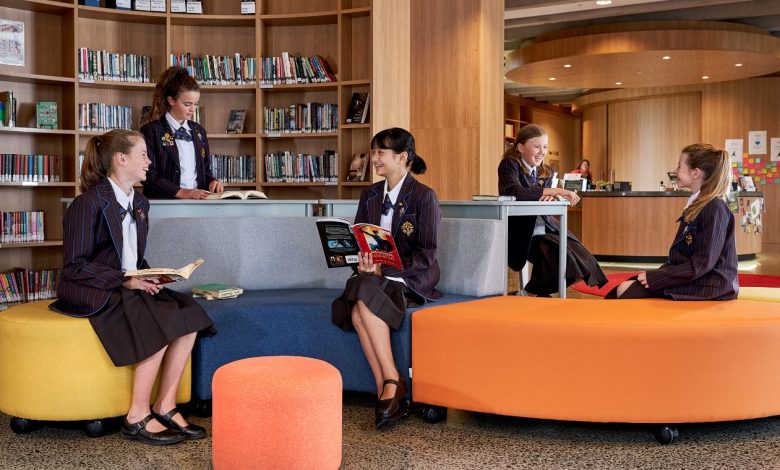 Gone are the days of static wooden desks; each one allocated to a pupil at the start of the school year.
The needs of the modern school dictate that places of learning are everywhere. Inside and out, classroom to field, group and individual workspaces can be created. So, how do schools go about creating flexible learning spaces that encourage independence, collaboration, and creativity?
One Kiwi in the know, is Marianne Elliott. The learning space design consultant works with Hawkes Bay-based company Furnware and was happy to share her opinion on creating flexible learning spaces with us this issue.
She advised:
Schools should always start with the 'how, why, what and who?'. Pedagogy should always come before design and asking these questions helps facilitate an effective approach to planning.
How does the teacher teach? What activities will the learning space need to support? What size are the student groups and what year are they? How much of the curriculum is digital learning? Will there be STEM/STEAM happening in the space?
Only then do we start to design and develop the learning spaces to facilitate all the different activities and support every learner and the way they like to learn. You need to think about creating different zones; quiet spaces for reading and independent learning, space for floor learning and mat time for junior students, high spaces with good sight lines for front of class instruction, and plenty of room to accommodate collaborative activities, where flexible furniture can be joined together for large group discussion.
Provide plenty of choice to support every learner and how they like to learn, with flexible furniture options to enable the learning space to be reconfigured for multiple activities, independent learning, paired learning, and larger collaborative groups. This can include a variety of desks and tables; high-seated and low, with solutions that can be separated or joined, depending on the need. Whiteboard surfaces are useful to provide visible learning to encourage participation. Mixing soft furnishings and hard materials can bring the comfort of home into the classroom and soften noise.
By incorporating some, or all of these, the learning space becomes a creative and engaging environment where students have agency and control over where is best for them to learn their specific tasks.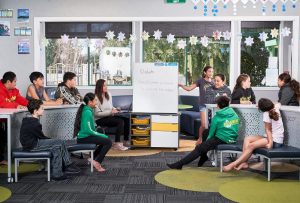 Furnware colleague and design manager, Helen Jones also spoke with us about her view on wellbeing and pedagogy as key themes for schools to consider.
She suggested:
The principle of form following function applies to flexible learning spaces as well. Design must be driven, first and foremost, by the pedagogy of the particular school and teacher, and then the space designed in order to facilitate delivery of this. Furniture plays a huge part in this delivery and should be considered early in the design process, rather than at the tail end.
The key factor is pedagogy: what learning do we want to deliver in this space, who to, and how? While catering to the needs of the here and now, flexible learning spaces have the advantage of being able to transform to cater to evolving teaching styles and methods.
The theme of wellness (be it mental or physical) is widely recognised as critical to student engagement and learning outcomes. Environmental aspects such as air flow and quality, light quality (both natural and artificial) and acoustics are all key to well-designed learning spaces.
Similarly, colour can have a powerful influence and should be carefully considered. Too much bright colour can be jarring and distracting, whereas keeping a good ratio of more neutral colours and then using limited accent or pops of colour in appropriate places is far more effective.
Product design director at the company, Jesse Keith added his practical industry perspective on some of the latest developments and trends in classroom furniture:
Standing height furniture is not just a trend for the workplace but it also has a role to play for certain learning activities in the school setting. This can be especially powerful when students are engaging in dynamic learning like STEAM subjects.
Soft seating and quiet zones are fantastic to break up large spaces. They also act as a retreat or haven for students looking for personal space while reading or completing focussed learning tasks. Soft seating, in its nature, reflects furniture we have in our homes and hence helps us feel more at relaxed and, hopefully, more comfortable. Chairs or stools that have integrated dynamics and promote user in-chair movement can allow students to remain comfortable and on-task during their learning.
Biophilic design is a relatively new and rapidly expanding area of study and practice in the design of spaces and products. Exploring this in the context of colours, textures, material selection and product form allows designers to enhance a learning space by providing a connection to nature. Nature is known to provide deep, calming, and restorative properties. Where better to explore and embrace these qualities than in the classroom?