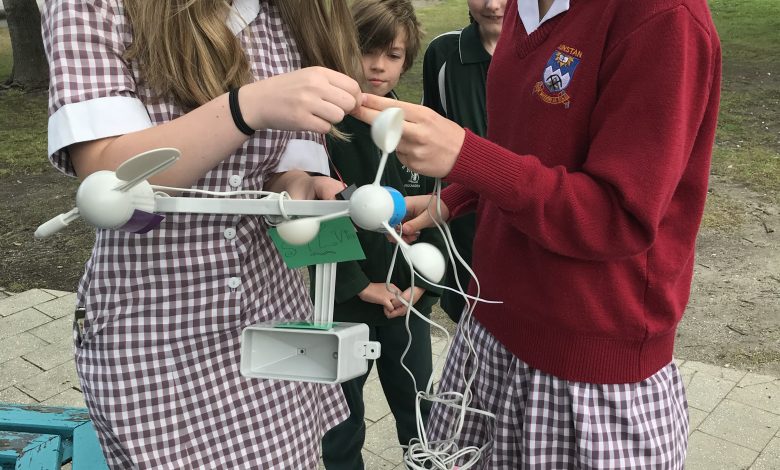 We asked and you answered! STEAM, it seems, is everywhere.
From Auckland to Alexandra, Castor Bay to Christchurch, school students of all ages are getting involved in Science Technology Engineering Arts and Mathematics (STEAM) learning programmes, with some impressive outcomes. In our November e-newsletter, we put a call out for schools to share their projects and learnings and were delighted to receive a raft of responses.
Here, we highlight the work going on at several schools across the country, starting with Dunstan High School in Alexandra. This rural Central Otago school shares the challenges and successes that have come from introducing a STEAM programme to its classrooms and community.
Michelle Bromby has spearheaded STEAM at the 500-pupil school and manages the programme. She said that, like many schools, Dunstan High originally embarked on a STEM programme. "I know some teachers school had felt threatened that the strong emphasis on STEM coming from the government meant that they felt their subject was being devalued. It really just took a few conversations and a name change to STEAM to smooth things out.
"I think teachers are now starting to realise that STEM/STEAM doesn't make their subject obsolete at all, in fact it offers lots of opportunities to explore arts subjects in different ways, potentially increasing their relevance for today's students."
At the start of 2020, the local kāhui ako (Community of Learning) was awarded a $242,000 grant for STEAM Education Development from the Otago Community Trust. A significant amount of this money went to Dunstan High School, Michelle says, which helped equip its music, drama, and arts departments. "It reassured everyone that STEAM really does involve he Arts, even if the A is often left out of the acronym!"
She explains how the school's Year 9 and Year 10 programmes have progressed over the past two years.
"We started out focusing more on robotics and coding but have changed to a more practical course as we've gone along. Because our students are from a rural area and do not come with a lot of coding experience, we found this initial approach was a bit off-putting for them."
So, the school adapted its STEAM programme to fit with the needs of its rural community. Pupils began designing and building catapults using a laser cutter, and the school has developed a rocketry module in which students have worked in teams to design, build, and launch a rocket. Student choice projects included a group of four girls building and writing code to create a weather station. They then too this over to the local primary school to show new entrants how to monitor the weather.
One teacher involved in Dunstan High's STEAM programme, Rupert Bromby told us that pupils have also engaged in other projects such as 3D printing and building an electric-powered jet boat. He said: "It's been very satisfying as a teacher to see many disengaged students get really involved in class activities of their own choice and putting their ideas into reality."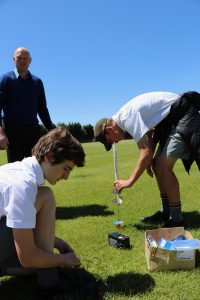 So how has Dunstan High's experience of delivering a STEAM programme helped shaped the initial view of this among some, and built engagement with learning and the community?
Michelle says, "It has been a bit of a battle. The principal, Reece Goldsmith, and the school board have been enormously supportive. However, we have had to convince a largely conservative school community that this is a worthwhile endeavour."
Some highlights have included watching students start to think for themselves, says Michelle. "And seeing others, who might struggle academically, really shine with the practical nature of the subject and find their passion."
Rupert says he finds some students initially struggle with the practicalities. "They usually work in teams of four. They find this challenging at first. The teacher minimally intervenes in the project work, and so the students have to allocate and be accountable for the tasks amongst themselves."
So, what is next for STEAM at Dunstan High School?
Michelle says, "Next year we have a new format for our year 9 course, with even more hands-on practical learning involved. In the future, it would be great to see STEAM integrated with our enterprise programme, and possibly within other more arts focused subjects.
"We are also starting a project-based learning programme in our senior school next year and are hoping to have more STEAM projects as part of this course in the future."
Maker Space at Kamo Intermediate
At the opposite end of the country, STEAM is gathering pace. Near the top of the North Island, Kamo Intermediate School has introduced what it calls its Maker Space programme. Principal Kim Sloane explains what instigated this STEAM initiative at her 690-pupil school.
"Previous experience, reading, professional development all led to a keen interest to offer Maker Space to the students at Kamo Intermediate School. Having a diverse range of skills and passions made it easy to expose these enthusiastic students to the benefits and learning opportunities of 'real life' learning. Students of this age also have a keen interest in saving the planet, so upcycling was an immediate attraction. Adding to the school-wide aesthetics made the students involved, very proud."
How did pupils react to its introduction?
Sloane says, "Students quickly became passionate about their projects, especially those who were upcycling items to fit a new purpose for someone else. Other students saw what their peers were doing and very quickly wanted to become involved. Students continue to be encouraged to bring to school products that can be upcycled or redesigned in some way to become more useful."
Pupils have been transforming discarded wooden pallets into outdoor furniture and giving new life to other donated items by upcycling and repurposing them. The positives that have come from introducing projects that have tangible, real life applications and value have been many and varied.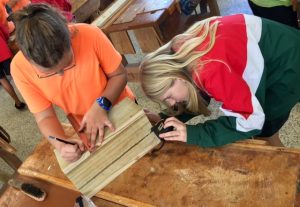 "Students have learned new skills, co-operation, resilience and integration of learning from so many areas. Working alongside the community, developing self-confidence, self-belief, and a willingness to help others are some of the highlights.
"We're finding that students are willing, and wanting, to give up their own time to complete projects, so much so that often they are at school by 7am ready to work on their projects."
Where have these STEAM project ideas come from?
"Initially ideas came from various websites but increasingly they come from where individual students see a need, and/or a purpose, and act on it.
"The biggest advantage of this type of learning is that it enables all students to have success. They realise it is not necessarily an advantage to be the best at everything. They also realise that they have skills they were not aware of and this, in turn, creates many 'Eureka!' moments."
Principal Sloane has big plans for this year and beyond, to further develop the school's work in the STEAM field.
She says, "I would like to apply for funding to purchase a CNC machine. This will enable students to design using up-to-date software and see their designs become a reality. I would then like them to look at creating an online shop where their projects could be sold.
"The future skills focus of the Maker Space programme is aimed at helping foster independence, meeting with success and preparing students for careers that perhaps are yet to be created. A character context-based STEAM class might be in the pipeline to offer students the chance to explore and learn through a common interest."
Creating at Kirkwood Intermediate
At Riccarton in Christchurch, intermediate school pupils have STEAM coming out of their ears! They enjoy the benefits of a technology centre, which includes eight specialist technology rooms and provides a base for STEAM learning to nine schools in the area. Over 1000 Year 7 and Year 8 students from low to high decile client schools access the facilities, usually for sessions of two hours at a time.
Programme leader Julie Anderson, Head of Technology at Kirkwood Intermediate, says, "We have nine specialist teachers, who follow a thematic approach, using the 'Five Stages of Design Thinking', as the framework of our programme."
She shares some of the school's learnings as its STEAM programme has progressed. "Previously, several teachers trialled a collaborative, un-siloed project, where 32 rangatahi worked in teams to produce an outside team game. They had to choose who went into which room (soft materials or resistant materials), construct a game, test it out and then run a whole year level competition. While the end result was successful, some teams had issues getting along throughout the process."
Trial and error led to a new approach to learning in the technology field.
"Last year, therefore, the second trial focused on a different pedagogy: Maker Space, Impact Projects, Passion Projects, a project/problem-based learning and action inquiry. These are various names for enabling learners to be creators and solvers of problems in a different, more integrated way, compared to the resistant and soft materials, electronics, robotics, and food processing areas.
"Using the kaupapa of the 'Five Stages of Design Thinking' framework is still integral to a more relaxed 'Maker Space' but offers those less inclined to enjoy producing written portfolios of evidence, to meet levels 3 and 4 of the technology curriculum and give them more freedom to make decisions and take risks."
A Maker Space trial project centred around The Eco Shop in Christchurch, which collects and resells waste materials. It had advertised a local robot building competition to raise awareness about electronic waste.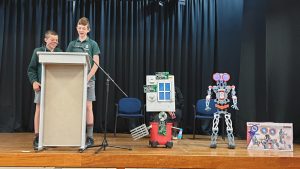 Anderson says a pair of boys constructed 'a magnificent 'Meccason meccanoid' in the form of a personal robot they named Lucy, standing 122cm tall. "It has a camera on the front to track movements, a smoke alarm (just in case there was a fire) and a sensor, powered by a power bank. They included an electronic circuit to light up when she sings. They had to carefully read 160 steps during construction, then test and finally programme their own voices. The robot can mimic movements and follow commands, so is very interactive."
Lucy won first prize in the competition.
What, in Anderson's view, are the main benefits of this work?
"It builds skill sets for future STEAM careers, as rangatahi work in teams to make plans, practice self-management, leadership, resilience, and develop communication skills by relating to others. These soft skills are transferable to any learning area and career. The students don't necessarily come along with these attributes already – they need to be taught."
And looking ahead? "With the implementation of the digital curriculum and the need to consider future staffing means, we need to be proactive in thinking and planning ahead, so we are not just replacing people into the same programme but are trying to be innovative and creative when thinking about what future programmes could look like."