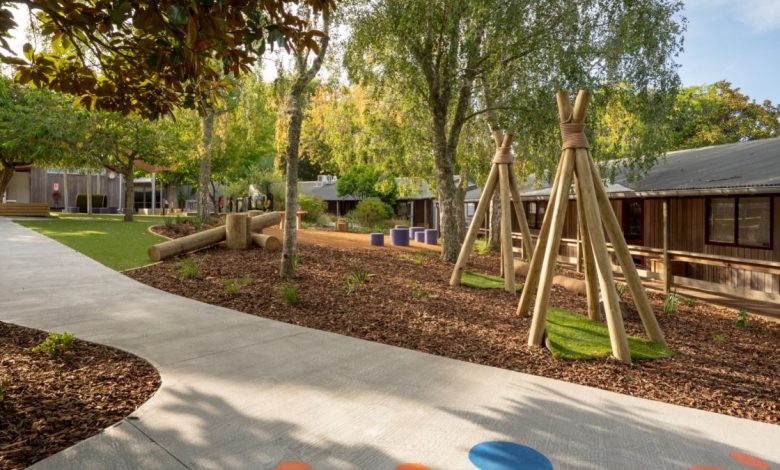 "Landscape architecture is the sensitive and creative design of the land and spaces we inhabit."
It could be said that the 'sensitive' and 'creative' adjectives in this sentence definition of landscape architecture, provided by the New Zealand Institute of Landscape Architects Tuia Pito Ora, are subjective. But in no branch of this field are these adjectives relating to landscape design more relevant than in educational landscaping.
Every school has its diverse spectrum of students, with a range of interests, capabilities and needs as wide as their end-of-term smiles. A responsible, modern school should, therefore, provide environments that cater to this chasmic range of interests, capabilities and needs too.
Gone are the days of the four walls of a classroom, a corridor, and a door to a rectangular, concrete yard. A school should offer abundant opportunities for students to explore and engage with a range of manmade and living things. From pathways to paving, gardens to gating, light to shade and all manner of materials, finding a fit for a range of experiences within a school can be a daunting undertaking.
Landscape architects can take on many roles, according to the NZIA, 'from designer to land-use mediator to conservationist'. These practitioners are the key, therefore, to enabling the process of transforming our school environments into challenging, stimulating, and nurturing spaces that work on many levels with the schoolgrounds, and beyond. We asked some experts in the industry to share their experience and opinions this issue to shed further light…
How do we strike the right balance and achieve the best outcomes from our outdoor school spaces?
Senior landscape architect at CREO, Larissa Rose believes passionately in the transformational effects that a range of sensitively designed spaces can have on a school, its pupils, and the wider community. She says: "Multiple articles and research papers are telling us how crucial play, both prescribed and imaginary, outdoor learning opportunities and natural experiences are to the health, happiness and development of children.
"I've seen first-hand the positive effects of noise reduction, anger and aggression reduction and the more focused behaviour that comes when a child's environments are supporting them in a range of play types and opportunities."
Where does a school begin on its journey towards creating a more positive educational landscape?
Registered NZIA member Rose works with the Auckland-based landscape design company and says schools needs to think big before they begin.
"The first thing to consider before selecting a project is actually the wider school environment: Is there a masterplan or planning process to ensure that the area in question is in the right location long-term for this type of development? Is the space going to adversely affect the use of the school? And is this development helping to create a wider range of opportunities for teaching spaces, learning, sport or play?
"Once you know the project and location are right, the questions to think about are: How do you get into the area? Once there, how do you flow through the space so that the integrity of the use of the space is not compromised?"
Any upgrade of a school environment should sit under the umbrella of an overarching aim to create a range of different spaces for different needs. What, then, are some of the setting options beyond the basics?
"We have traditionally thought of the school's outdoor environment as only the traditional playground and the sports facilities. More recently, there has been a push towards creating 'Enviroschools' and providing opportunities for nature play," says Rose.
"Many schools are thriving with these inclusions as part of the students range of play and learning spaces. However, there are more types of spaces we can think about, each with additional benefits: Sensory, unprescribed play, outdoor learning spaces, social spaces, bike/scooter tracks, imaginary and loose parts play, to name a few."
As learning opportunities extend beyond the classroom into an ever-increasing range of outdoor and transitional spaces, so too do they extend beyond the school grounds.
The impact of a sensitively, creatively designed school environment can be felt far and wide.
Senior landscape architect at Kamo Marsh, Tim Scott, suggests schools develop a landscape masterplan for their site ahead of an educational landscaping overhaul.
"This will provide a clear vision for the school that reflects the school's values and cultural narrative and can be used to inform future planning of the school site. Other important aspects to consider include identifying the functional requirements of the space such as shade and shelter, seating, and specific learning opportunities for the age group likely to use the area."
Scott says the traditional concept of a school's outdoor areas being purely used for sport and play has been banished. "While it is still clearly important to have active outside areas to balance time within the classroom, it is now recognised that the outdoor environment can play an important part in student wellbeing.
"The calming effects of generous greenspaces and a green outlook from within classrooms helps to lower overall stress levels. Outdoor break out spaces can complement classrooms by providing flexibility to teachers looking to reduce activity and noise levels within the main classroom. And students who may struggle in traditional learning environments within the classroom may excel in the wider range of activities that can be offered in outdoor spaces."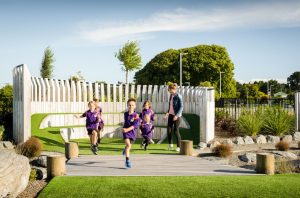 Scott's number one piece of advice when considering a school outdoor space overhaul?
"Ensure there is flexibility within the design to provide a variety of functions. Avoiding overly prescribed outdoor spaces will allow opportunities for ongoing spontaneity, creativity and collaboration."
Aynsley Cisaria, landscape architect with Boffa Miskell, believes in putting the ultimate client first. "Involve children right from the start," is the Auckland-based architect's first nugget of advice to schools.
She has some other key suggestions to keep front-of-mind from the outset. "Consider circulation and flow. Plan for ease of supervision. Connect with nature; encourage seasonal change with biodiverse planting and provide loose parts – seeds, pods, leaves and branches – for creative play."
Weaving cultural themes into your school's design is important, says Cisaria.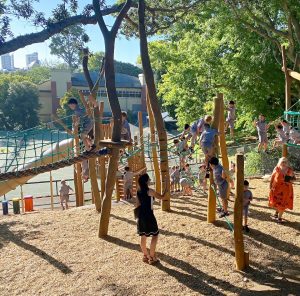 "Explore authentic cultural narratives in a variety of materials and settings with your school community. And always leave room for future changes and creative development by children."
She sums up how outdoor spaces enhances students' wellbeing: "Well-designed outdoor spaces are an invitation to explore ideas, take risks and build resilience through play and learning."
And play is not just play.
"Social and emotional wellbeing develops through play: solo/parallel, simple games/complex games and diverse outdoor environments offer lots of opportunities and choices for play, recreation and social interaction in large and small groups."
Providing a range of outdoor settings counteracts what could otherwise manifest as boredom if children were to experience the same setting for six to eight years, she adds. "Think about how we can evoke the calming and restorative essence of natural spaces in our everyday spaces: walking through a forest filled with birdsong, the sight and sound of a trickling stream or beach waves, the pleasure of sitting in the dappled shade of a large tree on a sunny day…
"Some dynamic places are also needed, such as sand and water play, outdoor music, a performance space or STEM/STEAM exploration spaces with lots of loose parts to manipulate."
Creating a basic springboard for child's play is, well, child's play.
Providing one that is sensitive, creative and that honours the people who are not only interacting with the space in the here and now, but those who trod before, takes a little more effort. With the right help and collaboration, this beautiful balance can be achieved.