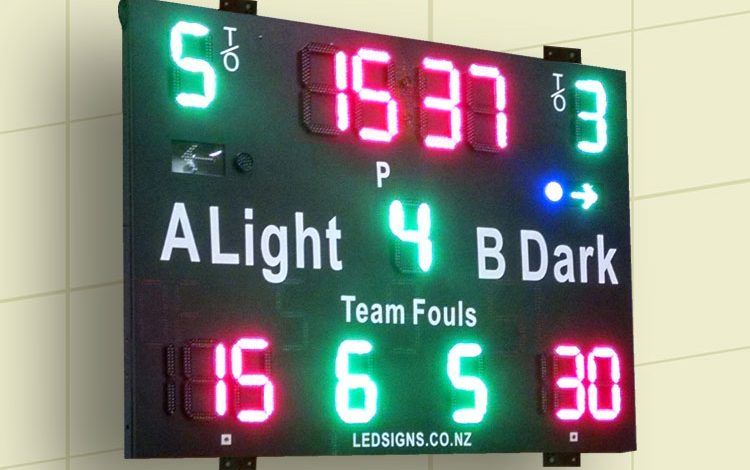 School sport remains a key element of education and a quality scoreboard elevates the experience.
Many of the latest video scoreboards can be programmed to display team and player profiles, stream live footage and replays, and display school announcements and advertising – all adding to the atmosphere of the event.
For schools planning to install a new scoreboard, there is a dazzling array available that can satisfy almost any criteria; from low-tech, flip-style scoreboards to high-tech customised multi-purpose video scoreboards that include the latest full-colour electronic display technology.
Read our new Term 4 issue online today!
What to consider when it comes to sourcing a new scoreboard for your school:
Cost: Price is often the deciding factor when it comes to planning a purchase but don't immediately rule out the more sophisticated scoreboards. With the cost of technology coming down, some of the high-tech alternatives are becoming an option for more and more schools.
Size: Determine where the scoreboard is to be installed and purchase accordingly. Bigger is not always better. The size and shape should suit the available space.
Readability: The importance of size also impacts on readability with the character display a crucial consideration. Most manufacturers provide options with character display ranging from 100mm-400mm. Scoreboards for smaller court-specific sports – like basketball and netball – where the crowd is reasonably close, may only require a 100mm-150mm high character but those on a large field – like rugby union, rugby league or hockey – will need a board with 300mm character display or bigger. Some scoreboards come complete with a brightness control which can be used to adjust the display to account for the conditions, an important consideration in an outdoor setting.
Visibility: When planning where to locate the scoreboard, be it indoors or out, ensure it is placed where it is visible to the maximum number of spectators.
Durability: Outdoor scoreboards must withstand the elements so sturdy, waterproof, and rustproof construction with a durable finish is required. Polycarbonate panels can be installed over LED displays for further protection against the elements and vandalism and for impact resistance in the event of an errant ball. For indoor scoreboards, protective nets or cages are available.
Customisation: If the scoreboard is to be used primarily for just one sport, consider a sport-specific scoreboard which can result in lower purchase price. If, however, the facility and scoreboard are to be used for multiple sports, there are numerous multi-purpose scoreboards available which include built-in custom layouts to suit the chosen activity.
Communication: Options include wired, computer-based and wireless controllers. The key to all is ensuring the software and controllers are user friendly to avoid repeat training for novice users.
Streaming: Many of today's scoreboards offer internet connectivity and the quality of the high-resolution displays on the market means they can also be used to stream video or screen movies, providing the option to use them for more than just sports days.
Branding: When planning the shape and size of the scoreboard, consider the potential for including advertising and signage on the cabinet. Digital options can also provide commercial opportunities with many delivering the capacity to screen advertising and promotional deals.
Whatever your final choice, it must be remembered today's scoreboard communicate much more than a match result.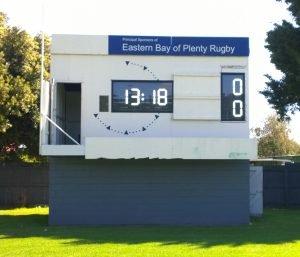 Supplier experts sound-off on scoreboard specs to excite students
School News Editor, Rosie Clarke, asked two scoreboard experts to fill us in on all the latest tech and trends.
The sport predominantly being played will inform the type of content you want to flaunt on your glorious new screen, according to HTS Group representative Colin Robson. "A basic level scoreboard will show two team scores, game time, period, and home/guest or custom stickers to indicate teams. Intermediate level boards will have electronic programmable team names, display team fouls, timeouts and possession, as well as certification to FIBA levels. High level boards will also display player fouls and have multiple timeout timers."
A video board provides a whole new set of capabilities for scoreboards, according to Mr Robson. "Video board integration is absolutely possible with existing onsite infrastructure," and can "include video content from other onsite applications, cameras, video replay, web streaming and recording". When installed in the right location, he says "a video board extends use to other curricula activities such as productions, assemblies, meetings and video replay. The video processor can take in video feeds from a number of devices and scale to play on the video board."
For WiPath Communications Managing Director Craig Meldrum, custom-built scoreboards offer schools a range of capabilities and designs. He says: "Although some of the more basic ones are based on fairly standard designs, there are a huge variety of scoreboard options available, from 'do it yourself' modules that a school or club on a budget can install themselves, right up to full stadium-type video screens of any size."
He says that every scoreboard and school billboard should be made from the highest quality components. It "makes them a little more expensive but they will last a lot longer and therefore provide the best long-term investment".
"The type of integration depends on the type of scoreboard. Standard scoreboards that show scores tend to just have a simple stand-alone controller that connects to the scoreboard wirelessly. For more sophisticated scoreboards, such as stadium types, the integration can be somewhat more involved depending on the functions required, there is no one-size-fits all."
Picking out the right pixel count
Mr Robson says schools should eye up scoreboards that balance pitch, pixel count, and cost. "The human brain stops identifying the individual pixels at the Visual Acuity Distance, so 1mm pixel pitch is 1m minimum viewing distance. "To get a viewable video picture, the number of pixels needs to be appropriate for the content. For many outdoor school gate displays, the pixel count isn't sufficient to cleanly display the graphics intended but would have been terrific for a text-based display. For a scoreboard / video board in a school used for live interviews and replays, aim for a board with about 2.5m x 1.5m at 6mm or 8mm pitch.