Administration
News
You'll never say 'face the front' again
The humble classroom is in flux.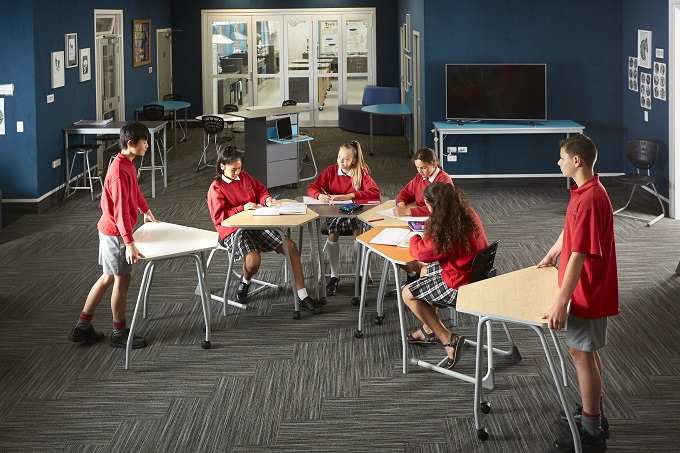 Where traditional teaching is peppered with calls for students to 'sit up straight' and face the board to pay attention, modern teaching facilitates learning. It asks learners to figure out for themselves how they need to sit, stand or move around so that they can pay more attention.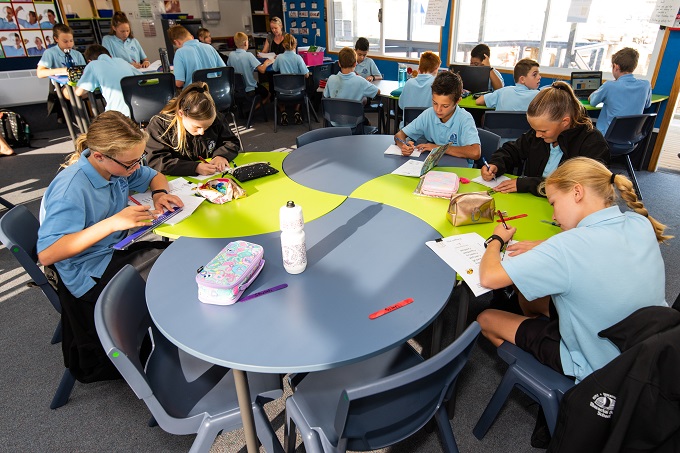 With this approach, students assert agency over their learning, their concentration and their comfort in the classroom. Innovative learning spaces hand the keys to learning back to the learners. It is the true task of modern learning environments, then, to provide teachers with the physical tools they need to facilitate self-directed learning.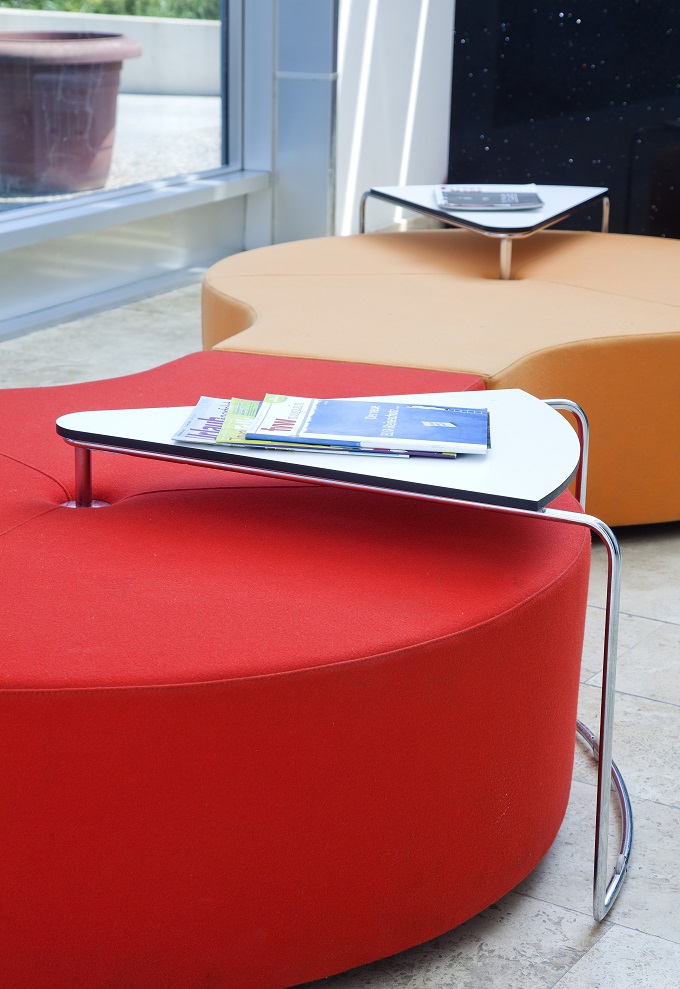 These innovative new spaces demand something from else from teachers too; they must relinquish some control. Perhaps it is more of a humbling realisation that teachers never had control over learning in the first place. If you walk into a room with rows of desks, you take on the mentality of trying to draw focus. 'Eyes on me' is a common classroom phrase and although the intention is to teach, to demonstrate a technique or respond to a question, there is also an illusion of control.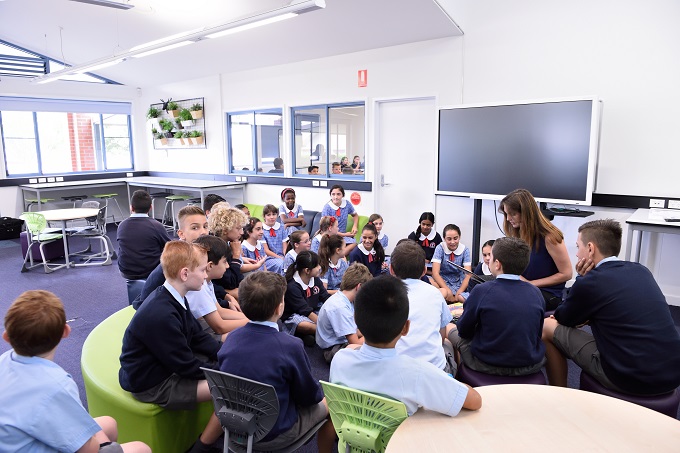 Of course, this illusion is shattered whenever students don't want to face the front, don't want to sit down, or look up from their paper, or can't concentrate on what you are trying to explain because they are busy rocking back and forth on their chair or talking to a neighbour. It can feel chaotic and your lessons become a battle to keep everybody 'on task' by facing you at the front.
However, walking into a new learning space where some students are on the floor, others in soft chairs, laying on cushions, some in groups and others alone, perhaps engaged in reading or flipped learning on a device: you no longer need to control the chaos. Your role immediately shifts in this environment because the chaos is no longer in the way of learning but is actually how students are trying to learn. You can move freely around this space, as can the students, and navigate their engagement with the curriculum by directing traffic rather than trying to force it. The focus is now on learners rather than on you as the teacher. It might even feel uncomfortable at first!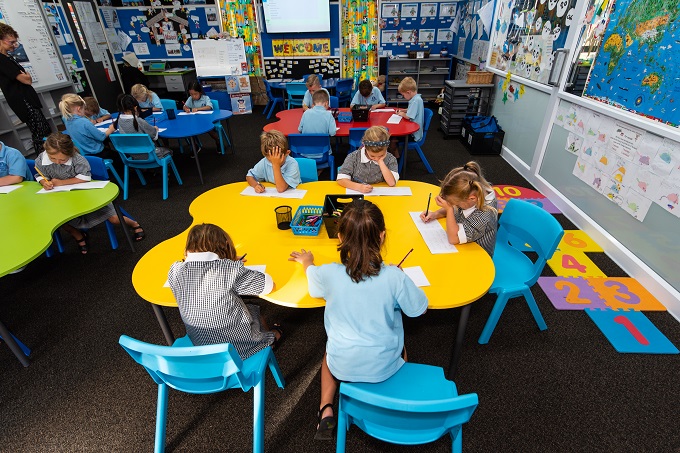 Some trips and tricks we've picked up from talking to teachers new to innovative learning spaces….
Provide learning goals that direct students without confining them by asking questions like, what do you need to do to learn today?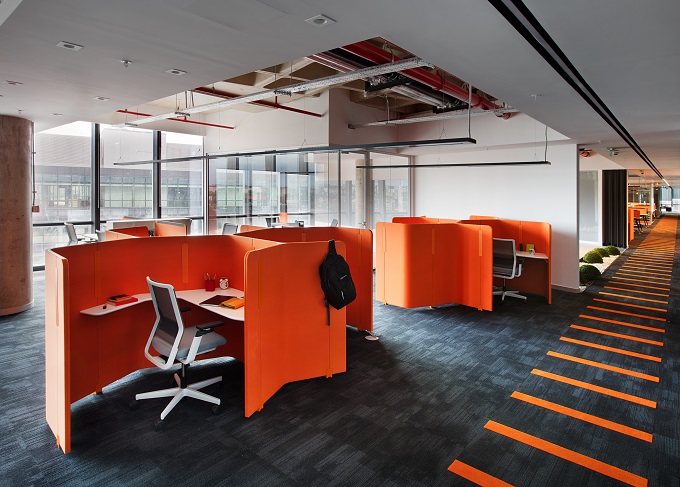 Try to reflect shifts in content or project with environmental changes. Move desks, rearrange seating or reset the classroom to provide time for students to shift gears. Changing their physical space can give learners a chance to wind-down or expend some energy.
If a student is getting distracted or agitated, redirect them to another seat. Trial and error comes with the territory: sometimes sitting near a window can help you concentrate and other times a standing desk might do the trick. Host staff meetings in your learning spaces! Only by trying the environment out for yourselves will you understand how it impacts learning. Figure out what kinds of seating help you pay attention and use these insights to direct and facilitate students.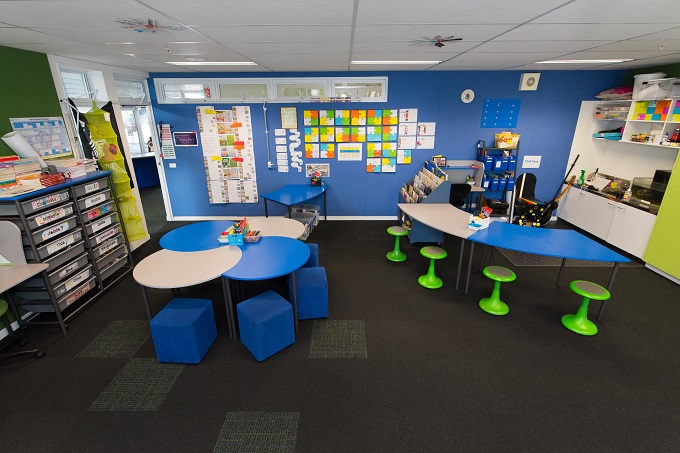 Consider different sensory needs: window glare can be frustrating when working with devices and dark spaces don't make great reading corners! Some people learn best by talking concepts through and white noise can be a valuable asset but for other learners, quiet reflection is a must. How can your learning space design meet both needs? Outdoor spaces offer terrific learning opportunities but what about device charging? Functionality and ergonomic design are crucial to creating an effective workspace. If seating is too slouchy or comfortable, students may be more prone to falling asleep than finishing their projects. At the same time, bean bags and relaxed seating is a valuable asset for encouraging group work and hosting class discussions. Try to reformulate, reset and rework your learning space to best reflect immediate learning goals, and encourage students to get into this habit too.
The ability to self-regulate and maintain self-care in a working environment will be a skill that benefits them throughout their lives.
Industry opinions
School News reached out to movers and shakers in the innovative learning spaces field to find out about upcoming trends in 2020.
Hot trends and predictions
Distinction's senior account manager Suzanne Roxburgh-Blair explained how design preferences are shifting. "Design is changing, especially in the architecture. Play-based learning is more common in the junior areas and maker space areas are becoming popular within schools. Maker space areas often require versatile storage, which can be mobile and easily moved around the room. This could be included in the tables that are being used, or as mobile units such as tote trolleys and storage trolleys. Breakout areas are common and require a more relaxed seating style such as soft furnishings, bean bags or cubes, configurable ottomans which the students can move around, or booth seating for privacy."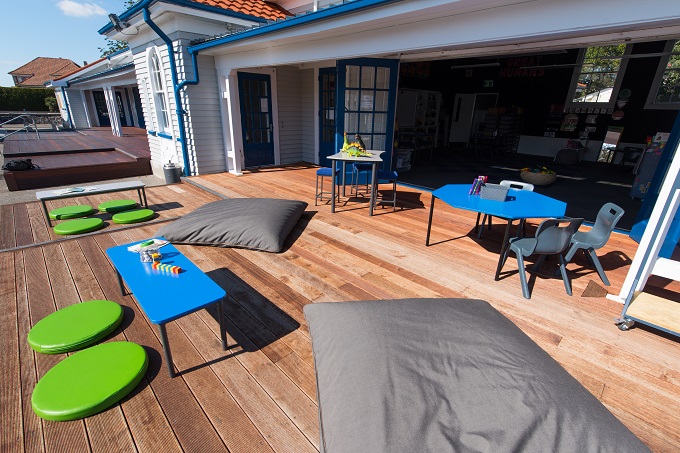 Scholar Furniture representative Rebecca Burke highlighted designs that facilitate more diverse teaching strategies. "Flexible classroom spaces need to organically integrate technology, helping teachers to better engage students and facilitate the mix of independent, small-group and whole-class learning. Design predictions involve continued evolution to facilitate the use of handheld devices, computers, and other technology in comfortable ways. I look forward to seeing more furniture pieces that allow teachers and students to easily reconfigure their learning environment to suit their needs."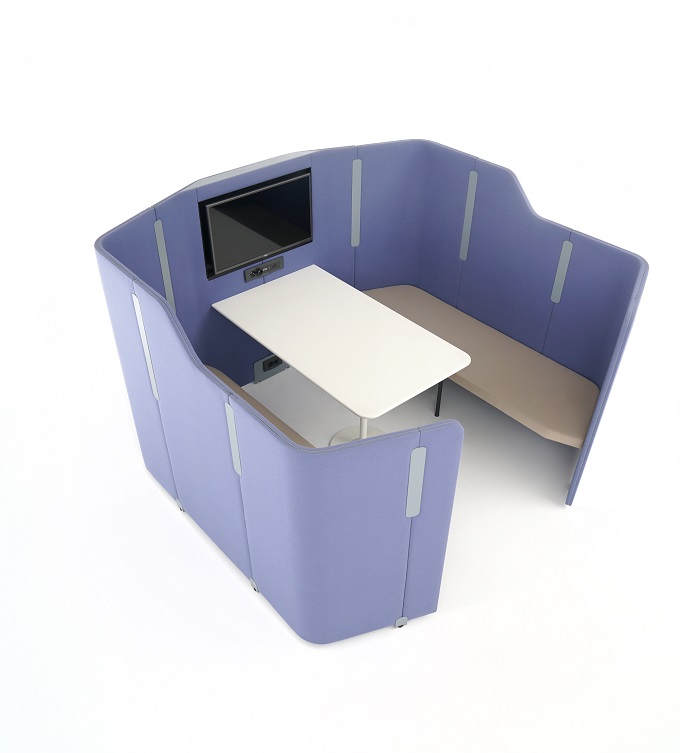 Furnware's head of design Helen Jones and research manager Bill Roberts sat down to discuss some predictions for school learning space design in 2020. "Increased data use to measure and evaluate learning spaces, such as temperature, noise, air quality and light will have real impact on learning outcomes. We're seeing the rapid growth of the 'learning app' – BYJU's for instance has 33 million users, $5 billion turnover and sponsors the Indian national cricket team – a huge presence. Other predictions include space design catering to introverts as well as extroverts; both literal and notional green spaces; and interactive display technology."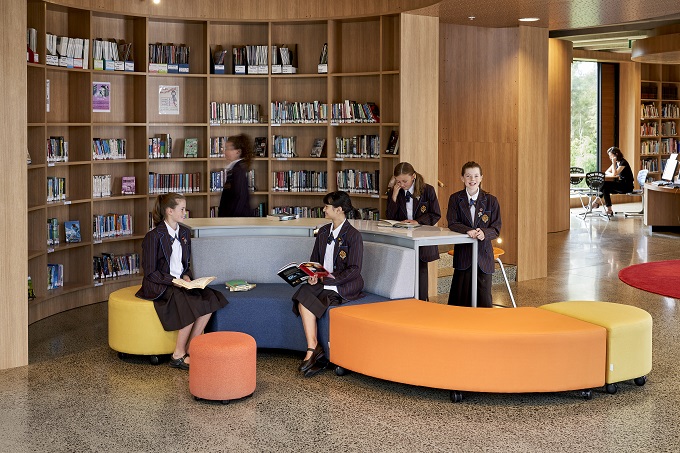 National Lundia representative, Gina Quensell said: "Minimalism is having a resurgence, both in design and mindset. As costs increase, having fewer multi-use items of better quality means a longer replacement cycle that saves you more long-term. Eco-friendly is the hot topic of the day as Kiwis have a very close connection with our beautiful environment and are incorporating more of these elements into interior fit outs and furniture. They have the added benefit of softening institutional spaces."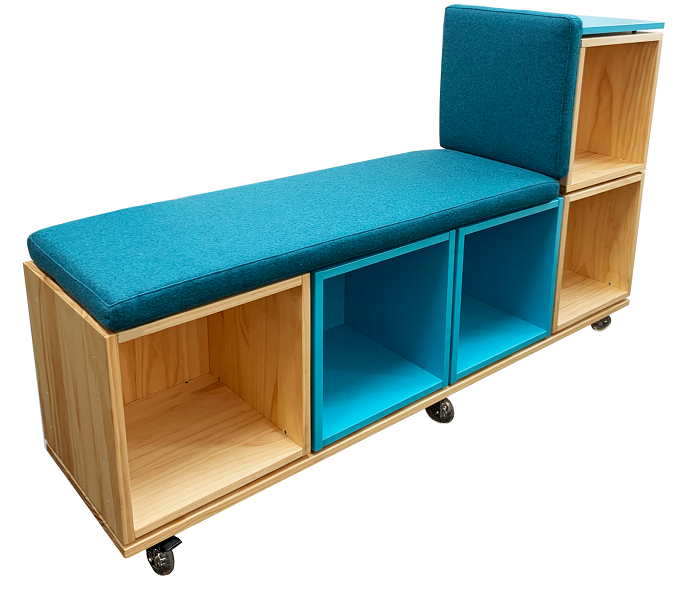 Creating ergonomic learning spaces
"These spaces must encourage greater movement as students transition from one type of learning to another, often relocating furniture in the process," Bill suggested.
Gina advised that "making room for movement in a space is key" and that ILEs should cater to this.
Rebecca said: "Simple ideas like flexible seating and classrooms that require students to move around can result in positive learning outcomes like more on-task behaviour. Research indicates that long stretches of uninterrupted sitting on a traditional chair can be highly detrimental one's health and spine, and this is just as relevant for a young student as it is for an adult. Offering flexible seating in the classroom creates more active and alert students as well as setting students up to create healthy, lifelong habits."
According to Suzanne: "Traditional usually means uncomfortable and less flexible. Furniture has changed over the last 10 years to prioritise comfort and flexibility. Most flexible spaces now offer children the chance to choose their seating style; either down-low, on pebble pads or mats, using kneeling tables; mid-height with chairs and tables; or up-high on raised tables where students can stand or sit on stools. Comfort is brought into the classroom with soft furnishings like cubes, ottomans and even couches as well as private spaces and rocking seats.
Must-knows for schools interested in flexible learning spaces
"I'm fascinated by the vertical inner-city schools that have a smaller land footprint and so require compact multifunctional solutions and provide local access to high value community resources for learning," revealed Gina. "School should identify the fixed unchangeable elements that they must work with, like resources and existing parameters. They must also consider which soft skills they may want to foster such as emotional intelligence (social), leadership (structure), and blue sky thinking (strategy). This will dictate things like what objects and layouts are required in the learning space as well as what elements could be eliminated."
"Modern classroom design can be challenging, and it can feel like you're starting from scratch," Rebecca warned. "However, with a little inspiration, you can apply a thoughtful design that catalyses learning in common spaces, libraries and media centres as well as classrooms. When designing a flexible learning space, the focus should be on creating a comfortable and aesthetically engaging environment. The design also needs to reflect the curriculum to ensure the layout is relevant to the school's specific learning goals.
"Some questions a school should ask itself before embarking on a new classroom design include whether students can move around easily, whether the layout is intuitive and how the design reinforces learning goals. Design thinking is a crucial skill, not only for students but for educators as well. Creative, flexible classrooms can encourage now-crucial project-based learning, so consider how you want to help students learn, and then shape the space to meet those goals."
Helen advised: "Consider how your school could integrate spaces for community interaction. Some new schools now have galleries, retail space selling student products, etc. The school has become the modern town square and schools are swiftly turning into fulcrums of the community." Bill reiterated that no matter the type of space, purpose is everything. "Clearly articulated, agreed and understood by all stakeholders, ask: How do we define and measure success? What are we trying to deliver and how will the spaces facilitate this?"
Suzanne said: "Schools should first consider the space itself and the number of students. If the space already exists, this will determine how much and what type of furniture it requires. Be mindful of existing built in storage units, features and windows. Sound, light and sight lines will already be apparent, and furniture can help control and maximise these. For a new build, consider layout configurations and mobile storage options alongside built in storage/whiteboards and diverse seating."