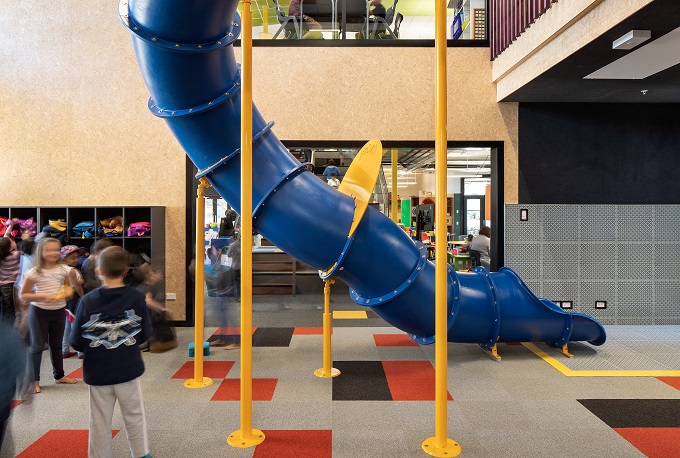 We wrote this report for our Term 1 issue of School News! Click here to check out the full-length piece (and the rest of the mag).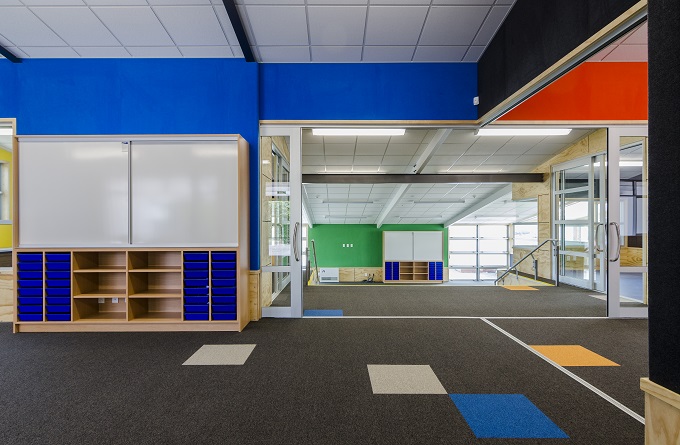 Your school flooring could be the culprit! A recent University of Otago study vacuumed patches of carpet in 136 primary school classrooms to measure allergen levels. The researchers detected house dust mite, cat, cow and horse allergens in 96.4 percent, 100 percent, 27 percent and 59.9 percent of classroom samples, respectively.
Samples from three schools detected a small amount of cockroach allergens and one school evidenced traces of peanut.
These are significant findings when New Zealand kids have some of the highest rates of asthma in the world. Fourteen percent of children (aged two to 14) receive ongoing treatment for the condition, according to New Zealand Health Survey. A 2018 impact report from the Asthma and Respiratory Disease Foundation of New Zealand adds that respiratory disease is our nation's third most common cause of death, and that "hospitalisation rates in children under 15 years were nearly three times the rates for adults aged 30-64".
Cat allergens were most prevalent, a finding that could pose "major exposure risk" to students with existing sensitivities, according to the study. Cat allergies are relatively common and although rarely life-threatening, contact with cat dander can trigger eczema, asthma, hay fever-like symptoms and other irritations. In the Otago study, 100 percent of the classrooms tested positive for at least low levels of cat allergen but around a quarter had high enough levels to trigger these health issues in sensitive children.
The report suggests that as schools likely do not have cats roaming the halls, so these allergens likely transfer from children's clothing and stick to the flooring. All the classroom floors tested in the study were carpeted, though it is not stated how recently they had been professionally cleaned or how old they were at the time of testing. Schools that have noticed a high allergy rate among students and/or staff should consider testing, cleaning and/or refurbishing their flooring. The researchers, led by Associate Professor Rob Siebers, suggested that schools concerned about cat dander in particular could look at smoother flooring types. Although, they also noted that further research would be "required to demonstrate the benefits of replacing carpets with smooth flooring in terms of health outcomes".
Carpets do also have lots of benefits for school environments. Carpets provide sound absorption, making them a popular choice for libraries, larger classrooms and common areas. Carpets also boast thermal resistance, which can help improve your school building's energy efficiency. Adhesive carpet tiles are versatile and efficient and could be a good alternative as schools can replace a few damaged, used or dirty tiles rather than strip out an entire carpet or wait until the whole carpet is worn enough to warrant a full replacement. Moreover, smooth or hard flooring can be noisier, more difficult to replace and more slippery.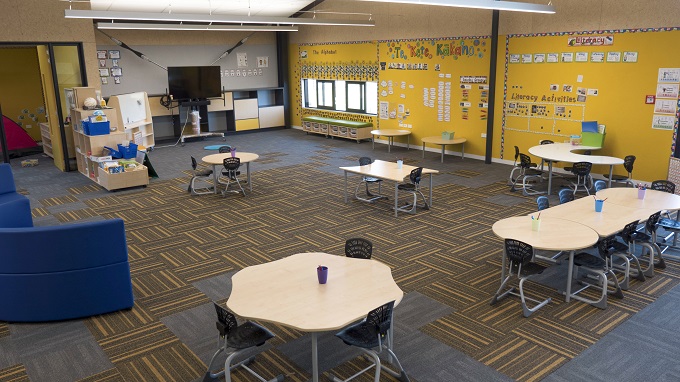 Material benefits, flooring options
Typically, schools use a variety of materials and the most popular ones include carpet, ceramic or porcelain and vinyl composition tile. However, there are pros and cons to all materials. While carpets, vinyl and rubber flooring come in all colours and designs that can be customised to your needs and preferences, wooden floors are less customisable but can offer a warm and classic feel. Each material has different acoustics and depending on use, you may want something soft enough for students to sit on or tough enough to withstand heavy equipment or musical instruments.
Acoustics are a critical concern for schools in 2020, particularly as awareness about sensory processing disorders continues to build. All schools need quiet spaces to enhance student comfort and concentration. Noise levels can be improved by installing softer surfaces like carpet. Sound absorption studies have shown that when comparing carpet to hard flooring, carpet is up to ten times more effective at absorbing sound. Mats and other coverings can also help.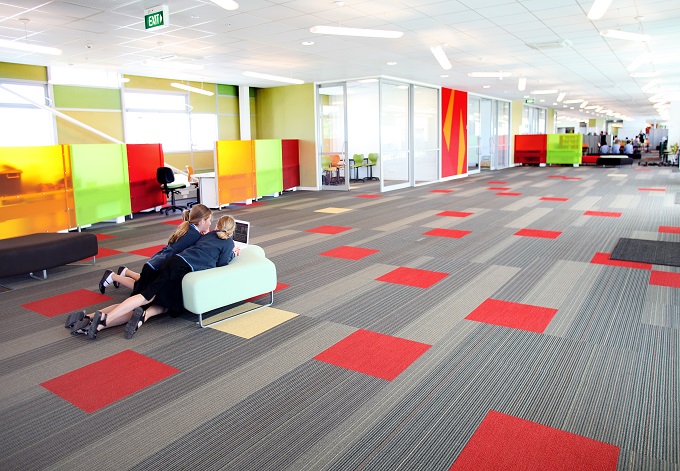 Vinyl provides a visually warm and welcoming atmosphere, and it can withstand heavy wheel and foot traffic. Vinyl tiles are flexible, easy to fit and cost effective to r
eplace and can be used all over your school because many brands offer non-slip, non-scuff qualities and they can be designed for use in gymnasiums. For many installations, they provide a good balance between affordability and durability. Rubber tiles are a resilient choice for schools and if they are composed of recycled tires it can help fulfil some of your building's sustainability goals. This flooring might also be better at reducing the hair-tingling noise from scraping chairs. Wood is a versatile option that can be used for lots of different needs. Timber provides good shock absorption and works effectively for heavier bodies in gymnasiums and on dance floors, providing some resilience against injury and promoting noise reduction.
The key here is figuring out which materials have the most benefits to suit your school's needs. The real takeaway for schools reading this study could be to carefully consider the impact of flooring on their learning environment.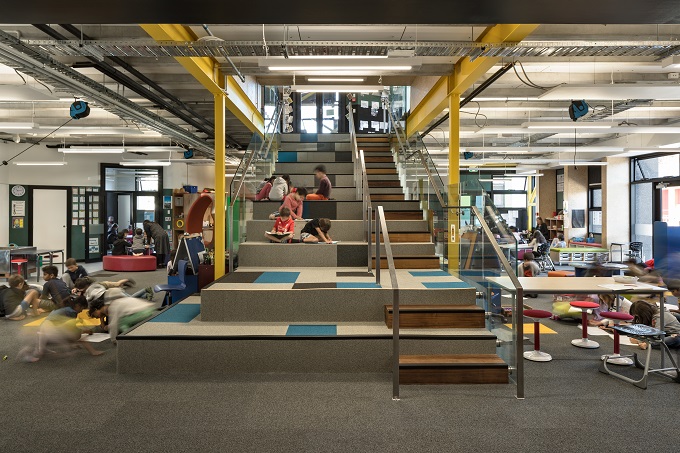 What floor material best suits the needs of your learners?
If you have a high ratio of students with allergies and sensitivities you might want to investigate newer materials or enquire about hypoallergenic options. For cohorts with very severe allergy sufferers, schools could remind families that washing uniforms daily will help limit exposure to allergens. Schools could also discourage learners from sitting on the floor altogether or create a flooring design in collaboration with a school flooring specialist that maximises functional space and minimises allergen levels.
The advent of the modern learning environment has sparked interest in creative floor designs that guide learners to different environments using different colours and materials in conjunction with building design and furniture options.
Re-designing your school's learning environment from the ground up?
It starts with flooring. Specialists have told us that floor zoning and colour psychology are increasingly popular considerations for schools that want to reinvigorate their learning environment from the ground up.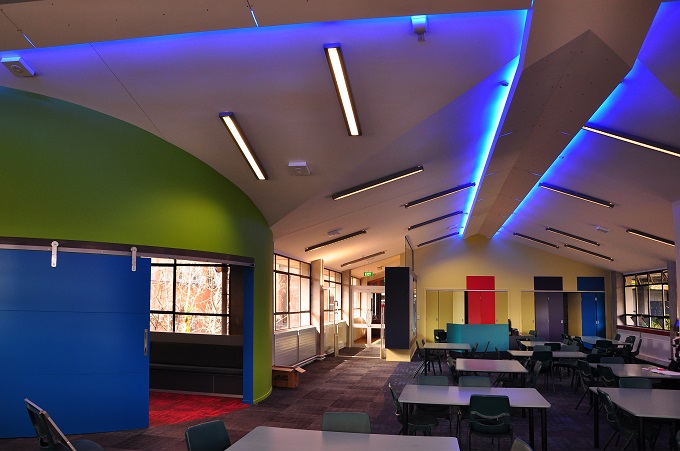 Industry specialists shared the following flooring trend insights with us…
Nigel Macintyre, general manager at Advance Flooring Systems, said he expects to see schools "using colour in flooring to identify zones and create natural flow that children follow" in 2020 and indicated that schools are using "more subdued colours to avoid agitating children that are sensitive" to sensory stimulation.
Teresa Ma'aelopa from Jacobsen has noticed "colour is being immersed in the design, rather than the occasional colour pop" and suggested that the move towards open plan learning and collaboration spaces has seen "an increase in the use of carpet tiles" giving a wide selection of colours and patterns "to promote wayfinding and define different spaces within the open plan environment".
Colour psychology for classroom floors
Studies show that young children pay more attention to bright colours, so muted designs could be less distracting. Cooler colours have been shown to have a calming influence on mood while warmer colours engender comfort. Interestingly, the colour red has been associated with increasing appetite and alertness by raising heart rates.
Schools always aim to choose flooring that is easy to clean and maintain. Dark coloured carpet won't be very forgiving with dust or paper debris but hides spillages well and may inspire more frequent cleaning. Meanwhile, paler carpets stain faster, and wear-and-tear will be more visible. School flooring specialists can help strike a balance by aiming for a comprehensive design that takes different functionalities and area requirements into account.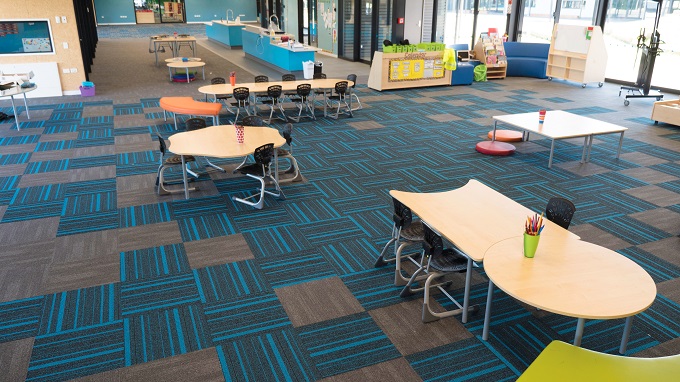 Getting students in the zone with clever floor designs
Choosing flooring types should depend on the location and function of each area. Places like the school cafeteria, kitchen and science labs or storage rooms may be subject to heavy loads where a hard wearing, non-slip, easy-to-clean and resilient floor is required. In areas like libraries and study zones, flooring and floor coverings should promote quiet, calm and comfort. Think about what furniture will be used in the space and how often it will be moved so that you can pre-empt damage from scraping chairs and tables.
Determine the relative temperature and humidity of the space. This is important for both the flooring and adhesive choice because changes in moisture can lead to expansions and contractions of a floor and lead to trip and slip hazards. Make sure your flooring and adhesive is approved for use in educational areas: suppliers will be able to confirm this for you when you ask for quotes.
Foot traffic plays a huge role in flooring decisions both during construction and after installation. Ask your supplier and installer which materials meet the specific demands of each space and ask about the installation process to prevent class-time disruption. Visit other schools that have undergone floor renovations and take note of wear and tear. Ask them about their budget and short versus long-term costs.
Remember, in areas where professional-standard sports training is undertaken, it is required for schools to seek recommendations from the relevant international sport body.