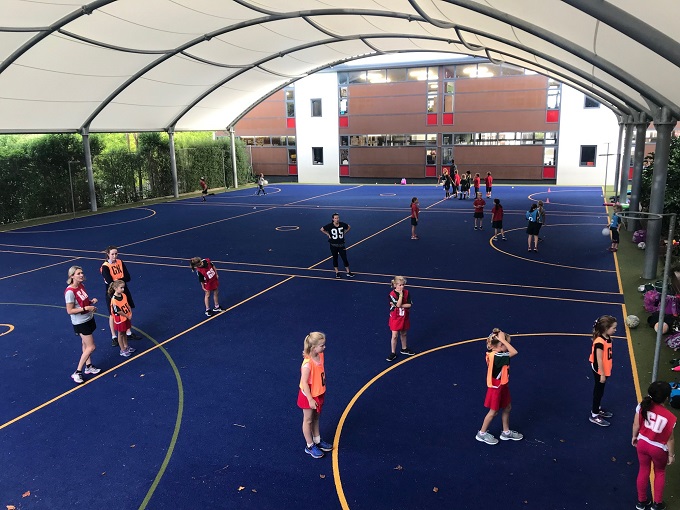 Sport is a pivotal component in the curriculum.
It not only teaches teamwork, problem solving, resilience and sportsmanship but also provides lifelong health benefits. Inadequate sports surface design can undermine these benefits if your school's surfaces fail to comply to standards or have deteriorated over time.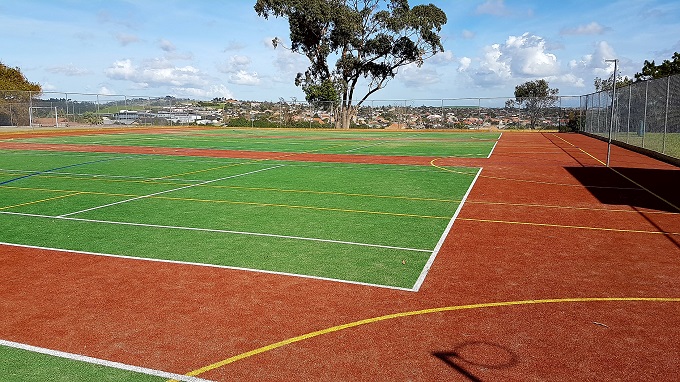 Ensuring safety is just as much a school's responsibility as providing a well-rounded education, so schools should be regularly checking and maintaining sports surfaces.
However, decisions about sport surfacing should not just be about meeting baseline safety standards. An inadequately designed surface will not be usable all year round and could have drainage problems that will lead to a limited lifespan, expensive maintenance and poor sport performance at your school.
We spoke to several industry suppliers to gain some insight.
Phil Lewis is the managing Director at Team Turf. He told us how schools should know it's time to say goodbye to their current surfacing.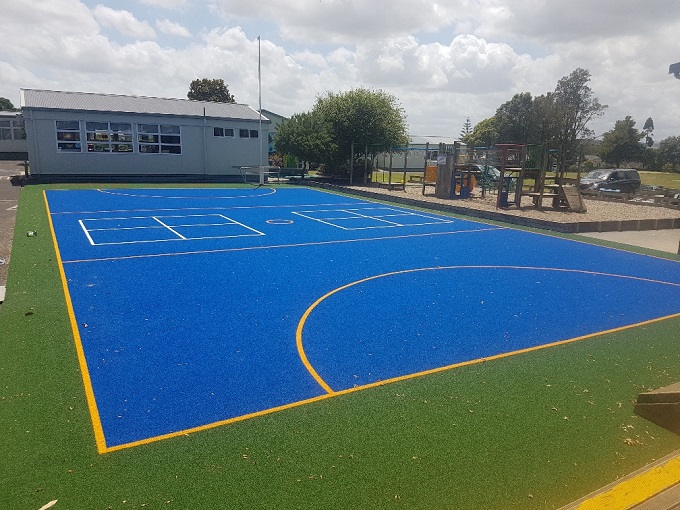 Depending on the existing surface a school should consider the following things. Sectional concrete: has the surface become excessively exposed and very abrasive? Have the joins in the concrete shifted and are they now creating trip hazard or are they now holding water after rain? Asphalt: is the asphalt still flat and even or has it become wavy with the base creating an uneven surface that holds water after rain? Artificial turf: are seams and joins in the turf coming apart? Have areas in the turf become contaminated with organic matter and or sediment causing excessive moss and algae growth?
The traditional 19mm sand filled artificial turf surfaces that have been used around the country since the mid-80s are now being superseded by 16mm texturised monofilament surfaces. In basic terms, the 19mm is a straight fibre turf with high sand volumes while the monofilament surface is a shorter and curly yarn (looks more like a carpet) with half the sand content as the 19mm surface. This provides a better ball roll, less sand tracked around the school, better traction underfoot and a more aesthetically pleasing finish. Schools should budget for a minimum annual maintenance cost of $500 + GST per court (500m2), this will keep the surface in good condition while extending the life of the surface by two to four years.
Turftech representative, Rob Briscoe explained the best way to correct drainage and irrigation.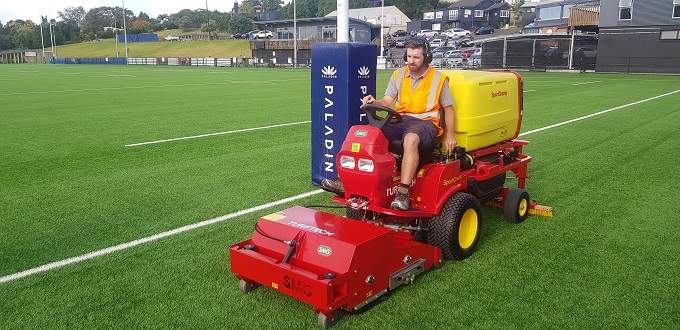 The best way to do this is to install a well-designed inground drainage and irrigation system that works together to provide a healthy durable sports surface. This will increase usage hours and create a more durable playing surface. An investment in a good drainage and irrigation system will ensure the surface lasts for 20 years if properly maintained.
There are pros and cons of both synthetic and natural surfaces, where one may perform better than the other in different circumstances. Synthetic surfaces enable high usage, relatively easy maintenance, and have a 10-year lifespan, approximately. On the other hand, they are expensive to install and may not be suitable for all sporting codes or environmentally friendly.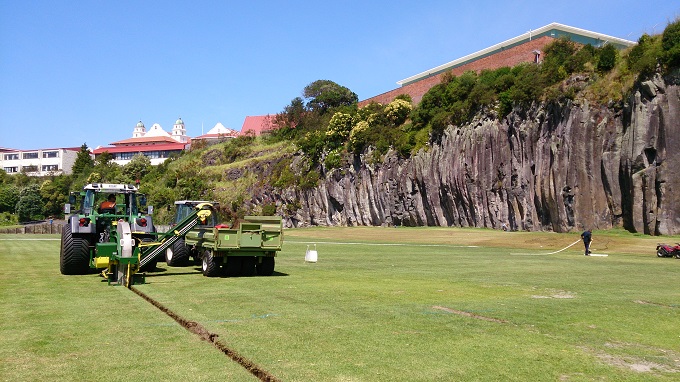 Natural surfaces are relatively low-cost to install, flexible for use across all sporting codes and usage can be improved using drainage and irrigation. They would also have a lifespan of 20 years if installed and maintained correctly. On the other hand, they require regular maintenance and may lower usage hours, especially if drainage and irrigation has not been installed.
A safe sports surface requires a level surface and maintenance, such as mowing and weeding to enable obstacles on the surface to be seen. In order to obtain this, a proper maintenance plan and robust seasonal renovations are needed. The installation of drainage and irrigation makes delivering well-maintained sports surfaces a lot easier.
Toni Rowe from Turf and Drainage explained that the biggest thing schools need to look out for is whether they're getting their sports surface to meet their needs.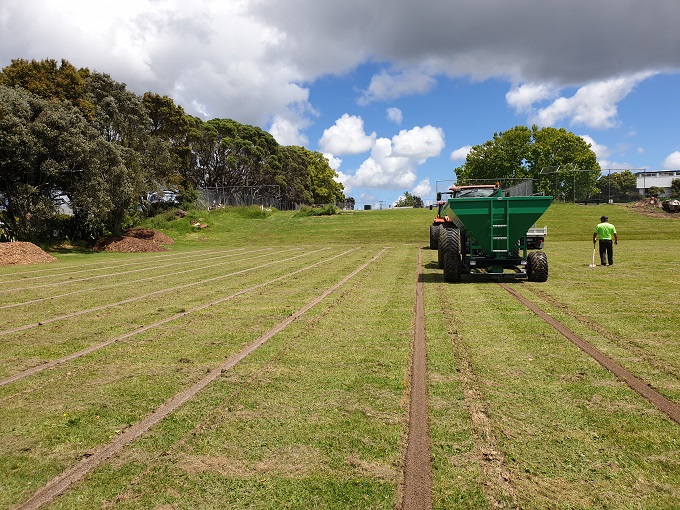 What we are finding is that many schools cannot use their fields in winter because they're too wet and muddy. The major issue is that they are having to close fields for several months, sometimes also their playgrounds; they urgently require adequate drainage, which needs to be undertaken in the summer. If they have big competition sports then they may need to look at hard wearing turf, irrigation and sand carpets.
The different types of fields construction include natural turf soil, synthetic turf, hybrid natural turf, natural turf sand carpet.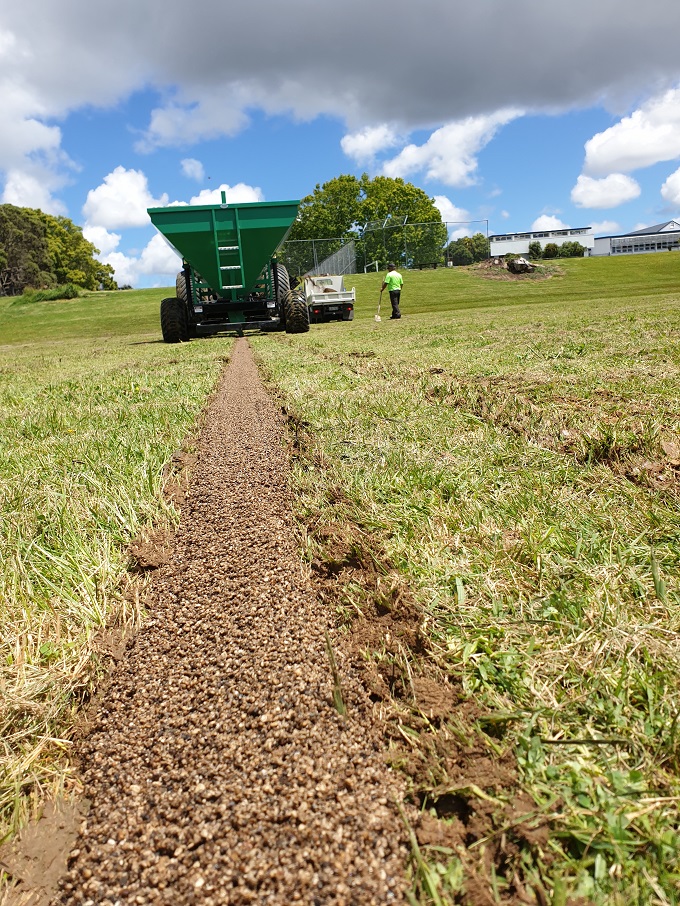 The installation process depends on varying factors, e.g. how active that particular school is in the sporting arena because if they are very active they may require a higher spec field. (A lot of schools use their fields during the weekends for competitions.) This could be either a sand carpet with irrigation, full artificial or some may be looking at a hybrid. These fields do require a level of renovations the recommendation is a least twice a year.
Most just require drainage and try to start at the lower end of their budget as they generally just want useable fields that children can run, play and do PE on.