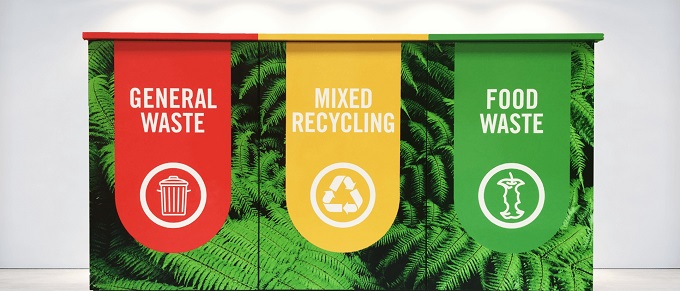 Every school should know how much waste they produce and their margin of improvement after putting measures in place.
This article originally appeared in our Term 2 issue, which you can find online here.
The first step is to conduct a waste audit. This task should identify where most waste is produced within your school and where improvements can be made. There are specialist waste management companies that can do this for you, or it can be done in-house but it's important to take a keen interest in the results so that you can be involved in the solution and make an informed decision about the future of waste at your school. Solving 'the problem of waste' is also something that could be integrated into the learning environment at your school in various ways, focussing on sustainability.
By and large, responsibility for waste management in schools falls to boards of trustees. Guidelines from the Ministry of Education state that schools should use a combination of methods to reduce waste by separating, reusing, recycling and composting. "Incinerating and building waste pits on school grounds can only be done by schools with no other options", according to the MoE, and there are extremely strict guidelines for (usually remote) schools that do this.
Set up bins for the different kinds of waste, and label them for glass, paper, plastic, cans and organic waste. Crucially, avoid sending waste to a landfill by educating staff and students about other ways of disposing of waste, such as recycling, reusing and composting.
Ways that schools can reuse waste include:
taking lost property to local clothing banks
using plastic bags as bin liners or as packaging
having students make recycled paper and use shredded paper as bedding for pets.
Separate organic waste, like food scraps, plants, paper and lawn clippings, from other rubbish and teach students how to use it for compost. It could be used on the school's garden, saving on the cost of fertiliser.
If composting is not possible:
ask students and teachers to take organic waste home
find out if local farmers want organic waste
keep hens at school and feed them the waste
have the organic waste composted at the local landfill – it's generally cheaper to drop organic waste at a landfill than other rubbish.
Expert views from the industry…
On creating a school waste management programme, Easi RecyclingNZ CEO Jon Earnshaw shared the following:
"Teaching our children from an early age about product lifecycles, contamination and segregation of waste at source will be a skill that will serve them and the environment for the rest of their lives. A simple in-house waste management programme should be part of every school curriculum.
"The key to every successful recycling programme is 'segregation of waste streams at source' avoiding cross contamination and secondary sorting. Separating waste streams once mixed is very difficult but segregating at source, with graphic signage and colour coded bags, not only identifies what type of waste is enclosed but also ensures it goes into the right container when it arrives at the waste contractor bins.
"New innovation has made recycling easier, as we no longer need to use one-size-fits-all black bin and bag. We should not be trying to hide our waste in the dark corners, but bring to the forefront and promote recycling. When you segregate at source this is no longer rubbish, it becomes a commodity. Smart bagging solutions are now available where the bag is always 100 percent full, so you only use the plastic bag you need. Colour coded bags and attractive signage for mini recycling stations also make segregation at source easier.
"In 2016, New Zealand Recycling Symbols (RONZ) were created to consistently deliver the same message, colour coding recyclables. Educating students on this colour coding system from an early age ensures they are mindful to the various waste streams. RONZ guidelines help significantly with segregation; however, using a colour coded bin with a black or clear bag makes identification difficult once that bag leaves the colour coded bin.
"Correctly separating food waste from dry waste at source prevents cross-contamination and dramatically increases recycling. Depending on the waste providers in your area; when segregated at source, waste can often be collected by type."
Jamie Henry, wasteline solutions manager, OCS spoke about how schools can better improve waste management.
I believe that there needs to better education in schools learn about the 4 R's of waste prevention. This is essential in stopping waste in the first place. Recycling is the ambulance at the bottom of the hill. Having said that, there will always be an element of waste produced. This is where more sustainable procurement practises come into play: we have all seen books that come in three layers of plastic.
Recycling over the last year has changed dramatically. In the past, waste suppliers would treat recycling as a tradeable commodity that can be sold as raw materials. Currently, this is not the case. The value in this waste stream has diminished, leaving recycling values very low. This is why the cost of recycling has increased to the current rate and waste suppliers are unable to fund sorting facilities with the returns they get from the recycling commodity.
In terms of legislature that schools should be aware of, the correct disposal of e-waste is one that I always point out to people. E-waste includes computers but anything with a circuit board is considered e-waste. For example, auto sprayers, no touch hand soap dispensers, battery operated toys, and mobile devices. AS/NZS 5377:2013 is the standard that this comes from.
Currently, not many schools use internal waste auditing systems but I have seen schools asking students to take lunch waste home to do their bit for sustainability. The reason behind this is the up-front cost of waste auditing. These are funds that could be better utilised for students. These audits are important so that schools can know the exact make-up of waste onsite. Once conducted, a waste audit should lead to the introduction of new waste bins to divert waste from landfill. Ideally, this process should be reviewed every three months.