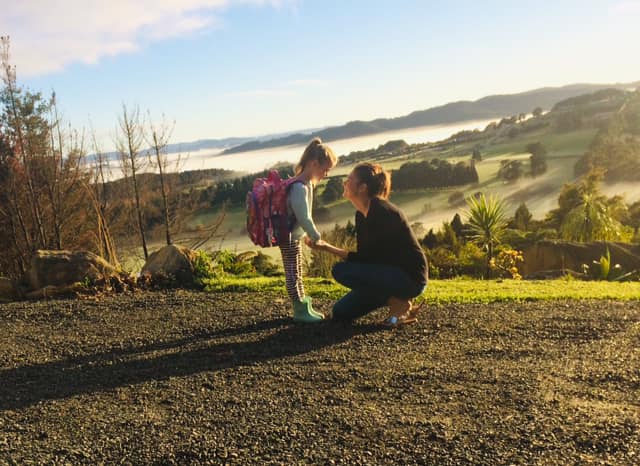 Very soon you'll be striking.
Striking for MORE.
More teachers.
More support staff.
More money.
More resources.
More time.
For a more sustainable profession that not only values and retains its' current educators but makes it a more viable and lucrative career choice for the generations to come.
On a day where you'd think she'd be excited to have a 'day off', she'll be wandering around a bit lost. She wants to be at school. She wants to be in your class. She wants to be with you. This in itself speaks volumes.
So as you prepare to converge on the steps of Parliament and gather in public meeting spaces nationwide in a bid to be heard, I send you my full support and hope the powers at be will do more. Until then, please accept my sincere thanks and words of appreciation…
Thank you for welcoming my daughter with a smile so big it makes her skip with delight to class each morning.
Thank you for not only embracing her individual quirks but encouraging them. For marvelling at her crazy sense of dress and her three haphazard ponytails as if she's come straight off the catwalk, not just through the path of our minivan!
Thank you for building her confidence day by day. The way she carries herself and the pride she has in her learning after a day in your care, makes my heart soar.
Thank you for your eagle eyes always watching. Thank you for dusting off, re shining and replacing the crown back on her head without her even realising anything was amiss.
Thank you for helping to foster healthy friendships that will see her through the many years to come. She may just be starting out but I truly believe amazing friends are a huge contributing factor into how her teen/early adult years will play out.
Thank you for encouraging the skill of independence. She hasn't even been at school an entire year yet and already she's coming along in leaps and bounds. The difference is incredible to see.
Thank you for being not only her teacher, but mine. For providing knowledge and enabling the skills I require to continue your hard work at home.
Thank you for being her home away from home.
Her mother figure away from her Mum.
Her friend.
Her confidant.
Her protector.
Her nurse.
Her counsellor.
Her inspirer.
Her helper.
Her organiser.
Her motivator.
Her teacher.
And for the thousand other things, many of which go on behind the scenes entirely unseen.
For your evenings, your weekends and your holidays worth of dedication.
The truth is each weekday you have the privilege of being in my child's presence for more waking hours than I do. As I drop her off to meet you, her school bag engulfing her tiny frame, it's not only due to a heavy lunchbox and book bag but the fact she's carrying the biggest piece of my heart with her. Thank you for ensuring it comes home not only intact but nurtured at each days end.
With you, I know she is loved.
I know she is respected.
I know she is cared for.
Thank you for bringing the perfect combination of elements to compliment my parenting.
TOGETHER we are raising one amazing kid and it's obvious to see
you couldn't possibly do any MORE!
Parents, share your appreciation with the amazing teachers in your child's life!