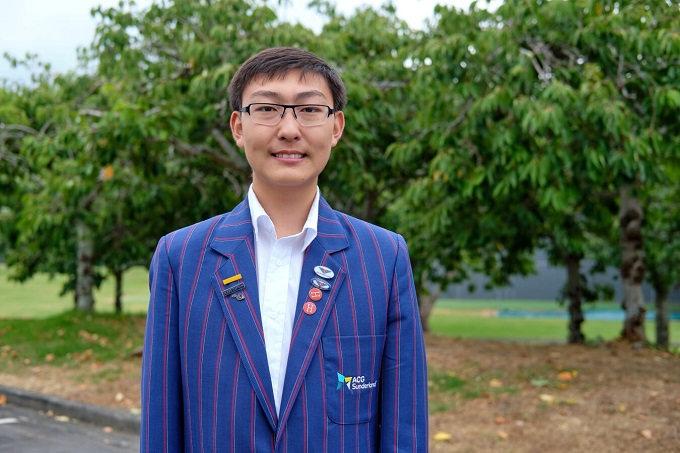 ACG Sunderland student Junheng (David) Li is the top IGCSE student in New Zealand following his extraordinary set of Cambridge exam results, which included a perfect score of 200/200 in IGCSE Mathematics (Without Coursework).
Cambridge International is a globally recognised curriculum that ACG Sunderland provides as an alternative to NCEA.
The award is based on the best marks across five IGCSE subjects. David, who lives with his parents in Massey, came Top in the World in IGCSE Maths (Without Coursework) and Top in New Zealand in IGCSE Physics. He also received A* grades (90% or above) in Chemistry; Biology; Music; English First Language; and Spanish.
A keen scuba diver who plays piano in the school jazz band and competed in rock quest with school band Hex, David started at ACG Sunderland in Henderson in Year 9. While he had hoped for good results in his exams, he had low expectations. "I push myself hard sometimes and just don't know what to expect."
Now in Year 12, David's favourite subjects are Maths, "I like it when I have to think hard about a problem and when I get the answer, it's very rewarding", and Physics, "it helps me explain everything I see".
He is interested in studying Pathology at university having witnessed family members affected by cancer and wanting to learn about the intricacies of the immune system. "It's almost like the body is waging its own little war against pathogens like bacteria and viruses," he explains.
For now, he is loving being at ACG Sunderland. "I love the environment here and how everyone is very close. It's very comfortable and easy."
Principal Nathan Villars said David has been a wonderful ACG Sunderland student.
"He is very hard working, highly motivated across all his interests – academics, music, and supporting the chosen charities for the year. He gives his time freely, tutoring younger students at lunchtime, too. He really is an all-round high achiever."
David's results top off some outstanding Cambridge International results across the board for ACG Sunderland, says Principal Villars.
These include:
• 100% pass rate at A Level
• 88% University Entrance rate
• 80% pass rate at AS Level
• 93% pass rate at IGCSE
In addition, Hengyang Li (Leo), Year 12, was Top in World in IGCSE Design & Technology. This is the second Top in World result the school has received in this subject in recent years under teacher Cecilia Faumuina.