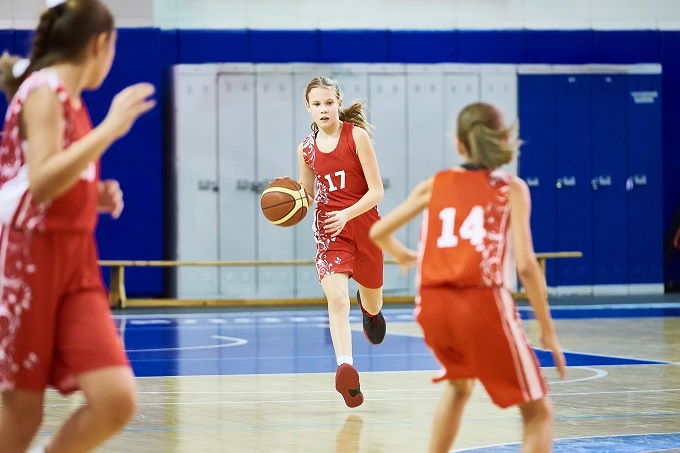 From ball response to shock absorption, maintenance demand, price-point and visual design, there's a lot to think about with gymnasium flooring and therefore a lot that can go wrong.
Cost and quality
Rubber and polyurethane are relatively common materials used in primary school flooring and can be inexpensive options but depending on the material, it may wear. Repairing a rubber floor usually involves cutting the damaged part out and refilling that section. The cost of timber varies widely depending on the type selected and can be more expensive but incredibly long-lasting if well-maintained. If a floor needs to be pulled up, or replaced, the installation may be more laborious and increase cost regardless of floor choice. There are also some types of flooring, like pointelastic floors, for example, that can be laid over the top of existing wood or concrete.
Shock absorption
Timber provides better shock absorption thanhard concrete, and works more effectively for heavier bodies. Primary schoolchildren may not find timber the bounciest choice. Point elastic flooring maybe better at breaking falls for smaller sports players but cushioned vinyl is another option that provides resilience against injury and promotes noise reduction. For high schools, where professional-standard sports training is undertaken it is vital to seek recommendations from international sports bodies.
Wood is a versatile option that can be used for different needs. For example, where a wooden basketball court would benefit from closer battens, a dancefloor can benefit from a springy underlay. There are also multi-purpose materials that seek to balance the needs of most commonly played sports.
It is so important to talk about usage with your supplier to make sure your gym floor is fit-for-purpose. Ask about different options for different sports as well as age groups!
Aesthetic and usage
Vinyl and rubber-type point elastic flooring can come in all colours and designs, customised for the need and preference of each school while wooden floors vary in type and finish but offer a classic feel. Court lines are usually painted over wood and poured into the construction of rubber or polyurethane floor designs.
A bright, fun floor design might encourage students to get out there and have a go; while a traditional, classic vibe might inspire professionalism among teammates. Think about what style of flooring promotes your school ethos and let that be a guide.
One thing to consider is seating to avoid scratching or damaging your brand-new floors unnecessarily. While all these floor types come with various guarantees and warranties, it makes sense to consider how often (and how much) seating will be required in the gym. Rubber-type flooring might be better at reducing noise from shuffling chairs in and out while wood might provide more stability for permanent courtside seating.
Questions to ask
Who will be using the gym floor? Is it a multi-purpose hall or just for sports?
Will you need to prepare for school assembly chair set ups, or portable stages?
Which sports will be played? Know what court lines you'll need.
Will you need international certification? Competitive sports have regulations that could limit your design.
What is your budget?
What lighting is in your gym? This should influence colour choice. Do you need to absorb or reflect light?
What materials do you think you want? It's good to approach suppliers with an idea of what you like.
What level of maintenance are you prepared to carry out? Think about this in terms of a daily, weekly, quarterly and yearly schedule.
Does the proposed flooring consider the critical radiant flux required for fire code?
How long will this flooring last? What will future upgrades look like and how much will they cost?
Mistakes to avoid
Too many games lines are confusing for younger teammates. Make sure lines are colour-coded in junior schools
Tape will damage court surfaces and many floor-types. Think ahead to avoid the necessity.
Failing to establish a maintenance plan is a big no-no.