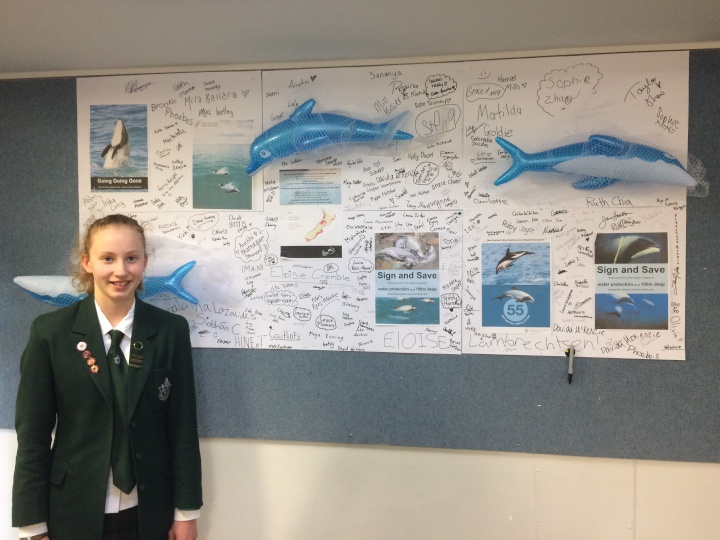 Samuel Marsden Collegiate School Year 8 students have been working on Social Justice Projects over the last few months. Their brief was to choose causes they are passionate about, with the emphasis on creating change.
A range of topics were tackled by the girls, including the creation of an Instagram page raising awareness of environmental issues, running a tutorial on how to make your own honey beeswax wraps to cut down on plastic in lunchboxes, and organising a sign language workshop.
Wynter Tickle wanted to help protect the critically endangered Māui dolphins from gill and trawl nets by changing the protection zone to waters up to 100m deep around the New Zealand coastline. She created a video, and a display in the main corridor of the school, inviting students to sign in support of this cause.
Both the New Zealand Whale and Dolphin Trust and Wynter are looking to raise awareness of this issue and lobby the Government to change the protection zone. Wynter's next step is to write a letter to the Hon Eugenie Sage, Minister for Conservation and Associate Minister of the Environment. She wishes to present the letter, and a large photograph of the display with the collected signatures, in person.
"Students have worked incredibly hard on their projects. The girls were advised to think about raising awareness and opening people's minds to different perspectives.
"This has required them to think outside the box, rather than simply choosing a good cause and organising a sausage sizzle. Students have emailed companies, run surveys, made phone calls, created posters, petitions, developed relationships within the community and set up Instagram pages. It has been an extremely positive real life, project-based learning experience for all our Year 8s", said Marsden teacher Callie Ballara.
"The Māui and Hector's dolphins are native to New Zealand. The Maui dolphin, a subspecies of the Hector's dolphin, is the world's rarest and smallest dolphin. The Māui dolphin can be found in waters around the North Island and the Hector's dolphin can be found in waters around the South Island. With only 55 Māui dolphin remaining they are critically endangered and need our urgent protection.
"If we can protect their habitat by extending water protection up to 100m deep then we can keep the Māui dolphin safe from fishing nets and safe from extinction. Please join me in saving the Māui dolphin and protecting the future of the Hector's dolphin by writing, in support of water protection up to 100m deep, to Hon Eugenie Sage at [email protected] "
You can find more information about th