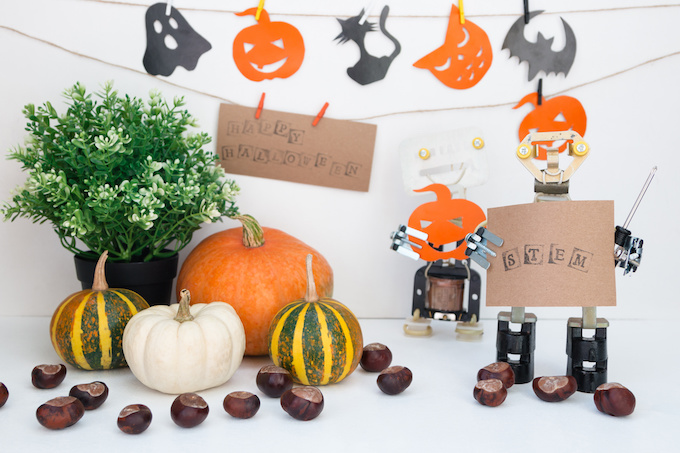 There's no better time of year to get creative with classroom ideas than Halloween.
Whether you're teaching chemistry to senior schoolers, or want to inspire young primary students with STEM activities, here's a few fun ideas to share:
1. Crime scene investigation
Concoct a classroom crime – using your best storytelling pizzazz – that students can investigate over the course of a lesson (or two, depending on the 'crime'!). Everyone in the class is a prime suspect! Students can collect and analyse evidence, such as fingerprints, handwriting and perhaps thread, to compare with evidence you present as 'found at the scene of the crime'. Done in smaller groups, individually or as a whole class activity, this is a fun way to learn and open dialogue about an array of things from law to forensic science, history, the ethics of biometrics, and more. Source: Discovery Education.
2. Bloody mess
Who can make the best fake blood? This is a fun challenge for younger students who might like to taste their creations, or older students who might want to use their fake blood in a film or art project. Blood splatter analysis could be another fun activity – consistency, colour, smell, clotting ability; there are a bunch of different ways to measure the success of each mixture. Winner takes home a spooky treat and enters the hallowed hall of classroom halloween fame. Source: Fizzics Education.
3. Explosion in the chemistry lab
Put a ghostly spin on the old 'model volcano' experiment by inviting students to construct skulls, pumpkins, or anything their horrifying hearts desire out of various materials. After sneaking in a mixture of water, vinegar, washing up liquid and food colouring, they can add baking soda at the optimum moment to witness the bubbling furore for themselves. Making 'potions' in cauldrons, inspired by their favourite books would also be a fun way to conduct this activity; or using various beakers, test tubes and cylinders from the science lab. Source: Scholastic.
4. Electrifying ghosts, ghouls and static skeletons
Experimenting with static electricity can lead to a rake of fun graveyard-themed activities: just design and cut-out creatures from tissue paper and watch them jiggle and jerk under a balloon. How about testing out some villainous water bending tricks or experiment with what objects can be moved with static electricity. Older children might enjoy creating spooky mazes out of a copper tape or graphite circuit that light up an LED – challenge groups to come up with the most creative designs! Source: Electric Science Project, Kiwi Co.
5. Halloween clock reaction
This is a visually appealing experiment for older students. Three clear solutions are mixed together, and after a delay changes colour to orange then finally to black. The colouring makes it ideal for Halloween but it's an interesting experiment to do any time of year!