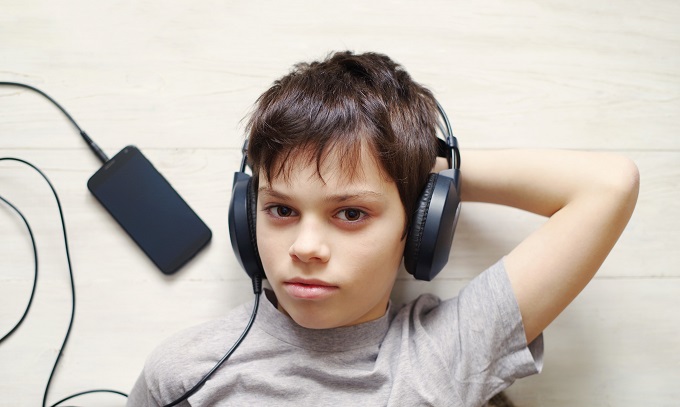 How many of your students want to 'be a Youtuber'?
Frankly, most of our youngsters are already content creators online. Whether they are Snapchatting, Insta-storying, Facebook Live-ing, or streaming their video game skills on sites like Twitch, children and teenagers have a wealth of technological creative outlets.
The article originally ran in our print magazine, School News, which you can find in your school staff room right now!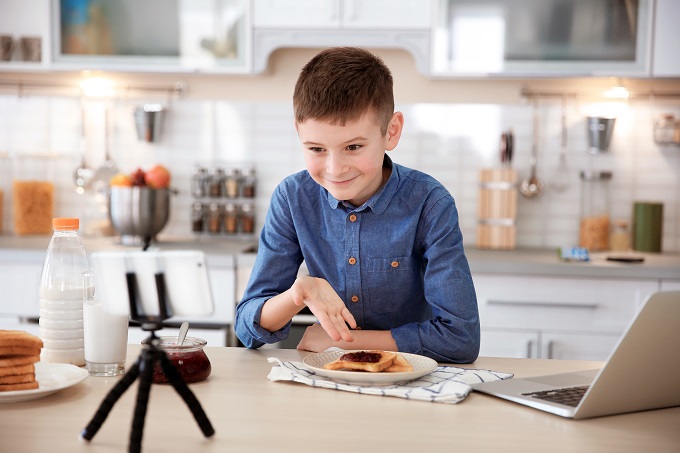 Without delving into a debate on whether under-18s should be allowed to broadcast content online, the fact remains that they can and many do. Rather than keep a personal diary, teenagers can write a public blog, or vlog to an audience of YouTube subscribers. They can create their own webseries on Instagram or curate a podcast on Spotify. They can create, edit, produce, publish and broadcast songs, e-books, movie reviews, short films, comedic skits, and anything else they like, all from their laptop or phone. There are so many resources online now that they can teach themselves an awful lot along the way.
Educators frequently talk about the task at hand; to educate a generation of children who will grow up to invent industries and professions that don't even exist yet. It's a tricky task to say the least, but when we look at what that generation is currently doing – it's creating content in some way or another. In fact, you may be surprised by how many mini-experts you have in your classrooms. Some of the most disengaged students in your school may have a substantial following online because they stream their video gameplay or post popular content on social media.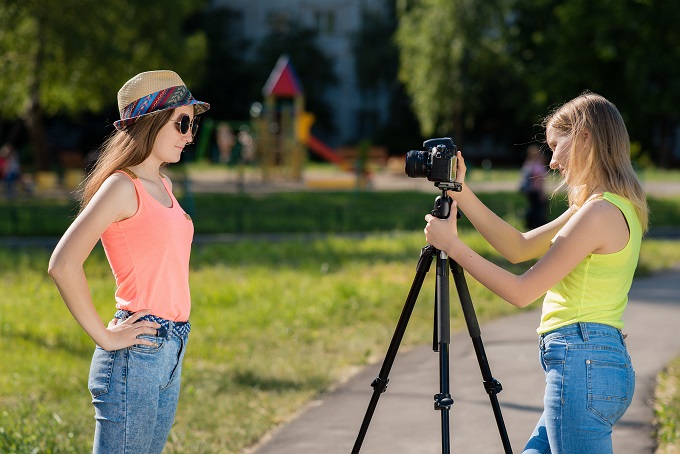 Is it possible to engage more students by integrating their self-taught digital skills and innate online abilities with classroom subjects?
One thing to remember is that digital-savviness isn't spread equally. It is hard to assess schoolwork on a medium you are unfamiliar with: if students have the option to write an essay or create a VR film, for example, how can there be a fair comparative assessment? And what about students who don't have access to newer technologies?
While it makes sense to give students technical tools to create content in the classroom that will enrich their learning environment in any subject, it's difficult for school leaders to pinpoint how.
In order to successfully teach young creators, it's vital that schools are able to offer teachers platforms to interact with them digitally. A critical part of this is fitting out classrooms with the right products and technologies. Another part is upskilling, which we dove into last issue, and yet another piece of the puzzle is integrating different types of content creation into the learning environment.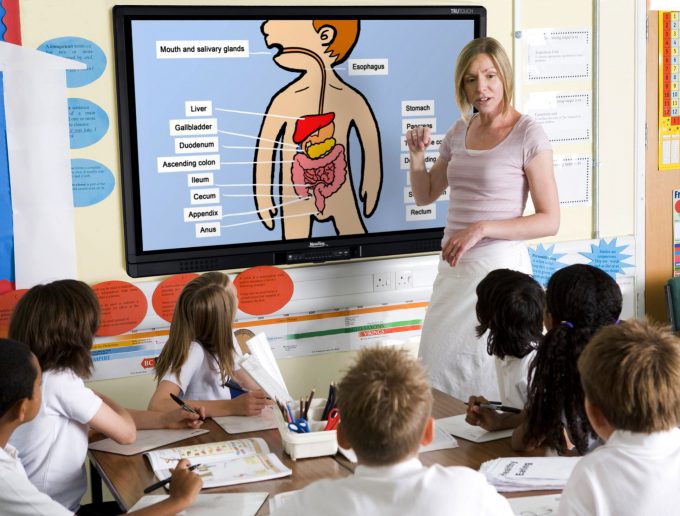 Interactive tech: classroom product options
When choosing products for interactive teaching in the classroom there are a few crucial things to take note.
Connectivity.
Whether it's a projector, a whiteboard, touchscreen or multi-touch display, in order for teachers to make full use of it they need to be able to connect their (and their student's) device. Consider flexibility across iOS, Android, Microsoft, Google and Mac. It's not going to be the most productive use of time if students have to export every document, video and image file to a different format before they can share it with their class or teacher.
Direction.
How do your teachers like to teach? Are they stood at the front of the class or do they move from location to location? Are students seated in rows and columns or small and scattered groups? What is the timetable flow? All of this is important because it tells you whether a stationary projector or interactive whiteboard will fulfil the classroom needs or whether a mobile multi-touch display, teaching station or central touch table is going to better suit your school's teaching style.
Collaboration.
While multi-touch teaching tables, for example, can seat a small group of children around a screen to create or complete a classroom activity together, front-of-room interactive whiteboards, projectors and flat panel displays allow the teacher to turn individual work into collaborative learning. Sharing students' work up on the big screen, or having the whole class engaged in a project or resource, such as a video or digital worksheet can be just as engaging.
Pros and cons.
With projectors, lighting can be an issue as the room needs to be dark for the projection to be visible. Some students may find themselves sleepy or distracted in the dark, tempted to talk or disengage once the lights switch off. For other students, a change in atmosphere may help to engage them. Projectors vary in ease-of-use, expense and versatility – some have VR and 3D capabilities and can be controlled via a mouse or even touch screen. They do require thought regarding installation to make sure the projection is visible to all students, alignment is good and the projector itself is safely mounted or placed.
Interactive LED whiteboards, screens and panels benefit from being visible in daylight, so lighting isn't so much of a concern. They are usually fixed to a wall, so there is less flexibility in terms of location but this does tend to mean less cabling and day-to-day fuss. They vary in size and weight, which should be taken into consideration when fitting technology for a particular space – factor in wall-size and proximity to students.
Ask your prospective supplier about energy efficiency, warranties and longevity as these items will be heavily used.
Practicality.
Don't underestimate the power of a simple interface. There's nothing more disheartening and disruptive in a classroom than new technology not working and the IT guys (and gals) having to be called out every three minutes to resolve a software issue. Basic instructions for new users should always be expected when new tech is brought into the classroom but teachers need to be able to teach without having to undergo a six week training course just to navigate a touchscreen. So choosing a product with a relatively intuitive interface, where teachers and students can reasonably navigate how to open and close documents, find different apps and programs, etc., is imperative.
For the indecisive: have you considered leasing?
Don't forget that renting tech products is an option. If you aren't sure what products will work best for your staff or students… Particularly, if you are undergoing a substantial refurbishment or converting your classrooms into a more flexible/modern learning environment and want to test out different types of available technology before committing to something that may not be optimal for your setting – leasing different items could be the ideal interim solution.
Future proofing students
From STEM to fine arts, history to sports, content creation is deeply embedded in the digital future of all industries. Why? Because the future of every industry rests with today's children and today's children are digital content creators.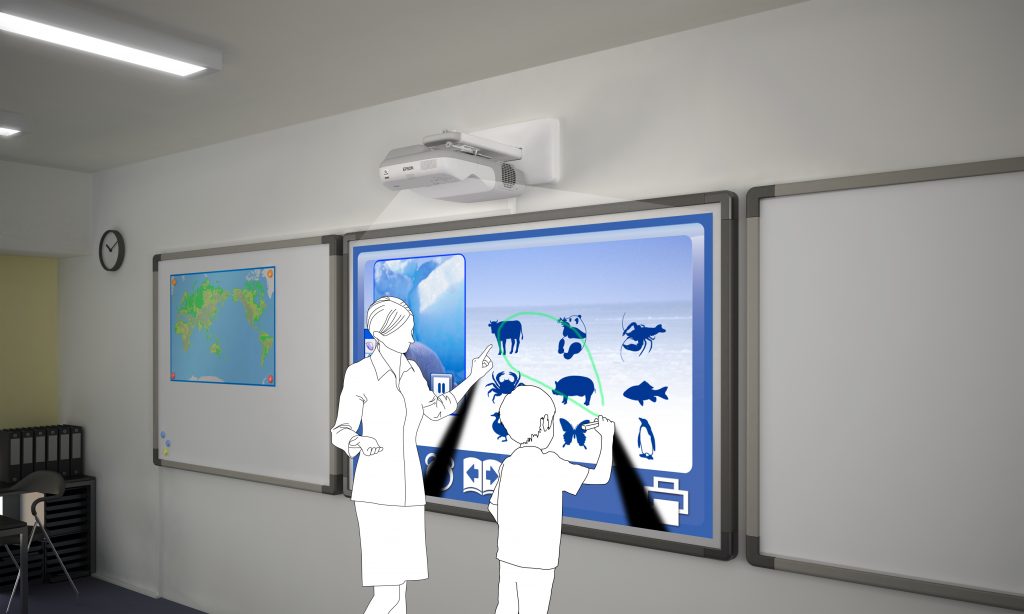 Learning to film and edit video, for instance is no longer just relevant to students interested in a media career – it's an expectation in most white collar industries and critical for self-employed small business owners who market themselves online.
The digital revolution of the last 25 years has entered an evolutionary phase, where the skill to create will continue to be paramount for young people entering the workforce.
On device compatibility and interactive functionality
"With school uptake of BYOD technology, it's vital that interactive projectors allow the teacher to connect to a variety of devices, including Windows, Mac, iOS or Android devices," Epson's spokesperson.
"It's important that this technology allows multiple displays on a number of device screens simultaneously, so as to accommodate all students around the classroom. Interactive functionality is also available without a PC connection, so drawing on the projected screen is now possible when connected to other devices, such as visualisers or DVD players.
"With the volume of curriculum today's teachers are wading through, anything that streamlines delivery and enhances the pace could be seen as a plus. With this objective, Epson has created solutions that lay down learning pathways for achieving 'digital literacy' in students before they face the complexities of an increasingly digital world as adults.
"While some teachers find the new developments daunting at times, developers have been working on ensuring operation is straightforward and interfaces are intuitive. Education solutions have proliferated in recent years, and teachers really can expect smart and interactive technologies to challenge the parameters of what's possible in class."
Versatile and engaging tech alternatives
"The future is bright! Interactive touchscreens offer a more vivid, versatile and more engaging alternative to an interactive whiteboard," shared LeasePlus spokesman Stephen Philp.
"These displays react to touch like phones and tablets so that users can pinch, tap, swish, and scroll just like handheld devices. The most significant difference, apart from size, is the multi-touch facility, allowing teachers and multiple students to work on the screen at once, directly, from various devices or even remote locations.
"Touchscreens do not generate much heat so do not require any noisy fans. Easy: there is no calibration, bulb changes or special pens required, just finger touch to type, draw, move and interact.
"We lease Newline's TRUTOUCH UB series of large, 4K resolution interactive touch displays, from a 65" for school application to 86" for the tertiary lecture environment. All models have special anti-glare screens and transmit light from the screen itself, eliminating disruptive reflections and shadows so pupils can clearly see content no matter where they sit. TRUTOUCH UB Series displays are straightforward to set up and come ready to go loaded with Windows 10 Pro, plus an easy-to-use Android system."