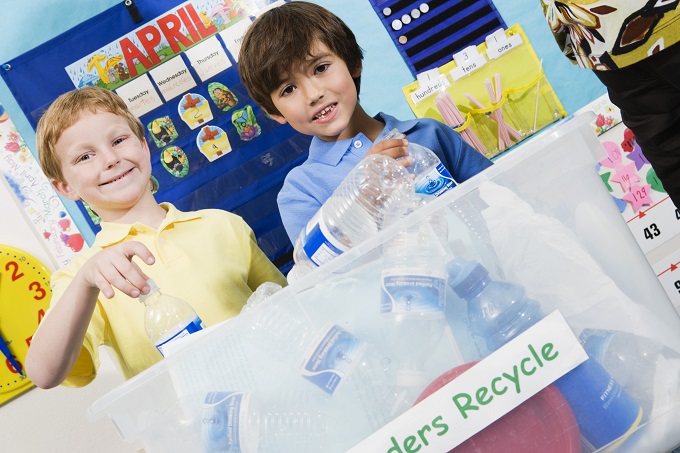 New Zealanders are some of the biggest producers of waste in the world, even the littlest ones.
Interestingly, there are very few statistics that accurately indicate how much waste New Zealanders produce. The most recent results are from 2006 and those reveal that 3.2 million tonnes of waste were sent to municipal landfills that year, according to Stats NZ. That is certainly a lot of waste, but why don't we have stats on 2010 or 2017?
In a post about Recycling Week 2017, Nicole Gaston reports for the National Library that part of the reason why waste production has not been thoroughly recorded since 2006 is that New Zealand has "decentralised waste management systems" and notes "inconsistent reporting requirements".
In the last 12 years, New Zealand has boosted access to recycling facilities and at the level of education, many schools around the country have moved towards sustainability programmes and acknowledging the need for an efficient waste management system. It's probably fair to say that the country has improved upon its 2006 statistics but there's no official way to know for sure.
What schools can know for sure, is how much waste they produce now and their margin of improvement after putting measures in place.
The first step is to conduct a waste audit. This task should identify where most waste is produced within your school and where improvements can be made. There are specialist waste management companies that can do this for you, or it can be done in-house but it's important to take a keen interest in the results so that you can be involved in the solution and make an informed decision about the future of waste at your school. Solving 'the problem of waste' is also something that could be integrated into the learning environment at your school in various ways, focussing on sustainability.
By and large, responsibility for waste management in schools falls to boards of trustees. Guidelines from the Ministry of Education state that schools should use a combination of methods to reduce waste by separating, reusing, recycling and composting. "Incinerating and building waste pits on school grounds can only be done by schools with no other options", according to the MoE, and there are extremely strict guidelines for (usually remote) schools that do this.
Set up bins for the different kinds of waste, and label them for glass, paper, plastic, cans and organic waste.
Crucially, avoid sending waste to a landfill by educating staff and students about other ways of disposing of waste, such as recycling, reusing and composting.
Ways that schools can reuse waste include:
taking lost property to local clothing banks
using plastic bags as bin liners or as packaging
having students make recycled paper and use shredded paper as bedding for pets.
Separate organic waste, like food scraps, plants, paper and lawn clippings, from other rubbish and teach students how to use it for compost. It could be used on the school's garden, saving on the cost of fertiliser.
If composting is not possible:
ask students and teachers to take organic waste home
find out if local farmers want organic waste
keep hens at school and feed them the waste
have the organic waste composted at the local landfill – it's generally cheaper to drop organic waste at a landfill than other rubbish.
Expert views from the industry…
On creating a school waste management programme, Easi RecyclingNZ CEO Jon Earnshaw shared the following:
"Teaching our children from an early age about product lifecycles, contamination and segregation of waste at source will be a skill that will serve them and the environment for the rest of their lives. A simple in-house waste management programme should be part of every school curriculum.
"The key to every successful recycling programme is 'segregation of waste streams at source' avoiding cross contamination and secondary sorting. Separating waste streams once mixed is very difficult but segregating at source, with graphic signage and colour coded bags, not only identifies what type of waste is enclosed but also ensures it goes into the right container when it arrives at the waste contractor bins.
"New innovation has made recycling easier, as we no longer need to use one-size-fits-all black bin and bag. We should not be trying to hide our waste in the dark corners, but bring to the forefront and promote recycling. When you segregate at source this is no longer rubbish, it becomes a commodity. Smart bagging solutions are now available where the bag is always 100 percent full, so you only use the plastic bag you need. Colour coded bags and attractive signage for mini recycling stations also make segregation at source easier.
"In 2016, New Zealand Recycling Symbols (RONZ) were created to consistently deliver the same message, colour coding recyclables. Educating students on this colour coding system from an early age ensures they are mindful to the various waste streams. RONZ guidelines help significantly with segregation; however, using a colour coded bin with a black or clear bag makes identification difficult once that bag leaves the colour coded bin.
"Correctly separating food waste from dry waste at source prevents cross-contamination and dramatically increases recycling. Depending on the waste providers in your area; when segregated at source, waste can often be collected by type."
On the circular economy beyond recycling, Friendlypak managing director Kevin Graham told School News:
"'Recycling' is not the answer, there needs to be an end-use to make recycling work and the market for recycled materials is small and saturated. This is because recycled materials are contaminated, mixed and variable, so down-cycling is really the only opportunity for recycled materials.
"The new way of thinking uses a cycle where we take renewable resources, use intelligent design to make products fit-for-purpose, then after-use, return them to the environment from where they came in a sustainable way. This new transition to a 'circular economy' is part of the inspiration behind compostable packaging as a solution."
"Having bins that look nice encourages user participation and user satisfaction, which results in habit forming long-term repeatability. Stackable bins are also available and these can be stacked two or even three high and occupying the footprint of only one bin. These can be colour coded and waste stream labelled with access through a front flap without needing to unstack the bins.
"Waste audits are easy to do and students that don't mind getting their hands dirty are the best candidates. There is usually a champion in any group keen on environmental issues and concerned about waste, pollution and sustainability.
"Waste audits are best conducted using weight as the measure so scales are the minimum requirement. If waste audits are to be part of the curriculum then it is best to include financial measures not just weight. Establishing a benchmark at the beginning is most important; this is where all waste is measured as a total by weight and then quotes obtained from waste collection companies to collect the total waste and dispose of it to landfill.
"From this starting point, the various waste streams are established along with good bin systems to collect and weigh these separate waste groups. Students can represent the waste streams in creative ways as a percentages. Finding alternative end-of-life options for the different waste streams that cost less or are free becomes the challenge and opportunity for more creativity."
On integrating waste management into a school learning environment, ZingBokashi director Neville Burt said:
"Introducing a recycling activity into a school setting can be as simple as collecting a bucket of food waste in a classroom or setting up a daily food collection across lunch areas. In fact, composting activities often start in one classroom, evolve into a total school project, and expand into the wider community.
"There are important issues for teachers to consider when proposing a composting programme to their school's administration because they may face some concerns and barriers to the concept. First, it is a good idea to drum up support and enthusiasm from fellow teachers, staff, children and parents before you even present your ideas.
"Then, research, source and offer up a composting system that removes any worries of space constraints, flies, odours and unsightliness of outdoor piles. Moreover, focus on the value of recycling food waste and the benefits of the system and you will win over any negativity.
"Find the perfect system for your school: a system that can be used to establish a school garden, enhance science units, or as an ongoing project in food waste reduction and recycling. Once you get the go-ahead to establish a programme, you can assemble your team to implement the programme, include people from across the school spectrum – the principal, teaching staff, parents, maintenance staff and, of course, the students.
"I recommend you complete a food waste audit to determine just how much food waste your school generates. Even if you are generating large volumes of waste, it's a good idea to start on a small scale until you are comfortable with the process, before progressing to larger volumes.
"It is very important to arrange training for all key personnel, so they become familiar with the various steps in the composting process, and if your school already has a gardening programme in place, make sure the two projects work together. Set up a rota detailing the different tasks and responsibilities for the volunteers to carry out. These should include: setting up collection stations, monitoring the collection process, clean-up, labelling, transfer of the fermented waste to big bins/into soil/adding to compost heap, collecting data and reporting/publicising results to school, parents and wider community.
"Take care to involve students from different year groups, to allow for continuity of trained team members from one year to the next."