Property
Making your school safe from the floor up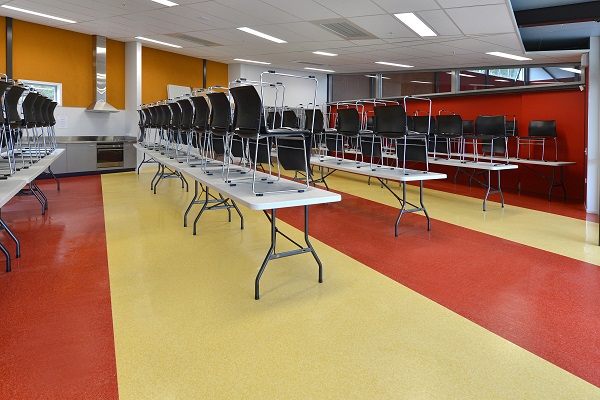 Choosing the right flooring for your school can be extremely challenging. There are many considerations to make, but health and safety must be key. School News looks at how to select a safe and durable flooring product for each area of your school.
Health and safety
Of chief concern is that school flooring be safe for all users, some of whom will not always remember to use their "walking feet".
In New Zealand, a school's board of trustees has responsibility for the primary duty of care. This means doing all that is practicable to ensure the health and safety of all school users. With regards to flooring, this means ensuring that "all floors, steps, ramps, landings, passages and gangways are of sound construction and properly maintained".
By selecting a non-slippery surface, you can minimise the risk of slips and falls, and a floor that is easy to clean will help you maintain hygiene standards.
"Vinyl wins on ease of cleaning over any other flooring product," says John Tolhurst for flooring suppliers, Jacobsens. "The upper end vinyls may cost more, but pay for themselves over their decades of use. No stripping or polishing needed, just a regular mop or brush and neutral cleaner and an occasional buffing to keep them looking good."
Cost
Cost is an endless worry for all schools and is therefore always a top consideration during planning for renovations. However, this doesn't mean it's a good idea to go straight to the cheapest product. If quality is compromised, the cost to the school could be higher in the long term if the product is slippery, difficult to clean or if it wears out quickly. Carpet, for example, typically has the lowest purchase price of any option, but expensive maintenance and low durability make its life span cost highest of all options considered here.
When choosing your flooring, consider not only the up-front cost of materials and installation, but the lifetime cost, which includes durability and frequency of replacement, and the cost of maintenance.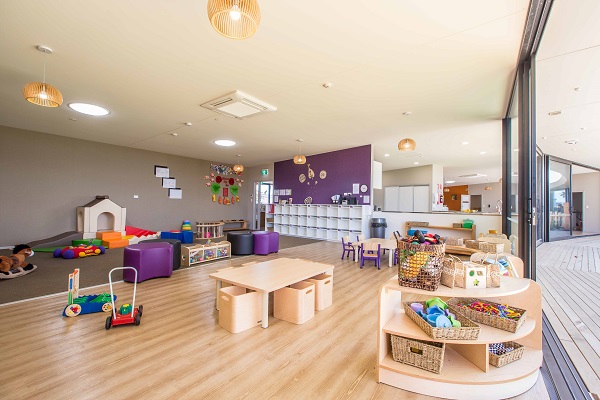 Aesthetics
School flooring doesn't have to be ugly. Yes, safety, practicality and durability are key concerns, but the appearance of school floors is important too. Clever colour choices, particularly in classrooms and libraries, can make the learning space feel more calming, and contribute to a better atmosphere.
Some schools mix it up a little, for example, using different colour ways of the same pattern to provide continuity yet avoiding monotony. Feature spot colour tiles can be used on the floor to reflect colour schemes or patterns of the walls.
In large teaching spaces, flooring patterns can be used to specify zoning, such as a strip colour to edge a quiet zone or a narrow strip laying out routes to other parts of the school.
Environmental impact
More and more schools are looking at cradle to grave environmental impact of flooring materials. In addition to promoting good indoor air quality, the concerns include: hazardous exposure to workers in manufacturing, whether the product is made from renewable resources, contains recycled material, can be recycled, contributes to hazardous waste, and how much energy is used in manufacturing it.
"In recent years, vinyl has substantially increased its environmental friendliness by removing a lot of the nastier chemicals from the production process, so this has become more acceptable for schools to use," says Mr Tolhurst.
Installation
Unless you're planning to carry out your renovations during the school holidays, you can keep disruption to a minimum by choosing a floor that will be quick and easy to install.
If you're looking for flooring which can be easily replaced when worn, carpet tiles could be ideal. Individual tiles can be replaced rather than the whole carpet which means there is no need for every piece of furniture to be removed before installation.
Now to the specifications for each area of the school. "Sound absorption and impact sound reduction with long life is what schools are after for their flooring," says Marisa Laister, sales and marketing manager at Polyflor. However, all areas have their own particular requirements whether it's to withstand frequent spills (art and cooking) or to enhance learning opportunities (classrooms and libraries).
Acoustic underlay is another option popularly used in schools, hospitals and student accommodation. Polyflor's Damtec, a cork and rubber product can be installed beneath vinyl to provide high-level impact sound improvement.
Classrooms
Flooring specialists agree that the top priority for classrooms is good acoustics. "Many schools are using a cushion back carpet tile which helps with both acoustics (particularly for between floor noise transmission in multi-level buildings), and provides a softer surface for sitting," says Mr Tolhurst.
"The colour and pattern of the floor is important too. We always recommend that schools use a dark patterned carpet tile to disguise soiling, but it's common for bright tiles to be inserted in the layout to lift the environment. We recommend these brights are just occasional features, not over a wide area as the colour and lack of pattern means any marks are easily visible."
Acoustic underlay is another option popularly used in schools, hospitals and student accommodation. This cork and rubber product can be installed beneath vinyl to provide high-level impact sound improvement.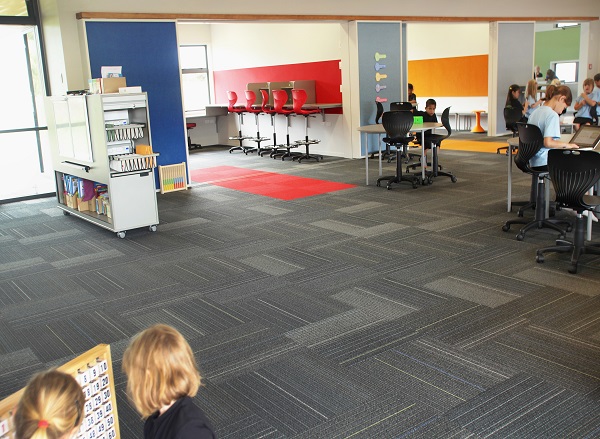 Break out areas
Many classrooms now have break out spaces which, among other uses, are popularly used for art and science. In these areas, a smooth vinyl should be used so spills can be easily cleaned, says Mr Tolhurst. "Many smooth vinyls are naturally slip resistant through their construction – they pass the New Zealand slip requirements for a wet area, but don't have the cleaning issues you get with safety vinyls."
Science labs
The stakes for danger are raised in the school's science labs and the fit out needs to be appropriate. Ensure that the floor coverings are chemical and heat resistant, and can be easily cleaned," says Ms Laister at Polyfor.
Corridors
Flooring in these high traffic areas must be resilient, sound absorbent and easy to clean. "We'd recommend a standard-backed carpet tile here as there is heavier traffic concentrated in a smaller area and the standard wears better than the cushion back," says Mr Tolhurst.
Toilets
Of key consideration for the school toilets is good hygiene. This is a lot easier to maintain when the surfaces are easy to clean. When choosing flooring, look at how easy it will be to mop and whether it is slip resistant.
"Toilets and kitchens are not usually classified as wet areas, so a smooth vinyl is still recommended," says Mr Tolhurst. "Most smooth vinyls are sufficiently slip resistant to provide safety underfoot. The exception is if there are showers, then a safety vinyl suitable for barefoot traffic should be used.
In the gym
The gym floor takes a pounding, as do its users. Because of this, the flooring needs to be resilient and shock absorbent, says Polyflor. "There are specialised vinyl 'sports floors' that look after all these requirements," says Mr Tolhurst.
Other popular choices of sports floor surfaces are timber, rubber and polyurethane.
The most important question schools should be asking is whether the floor is fit for purpose, advises Glenn Richardson from sports floor manufacturer, Polyflor. "Is it durable, can it be cleaned easily and what is the shock absorption, ball rebound, sliding coefficient of friction (slippery or not) and static charge?" he says.
Consider too who will be using the space; requirements for a primary school hall are quite different to those for a high school gymnasium.
Rubber and polyurethane type floors, commonly used in primary schools, can be inexpensive options, while the cost of timber floors vary widely. Another variable is the amount of preparation required, whether the old floor needs to be removed or levelled or whether the new covering can be laid directly on top.
Libraries
The requirements for the library floor as much as for the classroom; it needs to absorb sound and be easy to clean. In primary schools, the surface should also be soft for sitting.
Ramps and steps
For ramps, the amount of slip resistance required changes as the slope changes. Steps in older schools are often quite steep and concrete, so totally unforgiving. The safety of these can be improved by fitting stair nosings and treads, available in a variety of colours and finishes to improve visibility as well as grip. The edge of the step can also be highlighted as an additional safety feature, especially for school users with impaired vision.