With new technology emerging every day, it has never been more important to find a partner to work with you to future proof your technology investment.
Chris Maclean, General Manager of Canon Business New Zealand says that Canon closely follows the way technology changes learning environments in schools. "Many teachers have been ahead of the education technology curve in how they have wanted to teach for years, and now the technology has caught up. Interactive tech is now truly in the hands of the teacher and their students."
"Canon partners with nearly 300 education and training customers across the county, providing them with interactive learning solutions, network security cameras, video conferencing and print. As SMART's leading New Zealand partner we can help schools create modern learning environments for their students and achieve new levels of student engagement with the latest interactive technology."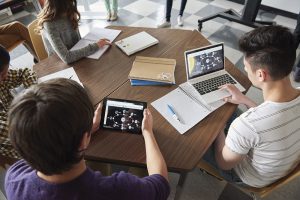 Products are now available for schools regardless of location, class size, or IT set-up, and they offer teachers greater flexibility to run lessons to suit their own teaching style and the needs of individual students.
Looking at what's new in interactive learning, Peter McAlpine, APAC Region Manager of SMART Technologies commented that "although interactive displays are a great teacher display device increasingly we're seeing students at the board in front of the room having educational experiences. Gamification has also become popular and creates new ways to give students that 'a-ha' moment. Using SMART's learning suite software, game based activities can be created within minutes and work across the display and students own devices."
Chris Maclean adds 'education everywhere' is gaining traction, with technology allowing people to connect with learning sources anywhere in the world. Online education and streaming is becoming more important as students are starting to supplement their in class learning with external feeds. The technology in the classroom and around the school now has to more closely match the ease of use students are finding at home and then in the workplace as they grow and leave formal education.
While SMART's 6000 series interactive displays have long been a classroom standard, later in the year it will be launching the 7000 and 2000 series displays. The 7000 series is its most advanced interactive display ever and looks set to help schools take classroom learning to the next level. With iQ technology the board is designed for any teaching environment and acts as the hub of the classroom. It connects lesson content, an interactive display and student devices all into one effortless experience. With software that allows teaches to quickly and easily create a lesson plan and classroom activities, or let students work together across devices on a digital canvas, everyone can use the technology to learn in ways that come naturally. It will be available in two sizes and has four pens and 16 points of touch as well as some other fantastic new features. The 2000 series is designed as an entry level non-interactive display, however unlike a simple TV it features wireless screen-sharing and is perfect for showing lessons and presentations from all sorts of devices. Its 4K Ultra HD resolution makes whatever you show on screen look amazing.
To learn more visit canon.co.nz/smart or call 0800 222 666