Education
$5,000 scholarships for top MindLab graduates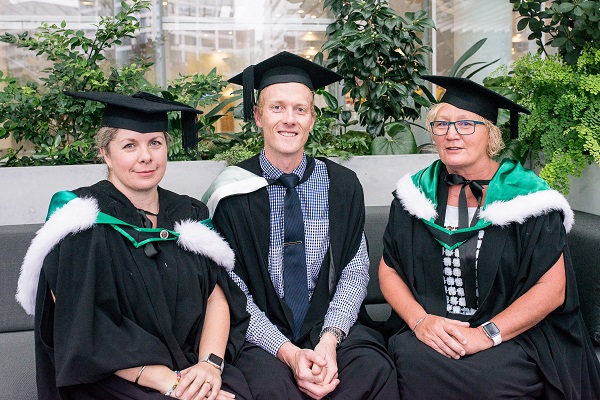 Three teachers have been recognised as the country's top digital learners, winning the prestigious NEXT Foundation Expert Teacher Award at The Mind Lab by Unitec's graduation in Auckland last week.
Winning educators Matt Dalton from Rotorua Boys' High School, Kate Gifford-Maposua (pictured left) and Susannah Fowler of The Gardens School in South Auckland, recently completed The Mind Lab's Postgraduate Certificate in Applied Practice (Digital & Collaborative Learning). They were celebrated at yesterday's ceremony alongside 366 fellow teachers from the November, 2015, and March, 2016, cohorts.
NEXT Foundation awarded two $5,000 scholarships, one for each cohort – Mr Dalton from the November intake, and Ms Gifford-Maposua and Ms Fowler from March.
The NEXT Foundation Expert Teacher Award celebrates the three teachers' commitment to broadening their skills to help their students gain the skills needed for 21st century careers. Mr Dalton says winning the award is a humbling experience, and the results he has seen in his classroom and across the school from the other teachers who are participating in this programme have been remarkable.
"The programme was a valuable opportunity to reflect on and develop my teaching practice and leadership. I cultivated new ideas through collaboration and challenged pre-conceived ideas about what I believed education to be," he says.
Ms Fowler says she and Ms Gifford-Maposua are on a journey "with our entire staff to prepare for our brand new school, opening in November. The Mind Lab fitted perfectly in assisting with pedagogical change, strengthening collaboration between teachers and students."
The winners were selected from six finalists through an interview process led by Frank Janssen of NEXT Foundation, who was impressed with the significant leadership and strategic journeys each winner demonstrated.
The other finalists were Anne Bissland from Rangi Ruru in Christchurch, Aisling Browne and Sheree Barker from Campion College in Gisborne, Grace Williams from Whangarei Girls' High School, and Kirstin Anderson-McGhie from Oteha Valley School, Auckland.
Launched in 2014, NEXT Foundation plans to invest $100 million during the next ten years. It provided 1,350 teacher scholarships in 2016 to allow public school teachers to undertake The Mind Lab's postgraduate programme.