Profiles
Rebuild gives Ellerslie School room to breathe again
For the first time in many years, Ellerslie School started the year with enough room for all students. As is the case for so many schools in central Auckland, roll growth has been rapid during the past few years, and Ellerslie had long outgrown its buildings.
Playing fields had been lost to relocatable classrooms, and the old, single cell-style units were inhibiting the school's move to flexible learning space pedagogy.
After a complete rebuild – lasting 11 months and costing $10.4 million – the school has a new lease of life with 24 new teaching spaces, and playing fields restored to their intended use.
"There has been much excitement and anticipation about moving in," says long-serving deputy principal Jillian Mitchell. "Students and staff are really enjoying the new classroom learning system. It is a spacious, calm, welcoming space and is light years ahead of being accommodated in a prefab. There is much excitement, enthusiasm and passion for teaching and learning amongst our students and staff.."
The new-look school opened for term four last year, the same day as its new principal took the helm. Lisa Harland is a teaching professional of 20 years, most recently as principal of Reremoana School in South Auckland.
She says the school has a very strong sense of community and pride, and is "the hub of its community". "Ellerslie School's roots lie deep with 139 years of education and contribution to the wider community. This is something I value deeply."
Ellerslie School was founded in 1877, making it one of the country's oldest schools. Today, the suburb bears little resemblance to the Ellerslie of old, and change has been especially rapid during the past 20 years when village shops were revitalised. Construction of new office blocks brought an influx of 5,000 workers, local shops became trendy, and a café and restaurant culture was born.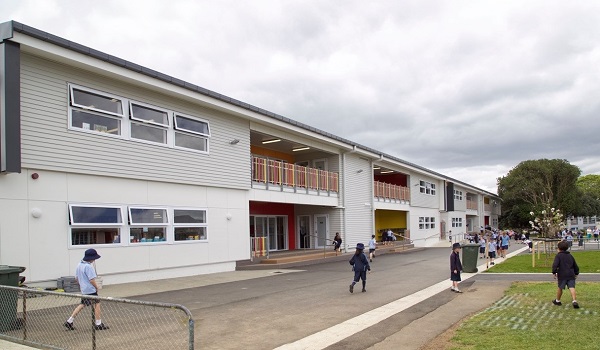 The shift in demographic has been dramatic. As elderly residents moved into rest homes, the houses they vacated were snapped up by socially mobile young families, many of whom were born outside of New Zealand. At the same time, housing intensification has been rapid, heaping pressure onto local schools.
By 2010, Ellerslie School was working with the Ministry of Education to draw up plans to accommodate its fast-growing population. The planning stage was intense, and the board met fortnightly for four years to toil over details. Initially the ministry agreed to a 12-classroom block, but it was soon apparent that this would not suffice and plans were re-drawn.
In 2012, the area's popularity was boosted further by the restoration of the local rail service giving Ellerslie residents access to fast and reliable transport to the city. The school's roll continued to swell.
By 2015, the socio economic shift in the area had been reflected in the school's decile which was moved from seven to nine, meaning the school's government funding was reduced. Construction finally began on the new buildings.
In October, 2016, with the roll at a record 750, the new build was complete – two, double-storey blocks, each containing 12 flexible learning spaces. Going up, rather than out, means the school has been able to maximise its outdoor spaces on what is a relatively small site.
Staff had long been preparing for the shift to innovative learning style by workshopping and training with consultants from CORE Education. More professional development around MLE-style teaching is scheduled for this year.
Along with new teaching spaces and MLE pedagogy, Ellerslie School is also celebrating the move to being a BYOD school. After a six-month trial, the BYOD programme is starting in earnest this term, involving all students in years five to eight. The school continues to supply devices to be shared amongst students who do not have their own.
Culturally, the school is also on trend with 40 per cent of its population made up of different ethnicities, a microcosm of Auckland city. Māori, Chinese and Indian students make up the bulk of "other" ethnicities, with the remaining 16 per cent identifying as Tongan, Filipino, Samoan, Middle Eastern, Sri Lankan, African, Australian, British, Fijian, Japanese, Korean, or "other".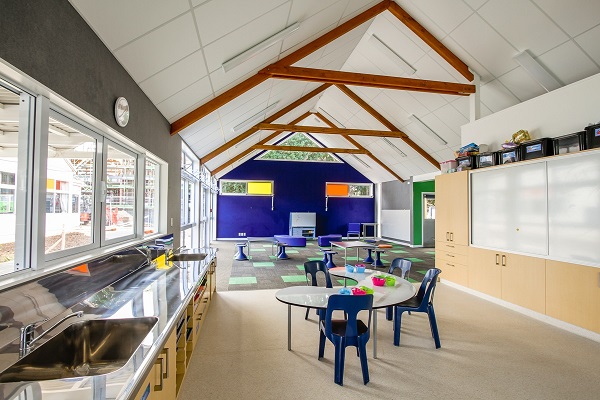 This sets it apart somewhat from the other four primary schools in its community of learning (CoL); most students are Pasifika (31 per cent) or Asian (25 per cent). Although Pakeha students make up a total of 21 per cent of the CoL, this falls to ten per cent at the destination high school, One Tree Hill College.
Academic standards at Ellerslie are high with 87 per cent of students achieving at or above national standard in reading, writing and mathematics, and Ellerslie is determined to keep pushing, aiming to hit 97 per cent by the end of 2018. It is also joining forces with its fellow CoL schools to boost achievement rates for priority learners, identified as Māori and Pasifika students. Interestingly, Māori learners at Ellerslie achieve on a par with other children at the school, bucking the nationwide trend of being 10 points behind.
The school is especially proud of its music programme which is led by the remarkable Maria Winder. Ms Winder, among many other things, conducts massed choirs for the APPA and directs the Kiwileles, a massed ukulele orchestra of 3,000 students. Under Maria's direction, the school has three orchestras, two choirs and a band.
Ellerslie School, Auckland, is a decile nine, state primary, for students in years one to eight. Currently 750 students are enrolled.