News
New high school opens in Christchurch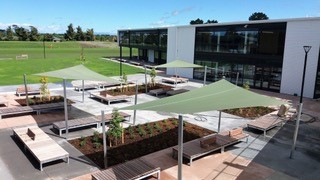 Rolleston College in Christchurch is officially open for business.
The new school is located on a six hectare site with facilities including a range of flexible learning spaces, a 500-seat theatre, multi-purpose gym, an automotive workshop and dance and music studios.
Principal Stephen Saville says he is very excited about the potential that the new school has. "The buildings have been designed to fit the needs of the learners rather than the other way around."
Waitaha School, which caters for students with high and complex needs, has a satellite unit at Rolleston College.
Te Taumutu rūnanga gifted the school name Horoeka Haemata ("the flourishing lancewood") to the board of Rolleston College. Lancewoods are unique trees that change dramatically as they mature – a symbolic idea that has been incorporated into the school vision.
Rolleston College, along with three other schools, has been built as part of a Public Private Partnership (PPP). The new school caters for students in years nine to 13 and will open with a roll of more than 200 year nine students. This is expected to rise to 1040 students by 2021.