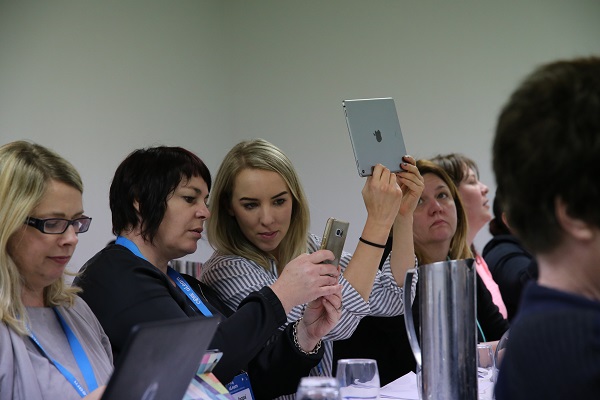 The famous words of Greek philosopher Heraclitus,"change is the only constant", pretty much sum up uLearn16, New Zealand's leading professional development event for educators.
If you were a first-time visitor to uLearn, you could be forgiven for feeling a little overwhelmed. The numbers were huge – 1823 delegates, 285 break outs and 70 exhibition stands at this year's conference – and so was the physical sprawl of the events (across event centres and hotels). Luckily for those of us without a background in military planning, conference creators CORE Education were extremely efficient and helpful, and had thought of pretty much everything to ensure delegates could make the most of the four-day event.
All sessions were in the heart of Rotorua; keynotes and exhibitors at the Energy Events Centre, and break outs at the Howard Morrison Performing Arts Centre, the Blue Baths and surrounding hotels. Nice proximity to the Polynesian Spa, too. Although the venues were within easy walking distance, the weather was somewhat unreliable so conference buses were well utilised.
I learned a thing or two from seasoned uLearners; they arrived in groups, weeks of planning under their belts, then fanned out across the break outs to maximise coverage before reconvening to exchange notes. They had also done their homework on places to eat in Rotorua and booked ahead. Very wise.
It is well worth putting in the groundwork as there is a vast supply of quality content up for grabs every year, and it is a great opportunity to network with educators from both New Zealand and overseas.
"uLearn is a showcase for educational possibilities – with the aim of expanding horizons and pushing educational boundaries," says Becky Hare from CORE.
"It is designed to both inspire and to meet educators' practical needs – to help the profession grow deeply, in pedagogically sound ways backed by research, and to share ways for educators to grow the learners in their care. We are ultimately all there for the students."
At uLearn, it's a mix of listening and doing: there are four keynotes offering perspectives on global and local issues affecting education, and hundreds of hands-on workshops to showcase new ideas, tools and resources.
This year, some workshops were so sought after that they booked out within hours of appearing on the uLearn16 website. "Smaller, hands-on workshops can be very popular, and have limited numbers so as to deliver the best learner experience," says Ms Hare. "They are most often bring your own device sessions. uLearn has a raft of hands-on practical sessions to give teachers experiences that will readily transfer back into the classroom.
"The Communities of Learning (CoL) breakfast was especially created in response to a recognised need, to help principals and lead teachers develop strategies to make their CoL a networked success for students, whānau and communities.
"In addition, sessions offering practical experiences in using iPads, junior literacy, coding, and niche subjects like te reo, science and maths, Universal Design for Learning (UDL) and Innovative Learning Environments (ILEs), and Maker spaces were popular. We also notice that sessions on the deeper areas of educational focus such as student agency, future-focussed curriculum, managing change, assessment and research-based sessions are attracting larger numbers than ever."
Other break out sessions traversed subjects as diverse as teaching five-year-olds in an ILE, appraisals made easy, and engaging with families and communities of Pasifika learners.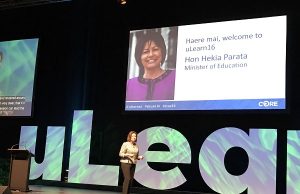 Education minister Hekia Parata addressed the conference, saying that historically our education system was founded on the industrial model, but that teachers today were embracing what digital life and technologies offer.
She said educators needed to be transformative, beyond incremental, and that within the next two years, every school in New Zealand would be able to be technologically engaged. The challenge was for teachers to take advantage of that.
The uLearn16 program was structured around transformational aspects of future-focused learning and assessment, professional practice and leadership. This meant that delegates could choose to follow a strand through the conference, or to explore different combinations.
With so much on offer, it wasn't easy to choose. The keynote speakers were education thought leaders Larry Rosenstock, John Couch, Karen Spencer, and Michael Fullan. "The keynote speakers all really hit the spot for me!" said one delegate. "From the relaxed story-telling of Larry Rosenstock, high academic discourse of John Couch and Michael Fullan to the punchy words of Karen Spencer! The best combination yet!"
Mr Rosenstock is the founder and CEO of High Tech High, an American network of public charter schools focused on project-based learning, and he serves as an advisor to numerous commissions and boards both in the USA and internationally.
His address, It's Time To Change The Subject, was about transforming learning and assessment by re-imagining, beginning and ending with learners, and with "a large dose of craziness". Rather than segregating subjects, the students themselves must drive their learning, finding authentic contexts within their community.
Mr Couch, head of education division at Apple, spoke about new dimensions in learning. He believes that coding is the future, and that it will be integrated into the classroom of the future as a key and fundamental skill.
Ms Spencer, education director at NetSafe, spoke about the "extraordinary possibilities of a networked profession". She said networked learning, where anyone could connect and share ideas with each other, was a powerful catalyst for change. The challenge, she said, was to understand the value – from the way connections were made and from how connections were made. She urged educators to see the story behind the data, and to embrace discomfort rather than rushing to find solutions.
Mr Fullan, professor emeritus at the Ontario Institute for Studies in Education, spoke about new pedagogies for deep learning. He explained how his focus was driven by what he had observed as three innate human behaviours: wired to connect, wired to create, wired to help humanity. Life and education could either amplify these characteristics or suppress and eradicate them.
There was also a lot of inspiration to be found in the exhibition hall where delegates could try the latest gadgetry, browse new resources and learn about tools to make school life more efficient, for example, BYOD management solutions and financial literacy apps.
It's a lot to take in, and educators will have had a lot of ideas swirling when they returned to work.
Meanwhile, staff at CORE are already busy planning uLearn17 which will be in Hamilton, October 11-13. Key strands will be will be learning in communities, learning digitally, and learning for success.