Education
Using virtual travel to enhance learning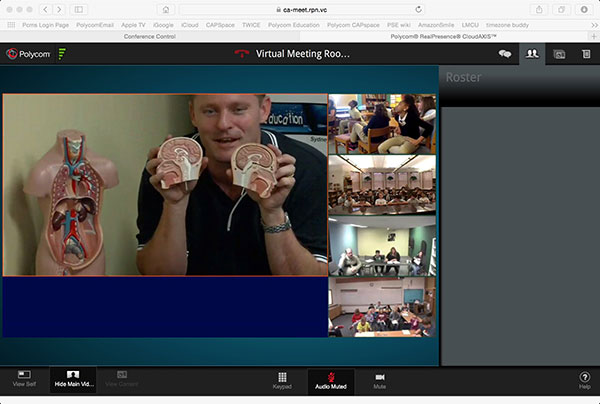 Previously I talked about the role of video collaboration within professional development, very timely as we think about 2016 and the learning road ahead.
When it comes to curriculum planning, one question I'm constantly asked is how to remain relevant and engaging for students in a rapidly changing technology environment.
It's both a challenging and exciting time to be a student or teacher in New Zealand as digital technology is continuing to transform education and create new learning opportunities on both sides of the 'blackboard'.
Today's learning is characterised by flexibility and diversity, with access to a variety of subject matter experts and learning opportunities both inside and outside the traditional learning environment. Increasingly students are expecting a highly engaging interactive learning environment, not stagnant instructor-led designs.
The classroom of the future: connectivity, collaboration and virtual excursions
Learning technologies and changing pedagogical methods are not only changing the way we teach but also the physical environments in which we teach. The classroom of the future recasts tomorrow's educational settings in exciting new formats: global connectivity and collaboration combined with technology that allows for interactive and student-tailored lessons. It is both physical and virtual, it is mobile and engaging, it is personal yet scalable.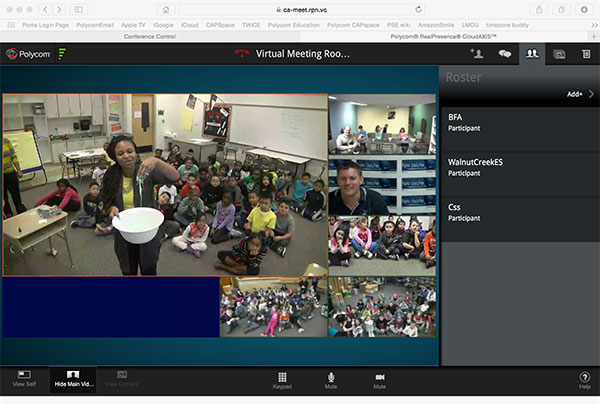 Schools can join virtual education events that allow students to participate in a diverse range of learning experiences from trekking through the jungles of Borneo to observing the transit of Venus with commentary from a professor of astronomy.
These events allow students to interact with others and are a highly effective way of increasing the absorption of knowledge.1
Perhaps one of the best ways to demonstrate the benefits of virtual excursions and how they can work in the classroom environment is to highlight a local example. I'd now like to share a Q & A with Polycom education partner, Ben Newsome, managing director of Fizzics Education2. Based in Australia, Ben and his team deliver virtual learning experiences to schools throughout Australia, New Zealand and the United States.
He shares insights into how to make the most of the virtual excursion experience:
1. Please describe what a typical virtual excursion hosted by Fizzics Education, using video collaboration, involves. How easy is it for a teacher to sign up?
We treat virtual excursions the same way as real world school visits. This means that students should be able to interact with experiment materials, watch science demonstrations that couldn't be done in a classroom setting and ask our presenters questions. Signing up for a typical virtual excursion involves a classroom teacher either contacting us directly or through our calendar bookings platform.
To make it interactive we send a list of materials that the teacher can source from their local shop e.g. vinegar, bicarbonate soda, so the students can run experiments in their classroom while being guided by us on video. Our role is to link the more complex demonstrations, such as the effects of liquid nitrogen on plants, with the local curriculum and to explain the science at the level of the students' knowledge.
2. What are the key benefits delivered to students and teachers during virtual science lessons? How do you engage the audience?
One of the key benefits of participating in a virtual excursion is the meshing of 21st century collaborative technology with the sheer simplicity of being able to connect with anyone around the globe. Want to learn about a piece of art? Why not speak directly with the artist who made it?
If a class is studying any topic, there is undoubtedly a subject matter expert in a museum or similar who can show you the real artefact and explain in real time the story behind it. The extra dimension of connecting between countries or even between two cities is that you can talk about cultural differences which is always surprising for students. The best way to engage the audience is always to think from their perspective.
For example, what can they see, what can they do, what can they hear? We always include experiments that students can run in their own classroom. This reinforces the content being demonstrated and engages and focuses students' attention.
3. What advice would you give to an educator interested in building a virtual excursion element into their lesson planning?
It may sound flippant but the way to start is simply to start! You can always find another teacher in your school or via CAPSpace3, a social networking tool for educational video conferencing, to try the technology and see what works for you. Don't try to bite off too much at the start – perhaps you could start with a simple connection with another class to discuss a piece of work both classes have been doing (.eg. a science or art project).
This way students can show the work they've been doing to each other which helps with initiating conversation. They could then move on to adapting a learning activity you would have normally run without video and see how it goes.
If you approach any virtual excursion with the idea that it's not a passive experience you're sure to be on the right track. From a lesson planning point of view, the best way is to look at your unit of work and determine at which point it would be fantastic to bring in a subject matter expert to explain the concept in more depth. In reality, this is not too different from planning an excursion around any given topic except without having to spend time arranging transport logistics and the cost is much, much lower.
4. What's one really cool thing that video collaboration has enabled you to do that you could not previously?
So many choose from! One that comes to mind is a connection we did with schools in New York and Dallas where we read books to K – 2 students in the lead up to Christmas. Whilst this seems simple, I read an Australian book called 'An Aussie Night Before Christmas' to a group of American children. Though the kids could only read along as I turned the pages using the document camera, I could also highlight and explain much of the words and context which seemed foreign to these kids. This included introducing them to a pavlova, discussing what a 'ute' was and talking through why we have Christmas in summer. Kids were then able to have an Aussie BBQ using ingredients I had listed in emails to the teachers.
We've also been connecting libraries to run after school science clubs. The opportunities for local and even global collaboration are amazing, you just have to take the first step!
As seen by the work being delivered by Ben and his team, technology is playing a pivotal role in enabling education through increased virtual collaboration, particularly for students and teachers based in remote locations. By linking up with other schools around the country or the world, teachers and students are gaining access to global knowledge and expertise. Not to mention, having a fun and engaging lesson at the same time!
There is a lot more open content and information sharing these days. With CAPspace, Polycom's own content provider database, special events, academic and instructional training, and an educational social networking tool, instructors can connect with tech coordinators and educators around the globe anytime to exchange ideas, participate in communities of practice, and leverage these resources to enhance curriculum.
More than 300 educators across Australia and New Zealand are already using CAPspace to source content and create more collaboration within their classrooms.
If you have been thinking about arranging a virtual excursion, give it a go. Even if you are a first-timer to virtual learning, small steps will be rewarded.
Best of luck!
1 http://polycomspecialevents.pbworks.com/w/page/17626380/FrontPage
2 http://community.polycom.com/t5/The-View/Down-with-Science/ba-p/70039
3 https://projects.twice.cc/