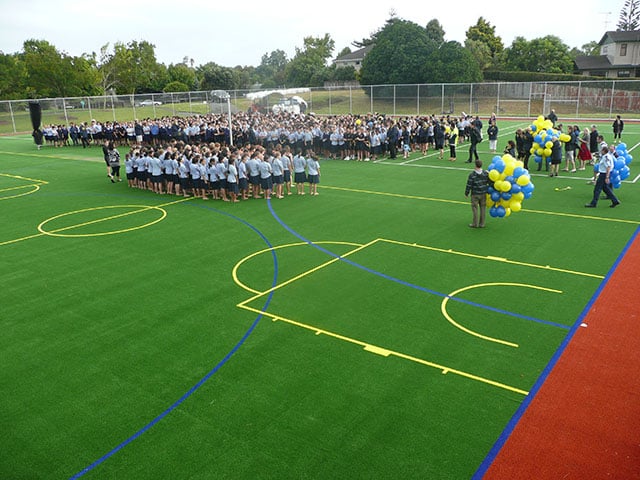 The advances in synthetic turf yarn technology during the past three decades have changed the face of many sports, hockey in particular.
The school multi-use market has primarily been driven by hockey during the past 15 years, with other sports included on the same surface with additional line-marking.
The main driver for the school board or PTA has been to develop hockey skills at school rather than driving to the closest full-sized turf and paying rental fees. The school multi-use surfaces have generally included hockey, tennis, netball, basketball, running tracks and patter tennis.
The major benefit of any sand-filled synthetic turf surface is the "all weather" capability; even if it's raining, the surface has the ability to soak excess water into the sand and allow the kids to continue to play or resume playing as soon as the rain has stopped.
One of the questions many schools ask is whether they need to install a rubber shock-pad beneath the turf.
Hockey at the senior and elite levels requires a shock-pad to reduce the ball bounce and keep the hockey ball on the playing surface for longer, therefore speeding up the game. A multi-use surface will generally include tennis/netball lines that both require a high level of ball bounce to facilitate a good game. In this situation it's important to choose which sport has priority. If it's hockey, I'd suggest installing a pad and if it's tennis or netball, I'd go without the pad and this would still provide an excellent surface for hockey skill development in junior players.
The budget would also need to be considered with the pad adding an additional 50-70 per cent additional cost over and above the synthetic turf surface costs.
The past five years have seen the addition of other surfaces alongside the traditional 19mm sand-filled multi-use surfaces.
Larger schools are now choosing to install third generation soccer and rugby surfaces which use polyethylene yarns and are manufactured to pile heights of 40mm to 60mm in length.
The longer pile is filled with a combination of kiln-dried sand and granulated recycled rubber tyres. These long pile surfaces are designed to withstand 40-50 hours of high intensity use per week, a fantastic solution for those wet and muddy fields that normally remain closed for much of the winter months.
Many local soccer and rugby clubs cannot use their grounds for mid-week training during the winter and this can make for an excellent partnership between schools and clubs. A field can be used during the day for school activities until 5pm, then used again from 6pm (requiring lighting installation) by senior club teams. A sharing agreement can be arranged making best use of the land and hopefully sharing of the up-front costs to build the new turf.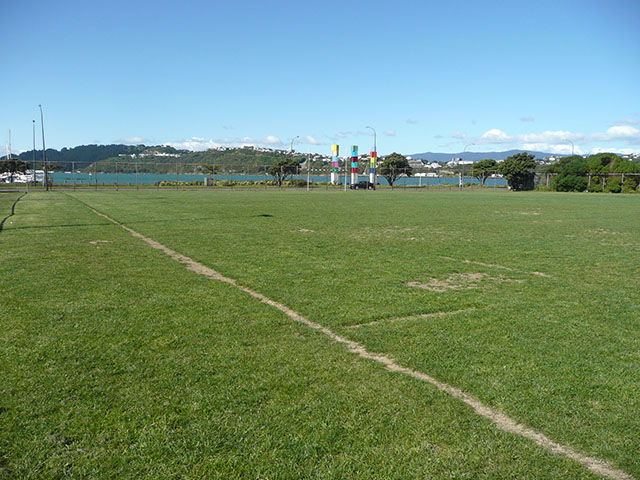 Synthetic turf playground surfaces are becoming very popular for replacing the traditional bark and rubber-tiled surfaces. Meeting the latest revised NZS 5828:2015 Playground equipment and surfacing standard, synthetic turf surfaces with recycled foam underlay provide a permanent long lasting and free draining surface. These surfaces provide an excellent all-weather safety surface allowing play 365 days a year, rain, hail or shine.
The fully recycled foam underlay comes with a 25-year warranty; this is a very environmentally-friendly solution providing a long lasting playground underlay surface with fall heights certified up to 3.3m.
Another popular solution in primary schools is the combination of playground structures and multi-use surfaces in the one area. Recent installations at Auckland's Glen Innes Primary and Wellington's Scots College have included new playground structures surrounded by smaller multi-use areas with four square, cricket pitches and hopscotch line markings. The surfacing flows seamlessly from the multi-use area through to the playground, the only difference is the recycled foam underlay covering the specific fall zone areas around the playground equipment. This provides a free and open space for the kids without any trip hazards or borders between the different play spaces.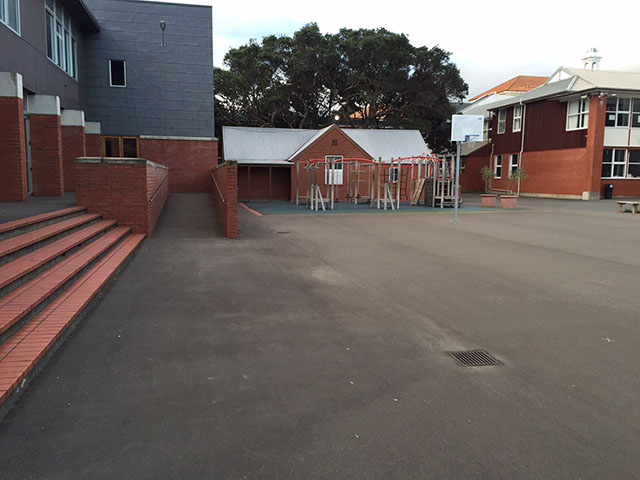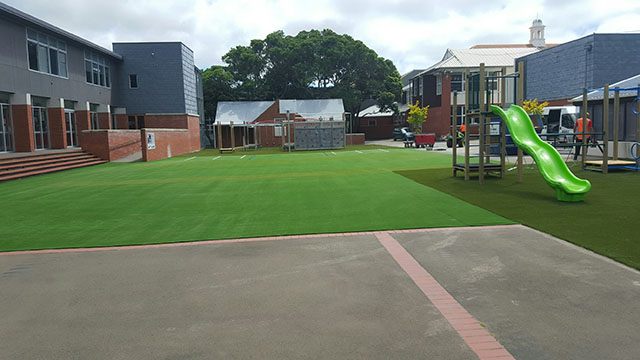 If you've seen the latest yarn technology in synthetic turf for landscaping, I know you'll be impressed. The curly brown 'dead' fibres tufted into the base of the surface add a very natural look to the surface and can now be used in high wear areas around schools to replace wet and muddy or dry and dusty patches. Ideal for court yard areas and under large trees where natural grass struggles to grow, no more mower, just need a blower and the work is done for another week!