News
Triathlon participation boosts kids' self-esteem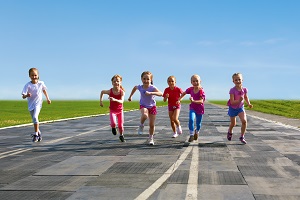 Thousands of Kiwi parents have seen a positive increase in their child's self-esteem after they take part in a triathlon event, according to a survey commissioned by Sanitarium.
The research investigated the experience and perceptions parents and children throughout New Zealand have of self-esteem and pride as a result of participating in an organised sporting event.
It found 90 percent of the 2500 parents surveyed would be very likely to recommend the Weet-Bix Kids TRYathlon events to others, with 84 percent believing it had a positive impact on their child's self-esteem.
Seven out of 10 (72 percent) parents surveyed said their child was glowing with pride when they finished the event, and the vast majority (84 percent) of children really enjoyed participating in the event.
The positive results confirm the value of the TRYathlon series, which has been running for 23 years and seen more than 200,000 kids take part over that time.
The triathlons will be taking place in 16 locations around the country starting in December, and Weet-Bix Kids TRYathlon Ambassador Valerie Adams is looking forward to seeing the boost of confidence it will give kids.
"Self-esteem for kids, or anyone for that matter, is so important and a great way to build self-esteem is to set goals and go about trying to achieve them. The Weet-Bix TRY is simply the perfect setting for that," says the two-time Olympic shot put champion.
Adams, who is currently focusing on the Olympic Games in Rio next year, says the events are "awesome" because they allow all children a chance to give sport a go at their own pace.
"Kids get to have fun through play and exercise, and it also helps with friendships and meeting new people," she says. "It's safe, well organised, and has lots of participants to make it a real deal event."
The dedicated athlete says playing sport as a child helped her gain confidence. "I loved playing sports, especially basketball. Just getting out there and trying new things, and also being part of a team or something, was a great confidence booster for me."
She says her parents encouraged her to be active when she was young which helped teach her "to follow your dreams and believe in yourself, [and] later the concept of hard work was really instilled."
As the official ambassador for the TRYathlon series, Adams says she loves the opportunity it gives kids around the country to challenge themselves, and she's looking forward to attending some of the events to meet the participants.
"Any kid that enters is going to find their own individual challenge and goal, but it's all set up for them ready to achieve," she says.
"It gives me a chance to try and inspire kids to get out there too. I've always said if I can inspire just one kid to get out there and achieve, then I'm stoked."
Sanitarium executive general manager, Pierre van Heerden, says the event is about encouraging Kiwi kids to get active and healthy while training for a specific goal.
"It's fantastic to see thousands of children every year training for and completing this event, no matter what their fitness level or sporting ability," says van Heerden.
"We know receiving a medal at the end of the event gives all the participants a feeling of pride and accomplishment, and that's what the series is all about."
The Sanitarium Weet-Bix Kids TRYathlon kicks off in Manukau, Auckland, on 9 December with events running around New Zealand until 10 April 2016.
The events are open to children aged between 7 and 15 years old, and consist of a swim, followed by a cycle and a run.