News
$26m redevelopment for Takapuna Grammar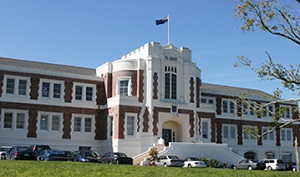 Takapuna Grammar School's historic main block will be restored as part of a redevelopment worth around $26 million.
The historic two-storey block was built early last century and is a much admired feature of the school and community.
The major redevelopment also means crucial space will once again become available to the school, which hasn't used learning spaces in the main block for around two years because of leaks and the need for structural strengthening.
Once it's restored and strengthened, the main block will contain 20 revamped learning spaces, as well as an upgraded administration area and adjoining hall.
Temporary facilities have been used for learning while the main block has been out of operation. There are currently 24 relocatable classrooms on-site, but most of these will be removed once the main block is back up and running.
In addition to restoration of the feature block, the redevelopment will see two new learning spaces for art added to the existing technology block.
The school will have 65 learning spaces in total, with the vast majority designed to support an innovative learning environment. They will feature the latest technology and high standards of natural lighting, heating and ventilation.
Learning spaces will also be flexible, so they can be reconfigured to suit different teaching and learning needs on the day. In the restored main block, the degree of flexibility will be balanced against retaining key heritage features of the building.
A detailed time frame is currently being developed for the project, which is expected to start in early 2016. The project will take about 30 months to complete.