News
Star-studded book launched for Starship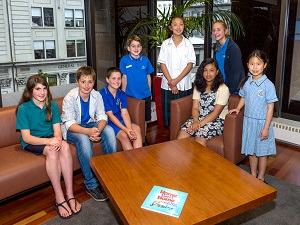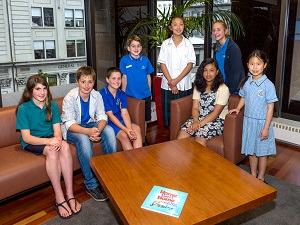 Eight young students have joined a star-studded team of sportspeople and artists to launch Home Sweet Home & Seven Hearty Tales – the latest book from the Barfoot & Thompson Young Authors Challenge, with all proceeds going to the Starship Foundation.
The children's colourful storybook features imaginative tales by young authors aged seven to 13 years old, alongside illustrations by some of New Zealand's favourite amateur and professional artists.
Artwork by rugby legend Keven Mealamu, who put the finishing touches on his illustrations while in the UK in between training and matches, features on the cover, along with pictures by netball star Anna Harrison, painter Tracey Van Lent, Japanese artist Jun Arita, designer/artist Erika Pearce, and seven-year-old Starship patient Kate Diprose.
Themed 'there's no place like home', the stories are a heart-warming mix of tales about the importance of family and belonging, and were chosen from more than 1100 entries.
The young authors then underwent a creative writing workshop with renowned children's non-fiction writer Maria Gill, who mentored them and helped prepare their stories for print.
This year's Supreme Winner was seven-year-old Josephine Sim from Cockle Bay School with her story Home Sweet Home, illustrated by Keven Mealamu and featured on the cover of the book. The seven other tales included:
Rodney's Adventure by Nicole Daria from Royal Oak Primary School, illustrated by Jun Arita;
Black Cat's Venture by Lucy Li from St Dominic's College, illustrated by Anna Harrison;
My Family, My Home by Jenna Hainsworth from Beachlands School illustrated by Erika Pearce;
The The Topsy Turvy Day that Showed Maximus the Right Way by Ben Davies from Patumahoe School, illustrated by Keven Mealamu
Spotty's New Home by Caleb Palmer from Elim Christian College, illustrated by Kate Diprose (who was mentored by artist Hannah Jensen)
Mr Cat by Antoine Ashman from Glenbrook School, illustrated by Tracey Van Lent
Rangi Ruru by Emilia Finer from Kerikeri High School, illustrated by Jun Arita
A live auction of selected artworks from each illustrator took place at the Young Authors Challenge launch event held at Barfoot & Thompson on November 11th and raised an impressive $17,000 for Starship, New Zealand's national children's hospital.
Peter Thompson, managing director of Barfoot & Thompson, says he is immensely proud of the fact that the Young Authors Challenge has helped Barfoot & Thompson raise a combined $165,000 for the Starship Foundation.
"The authors' stories were a joy to read, and our amazing line-up of illustrators have done a marvellous job of bringing their tales to life. I am sure the book will be thoroughly enjoyed by children for years to come," Mr Thompson says.
Through the Barfoot & Thompson Magic of Reading programme, copies of the book are also provided to Starship Children's Hospital and Whangarei Hospital's Children's Ward and given to young patients who stay overnight to read and take home.
Help the patients at Starship: Buy your copy of Home Sweet Home and Seven Hearty Tales at www.barfoot.co.nz/storybook for just $20.