News
South Auckland students strike winning notes in Pacific Songwriting competition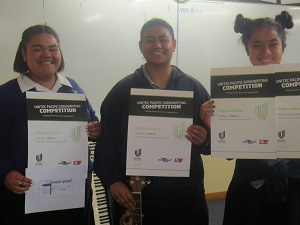 A trio of budding young musicians from South Auckland are the big winners in this year's Unitec Pacific Songwriting competition.
Otahuhu College group TIMtrio comprising students Teejay Nanai, Seira Tuimaseve Gasu, Melevesi Finau wowed the judges with their catchy Samoan and Tongan tune Oso le la (The Sun is Rising), which also took out the coveted People's Choice Award after receiving the most views on YouTube.
Ose le la is an uplifting original work with a positive message. "This song is about a brighter day and a reminder to anyone with struggles that regardless of the situation, like the lyrics say: "Just put your head up, because it's a brand-new day," the group explains.
TIMtrio will share the main prizes of $1000 music voucher and a guitar valued at $500 sponsored by Music Planet, and they will also receive a free professional video recording of their song.
Runner-up ($600 Music Planet voucher) was Manurewa High School student Sonatane Kaufusi for his Tongan song Ma'alahi, which challenged Pacific people to be proud of their cultural identity and not hide from it. Niuean entrant Vincent Togiavale was placed third ($400 music voucher) for his song Niue Fekai.
"The lyrics describe a place that I've heard of from my grandparents as well as my mother who were born and raised there. I made this song to encourage other Niueans born overseas to go back and visit the motherland," he says.
Unitec music tutor and Kiwi musician Age Pryor, who was one of the judges, praised the quality of this year's entries. "We received a lot of excellent entries, and the winners stood out as exceptional – awesome spirit, fantastic musicality, and brimming with creative ideas. Full credit to everyone who participated. Keep on writing those songs!"
Unitec's Pacific Marketing Advisor and UPSC coordinator, Patrick Mose says celebrating Pacific languages was the main aim and he was thrilled more young people were embracing their culture through this competition.
"Music written and composed in Pasifika languages is beautiful, so it was great to have more new faces singing and writing in a Pacific language," he says.
This is the second year Unitec has run the competition, which celebrates the seven official Pacific languages in New Zealand through music, education and cultural engagement.