News
School for dyslexics extends its services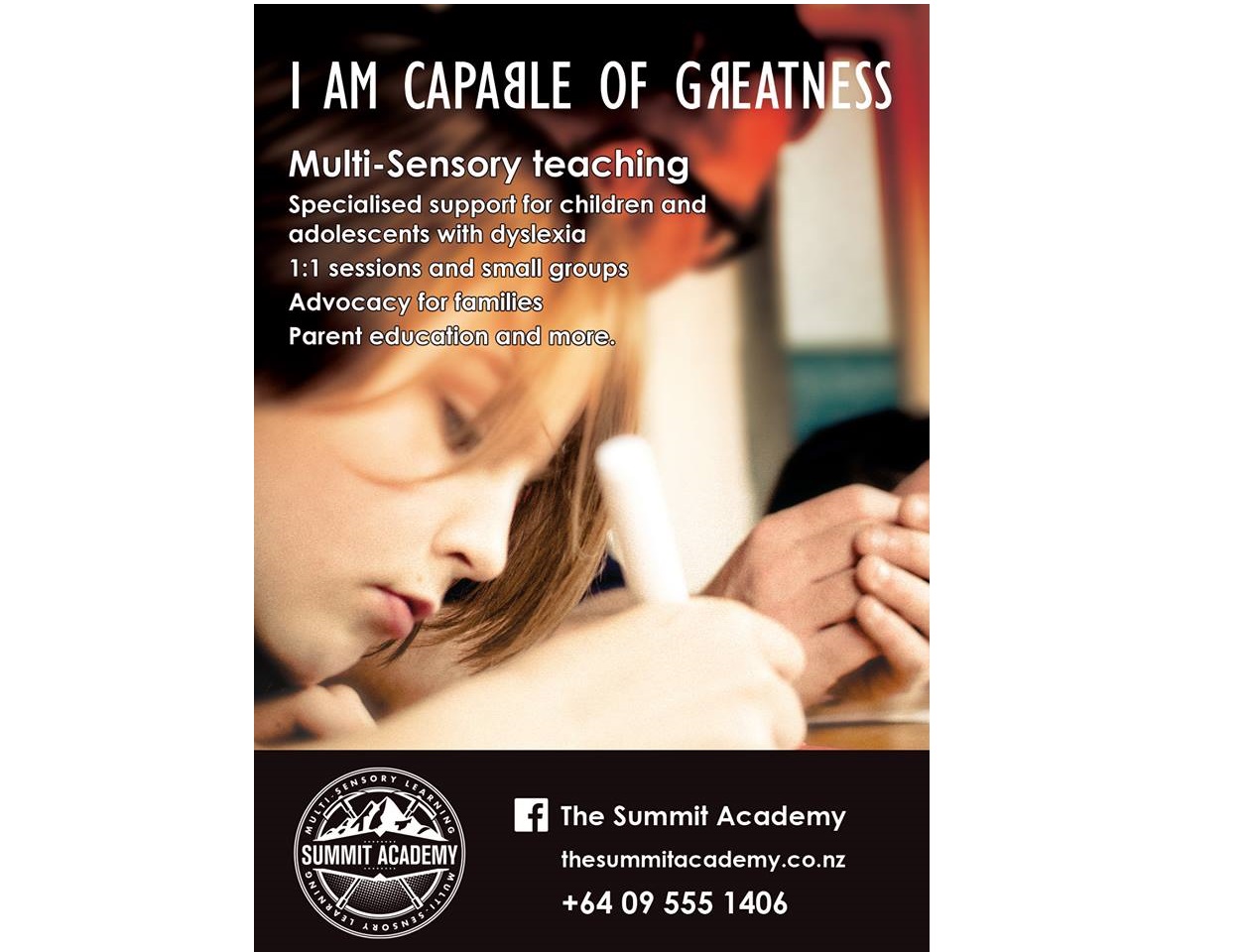 Auckland's first school exclusively for children with learning difficulties, The Summit Academy, is extending its services thanks to support from the Catholic Education Trust (CET). The academy opened a year ago with a summer programme run from a church hall in Point Chevalier, central west Auckland.
It has since evolved into a school providing one-to-one teaching, family advocacy support, and two, one-day schools per week.
It has now had a huge boost from the CET, which has made available a disused building in a primary school on Auckland's North Shore. From January 2016, the academy will extend its services to three, separate one-day schools with two staff and up to 15 students each day.
"The trust has been fantastic," academy founder and company director, Ms Rebecca Elias says. "They are the only people who came up and said, 'We see what you do is vital and we can help you out (with classrooms).'"
On top of this, the philanthropic trust, The Friedlander Foundation, has donated funding (scholarships) for up to four students in each day-school class for a year. These are available by application to children with dyslexia and co-occurring difficulties. Without a scholarship, tuition fees are $130 per child, per day. Application forms can be obtained by emailing [email protected].
Ms Elias, a registered teacher trained in linguistics, multi-sensory teaching and with knowledge of dyslexia, dyspraxia and dyscalculia, has a Masters degree specialising in dyslexia. She spent four years training, two visiting specialised schools overseas for children with learning difficulties.
"I had to go to New York twice to a school to really understand how kids with learning difficulties learn. It was a profound experience, incredibly interesting and valuable. I could see clearly how the model could work here in New Zealand."
Each Thursday and Friday, six to eight children and adolescents travel from all over Auckland to spend the day with two, specially trained teachers. Literacy remediation and acceleration lessons are offered each morning to address the deficits specific to each child.
The rest of the day focuses on an inquiry-learning model tapping into areas of high interest.
"We teach up, we have high expectations of our students so they learn they can achieve anything they wish with the right support," Ms Elias says.
"They develop social and academic skills, they feel inspired and learn they have some control of their own learning."
Teachers are clinically trained to use the Orton-Gillingham approach and also use the Barton Reading System. Ms Elias says that multi-sensory teaching has been thoroughly researched to have the best results for learners with dyslexia long term when taught by a clinically trained teacher.
"A teacher who understands both children and their unique learning styles is more likely to impart clear, accurate and logical information about sounds, words, sentences and concepts.
"We believe expert teaching of reading and writing is only possible when the teacher knows not only the meaning conveyed by language, but how the language itself really works.
This offers students with dyslexia a more meaningful and thoughtful approach to learning barriers often faced in the classroom."
Projects are aligned to the New Zealand curriculum and teachers work in close consultation with the children's schools of origin.
"When assessing, we do everything 'diagnostically', to help us identify where to go next with support. We assess students against themselves, not the normative, non-dyslexic learner."
Ms Elias has been working over the course of the year with teacher Simon Raine to write a curriculum where an inquiry-based learning model is offered for children who have every potential to succeed, but who are struggling in mainstream schooling.
"Students get to work in a safe environment, where mistakes are encouraged, questioning celebrated and access learning in a multi-sensory way. These kids shine in our environment.
"My dream is that by 2017, our full curriculum school for children for priority learners will be in operation, and that we can work with the Ministry of Education to make this dream a reality."