Property
New CCTV system deters crime at North Shore school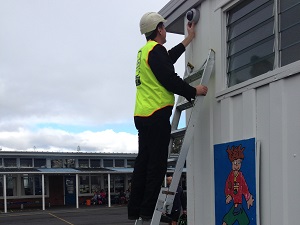 In March this year, after a spate of break-ins, Beach Haven Primary School on Auckland's North Shore upgraded their CCTV surveillance system.
The school had an old wireless CCTV system that was installed four years ago; however, the images being captured were not of a sufficient quality to be useful. So, after an incident when 11 iPads were stolen, the board of trustees decided to upgrade the system.
The school contacted Integrated Security Services, a company specialising in the supply and installation of security systems, and the company's Quinton Broad and his team of installation technicians carried out the work.
"We did a survey of the school to ascertain what system would suit their requirements, and working in conjunction with wholesale agent Surveillance Technologies, we recommended an Interlogix TruVision CCTV system," Mr Broad says.
"Technology changes have improved CCTV systems, and from a deterrent aspect they can reduce vandalism because there is the ability to view what's going on there all the time."
Robert McDowell of Surveillance Technologies says the system's ability to capture high-resolution images that are easy to retrieve meant it was ideally suited to the school's situation.
"In addition, the cameras have built-in infrared illuminators, which gives them the ability to see at night, when incidents often occur."
CCTV systems are part of a broader security system schools have, but often schools will go for cheaper CCTV systems due to financial constraints.
However, there is a big gulf between the really good and the really poor systems, Mr McDowell says.
Beach Haven Primary School has had 14 cameras installed at appropriate locations around the school site, in positions where they can't be reached.
"If someone did try to tamper with them they would be seen on camera, because they have been positioned to capture every possible angle," Mr Broad says.
When a CCTV system is being designed for a client, he explains, logical traffic flow is a key area of consideration.
"For camera placement we look at which areas people use to come and go, the natural pathway through the school, and where the pinch points are."
The information captured by the cameras is stored on a hard drive inside the school and can be reviewed up to a month later, after which it is deleted, Mr Broad says.
Morris Pita, the school's property manager/caretaker, is at the forefront when it comes to dealing with the school's intruder issues, particularly graffiti.
"Since the new cameras have been installed we've had no graffiti," Mr Pita says.
"Previously, we had a really bad problem with graffiti and I would often spend up to three hours every day cleaning it up. Seeing the graffiti was extremely upsetting for our students, but since the new cameras were installed we haven't had any. Word has obviously got around that they're there."
The cameras operate 24 hours a day, but they are only used for surveillance after school hours, Mr Pita says.
"I am able to monitor it from home on my iPhone and if the alarms go off I can look at the camera images and if there's a problem I call the security company. Sensors have been installed on the verandahs and they are set off at night if anyone is on the premises and the cameras identify those people."
Both Mr Broad and Mr McDowell note that CCTV surveillance technology has improved significantly in recent years, and prices have decreased.
"One of the biggest developments in the CCTV industry has been the move from analogue to IP cameras. That new technology can mean in some circumstances they can be linked to the school's IT infrastructure so the system can cost a lot less to install than when hundreds of metres of cabling needed to be run across school grounds," Mr Broad says.
He says the two companies, Integrated Security Services and Surveillance Technologies, have worked together on numerous CCTV installations.
"We are experienced in the industry and currently look after over 100 schools' security in the Auckland region. When it comes to CCTV we can design specifically for schools, with camera locations designed to a school's specific requirements."
Mr Pita says the school is very pleased with the new surveillance system.
"So far the system is working very well for us, we don't have any problems with it. With the old cameras being inside the school, they were constantly getting tampered with. The new ones mounted outside can't be reached and they can be seen, and we haven't had any incidents since they were installed."
Mr Broad says CCTV, in conjunction with a thorough intruder alarm system, is becoming "absolutely necessary" today in schools as an effective way to eliminate or reduce crime.