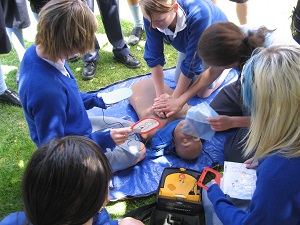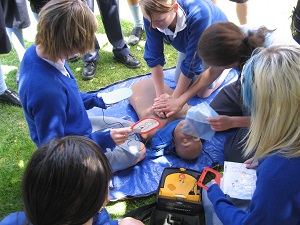 Safety in the workplace has increasingly come under the spotlight over recent times, following some serious, even fatal accidents, and new health and safety legislation due to come into force within a few weeks is aimed at reducing accidents and making work environments safer.
While schools were not covered by the previous legislation, Fraser Perry of First-Training believes the new Act, which will now apply to schools, will give principals the opportunity to look at how they can change their relationship with students in terms of health and safety.
"My observation has been that for a long time schools have taken every possible risk out of the school environment.
However, the new legislation will enable principals to say to students and parents that they need to tell the school if the student has any allergies or behavioural issues, for example, which could have an impact at school. It's an opportunity to reinforce to students and parents that they have an obligation to disclose any issues that may affect their safety and wellbeing," Mr Perry says.
Head of sector enablement and support at the Ministry of Education Katrina Casey notes: "Student safety and wellbeing are of the utmost importance for all schools and it's our job to help them with it.
"School boards are required to provide a safe physical and emotional environment for students. Schools and boards decide the best way to do this to meet their own schools' circumstances. We provide advice and assistance as needed."
There are a number of organisations around New Zealand that boards can call on to help schools provide that environment.
First-Training
First-Training offers a range of first aid courses for teachers and specialises in offering courses that meet professional development criteria, which are held in after- school hours or on teacher-only days.
"These courses meet Ministry of Education requirements. They are four hours in duration and include interactive and hands-on components, such as wounds that 'squirt blood', so they are not boring. We promise that 'time will fly," director Jo Verheijen says.
"And with the teachers working together and learning about each other, the courses are also good for team building."
A two-day Outdoor First Aid course offered by First-Training has a strong focus on EOTC, and is aimed at teachers who take students on activities away from the school environment or students doing an outdoor programme, she says. It includes two full days of training with day two activities taking place in an outdoor situation.
First-Training also offers workplace safety training courses for Year 12 and 13 students who are taking part in a Gateway transition course. All its courses are offered throughout New Zealand and the company's trainers are fully NZQA qualified as a Category One provider.
"Most of our staff have an outdoor background and are skilled at keeping people engaged through hands-on training," Ms Verheijen says.
"We have staff with paramedic, fire service and police backgrounds, and all of our staff have experience in emergency care situations."
Pacific Medicare
Tauranga-based Pacific Medicare provides both first aid training courses for teachers and students and first aid equipment for schools throughout New Zealand. As a Category One provider all courses meet Ministry of Education requirements and Pacific Medicare's specialised courses can be scheduled after hours, weekends or on teacher-only days. Director Dennis Mundy says with the courses, the key factor is how they are delivered, with the most important element being the age of the learners and a strong education focus.
"With our courses, we don't 'teach' first aid; rather, we are providing an educational experience, and we make it easy and fun," says Mr Mundy, who is a registered teacher himself. In fact, all Pacific Medicare trainers have an education delivery background as well as strong emergency services experience, from paramedic to health and search and rescue, he says.
"Every school is different, so the courses are tailored to what they need, be that for teachers or students. When we first visit a school we try to get a flavour of what that will be, so the courses can be specifically targeted to be relevant, and we encourage the teachers to analyse their requirements."
Courses range from start-up right through to specialised EOTC courses that are unique in their day and night practicals, general outdoor courses for teachers and sports-related courses for year 12 and 13 students.
Pacific Medicare also provides first aid equipment for schools, with Mr Mundy and his wife Tania Bui both noting that schools' first aid kits often contain a lot of filler items that are not necessary, and many that don't get used before their expiry date.
"We talk with schools to find out what situations they deal with most often so their first aid kit can include a few more focused supplies; we even do first aid station audits while we are onsite," Ms Bui says.
A new item Pacific Medicare encourages primary schools to include is the burns gel.
As Ms Bui points out, burns from glue guns are a common problem with primary students, with teachers dealing with it by having the child's hand held under cold running water.
"Not only does that bring learning activities to a halt while the teacher does that, it would need to continue for about 20 minutes, otherwise the cold water doesn't really help. The burns gel, on the other hand, is easy to apply and takes 80 per cent of the heat out within two minutes, taking the child's pain away so they can get back into class activities quickly.
"Thinking about how new technology and equipment can help the teacher and situation as much as the patient is really important in what we do," Ms Bui says.
Pacific Medicare also supplies trauma kits. These include emergency gold and silver blankets to treat hypothermia, which can occur if accidents happen when students are involved in outdoor activities in remote locations.
"They are much more effective and far less bulky than woollen blankets or the std silver only," Mr Mundy says.