Profiles
Diversity and challenge key factors at Michael Park School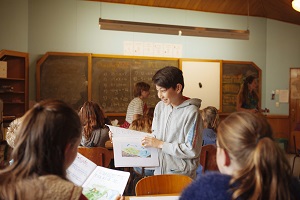 Michael Park School in Auckland, a state-integrated decile 8 school, provides education based on the Rudolf Steiner/Waldorf model.
The school was established on the Ellerslie site in 1979, with pupils at kindergarten and classes 1 to 4 (years 2-5). Enjoying the support of parents, whānau and the community, it subsequently developed into the school it is today, offering seamless education for children from pre-school right through to year 13, with the roll currently standing just short of 400.
Principal Adam Dubignon, who is a staunch advocate of the Steiner philosophy of education, was himself a foundation pupil, starting in Class 4 (year 5) and spending nine years there until graduating in 1987. Having come from another school, where he says he didn't feel happy, he found he enjoyed going to school at Michael Park, though that wasn't the inspiration for him to take up the teaching profession.
"I really enjoyed my education, but I didn't want to be a teacher – I changed my mind much later."
After spending several years pursuing a career in the music, performing arts and recording industries, Mr Dubignon completed a Master's degree in management at the University of Auckland. His studies on administrative practice in the Steiner system brought him back into contact with Steiner schools, which became the catalyst for him wanting to get into education. On completing his teaching diploma, and looking for a position, the opportunity to teach at Michael Park School came up.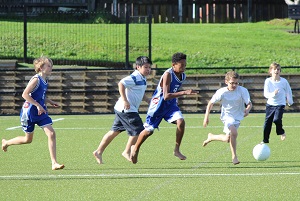 "I wasn't looking to get into Steiner education particularly, but I went to have a look at Michael Park School and met a very different bunch of teachers who were interested in engaging with Steiner education through a more progressive lens. I knew when I walked out of the interview that I wanted to be part of that."
Mr Dubignon spent the next six years – 2007-2012 – teaching in the middle school and taking on the position of Lower School Leader.
"I believed I had the right background for that, so it was logical for me to be there with those students helping to instil a solid foundation for high school."
Then came the opportunity to take on the principal's role.
"The principal of 10 years was leaving and I was encouraged to have an interview for the job when it was advertised. To be honest, it was with some reluctance that I put my hat in the ring. I wasn't done with teaching and really saw the class teacher role that I had held in the Middle School as one of the ultimate teaching experiences.
"Looking back at it now, it was probably my appetite for a challenge that spurred me to apply for the position and, following my appointment, the board and proprietor got behind the goals I had articulated.
"Over the past few years we've been very engaged with our community around the new vision, which was seeded by the previous principal and board, and we've been focused on developing Michael Park into a leading-edge school in terms of providing students with a well-rounded education.
"Steiner education is fundamentally about timing, recognising that if you get the timing right from a developmental perspective when you present the material to students, the engagement and uptake is more successful. Visitors to the school often comment on the high levels of engagement in classrooms and the village-like atmosphere of the campus.
"Classrooms in our school have a different feel from those you'll experience in a typical state school. We even have classrooms which are essentially outdoor environments."
Learning through the 'outdoor classroom' programme is gaining momentum, he says, both on the school campus and through the schools camps programme.
"We believe it is important for our students to take on different challenges and we do this in different ways depending on the age of the students. For example, in the Middle School they go on threshold camps, to places like the Whanganui River, the Waitomo limestone caves and Boyle River in the South Island. At school they're involved in hands-on activities such as making tools, crafts and music; we even have a fully functioning forge in the school.
"What's important for us is developing our students through all aspects of their education so they get a sense of who they are, and gain self-motivation to make a contribution, and to engage with their higher potential and what they're here to do."
Mr Dubignon says a diverse curriculum is maintained for much longer at Michael Park than at other schools, as the school believes that being exposed to the richness of diversity for a longer period, rather than specialising in particular subjects, has a significant benefit for the students.
"It's ironic that our students specialise much later and yet achieve so highly in senior secondary school."
He adds: "Among our 40-50 teaching staff we have specialist teachers offering a range of subjects that are not found in the classrooms of typical schools."
Another area in which Michael Park stands apart is in the area of technology. While tablets and other IT devices are now widely used in most New Zealand schools, even by very young children, they are not introduced at Michael Park until the upper end of middle school.
"There's not a lot of creative thinking done with an iPad, staring at screens, and we see the development of imagination, creativity and self-directed capacities as being very important for young children," Mr Dubignon says.
"The use of IT with young children in their learning appears to be based on little in the way of credible academic research. A recent New York Times article highlighted a growing trend among Seattle and Silicon Valley IT professionals at the leading edge of IT development, who are choosing to send their kids to Steiner schools where they don't go near a computer or iPad in their learning before the age of 13. We really need some more research here that takes account of children's developmental needs."
One of the key characteristics of Michael Park School is the year-long Class 8 (year 9) and Class 12 (year 13) projects. The Class 8 project focuses on the impact of innovation and technology on our lives today and has both practical and research aspects, Mr Dubignon says, while the Class 12 (year 13) projects are on a subject of personal interest to the students.
"Importantly, this final project also has a socio-ecological component, with an emphasis on service to the community which is an important thread in Michael Park's ethos. Senior students work as Tuakana-teina with younger students, and they have taken on sports coaching or environmental restoration on Great Barrier Island, for example, for this component of the project.
"There's a whole raft of things students do for the practical. It might be restoring a car, building an outdoor studio, taking on a practice of meditation, learning ballroom dancing, writing a book or music album or learning to fly a plane, for example. This is all undertaken over and above their academic studies.
"It's about constantly challenging them, enabling them to step out of their comfort zone and into areas where they can extend themselves."
Encouraging his staff and students to aim high and reach high standards, is what Mr Dubignon enjoys most about his role at Michael Park School, and he also wants to see the school continue to develop on the infrastructure level. Planned projects include renovation of the auditorium, through building new music practice rooms and expanding the outdoor classroom programme.
"From my perspective students are still spending too much time sitting at desks and not enough time engaged in deep contextual learning," he says.
"We also need to look at the future of the school, its size and shape, and we need to get the staff and the parents thinking around that. We're looking at growth options, replacing existing classrooms or potentially establishing a separate high school campus. There is growing interest in the particular expression of Steiner education we have at Michael Park so we have to look at how we can make our education more accessible to more people.
"We have very high rates of student achievement at senior level in comparison to other decile 8 schools, but how can we bring in more kindergarten, junior and middle school students? How do we calculate the demand? Those are some of the things we're thinking about."